Proof Season 1 Episode 2 Review: Til Death

Carissa Pavlica at . Updated at .
This one leaned a little closer in the discussion that there might not be life after death.
Yet, still, in Proof Season 1 Episode 2, even though the case of the week turned out to hinge upon a medical problem that was corrected, making visions and ghostly experiences disappear, still allowed for interesting points to discuss.
And, the door was even left open for those of us who want to believe that maybe, just maybe, there was a little more to the whole thing than a bump to the head gone terribly wrong.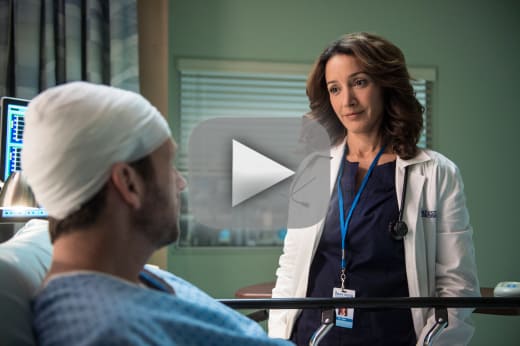 It's hard to deny the appeal of fully experiencing your dead loved one. Luke didn't just have visions of his beloved wife, Elena, but he heard her and smelled her, as well.
While he didn't come out and say he could feel her when she touched him, it probably wasn't a stretch to think it's a possibility under the circumstances.
In this case, the guy lost his wife and his job, and then kind of got his wife back, if not his life. Not being in a hurry to make it all go away again had a definitely upside for him. Blacking out and setting someone's garbage on fire and possibly facing the police, explaining his dead wife set the fire? Not such a bright spot to the whole thing.
It seemed that his body was trying to tell him, by making Elena take things a little too far, that it was falling into a further state of disrepair. I liked the theory Carolyn used when Luke was on the roof.
What if Elena had been sent to him to make sure he got help and didn't die, not so he could join him in the hereafter. Even after he was on the road to recovery and the experience dissipated, it was still the kind of story with which a person like me (i.e., a hidden softy) could get on board.
Carolyn is such an interesting character. She's so strong and straight forward, yet she's struggling with her own near-death experience. That alone doesn't allow her to be quite as forthright as she would like. It has to be difficult for her to balance what she's studying with what she's personally juggling. I wonder if she will share her story with those she's getting closer to at some point.
The battle for Zed was entertaining. Zed is certainly talented, but I don't see any reason for Len's sudden interest other than to insert himself into Carolyn's life again, to get under her skin a little bit. It's obvious he misses her and wants to be a part of her world. He's dying (ha) to know what she's up to and will do what he can to figure it out, just short of asking. 
After watching her easily dismiss Zed for his own good and then accept his demand to allow him to continue working with her to find proof of the hereafter, the only reason I can think that Carolyn wouldn't tell Len what she's doing is if she thought he might get a little too personal about her own encounter. She seems a little prickly when it comes to him.
I enjoyed getting to know Janel a bit more and thought it funny she couldn't hide her crush on Ivan Turing, but given Ivan has his hands in so many pies, and he's dying, it's easy to see why she'd have heightened feelings for him. Is there anything the guy isn't into? I wonder if there really is a group looking into creating electricity from the activity in stadium seating.
It's in the pudding:
As a huge fan of Callum Blue, I'd like to see more from Peter Van Owen.
Sophie getting high doesn't seem all that worrisome, especially when it comes along with eating ice cream from her brother's bowl. It seems incredibly normal.
Does anybody have any theories about who the lady with the green scarf might be?
When Janel pulled water out of the console of the shiny new vehicle Ivan purchased for the Ghostbusters, I immediately thought of an Uber driver.
I like that, despite all the money he has, Ivan still manages to get excited by so many things. Do you think that's how it is with all billionaires, just dying ones, just some, or none?
The story on Proof Season 1 Episode 3 is a mind blower. 
OK, guys, hit the comments. Are you enjoying the stories and discussing them with your friends and family? Feel free to share here, too! Don't forget, you can watch Proof online if you need to catch up.
Carissa Pavlica is the managing editor and a staff writer and critic for TV Fanatic. She's a member of the Critic's Choice Association, enjoys mentoring writers, conversing with cats, and passionately discussing the nuances of television and film with anyone who will listen. Follow her on Twitter and email her here at TV Fanatic.