Scream Season 1 Episode 1 Review: Pilot
Paul Dailly at . Updated at .
Was this a successful transition from the big screen to the silver screen?
Scream Season 1 Episode 1 introduced us to a lot of characters who live in the small town of Lakeview, a town with a past as dark as some of the characters who reside there, 
Throwing us straight into the horror was Bella Thorne's character Nina being butchered by a masked individual after she uploaded a video of a girl from her high school making out with another chick. Yes, the show is dragging the franchise kicking and screaming into the 21st century.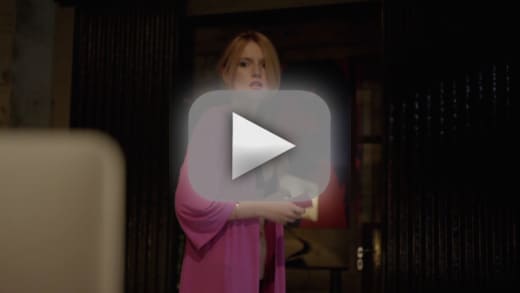 The opening scene was very well executed. I loved the overall look of it and it totally lived up to the expectations set by the movies. If you thought MTV was going to water down the violence, the scene should put those thoughts to bed. 
I felt like the characters were not as bad as they could have been, but they were not exactly likeable. Usually pilots try too hard by throwing way too much information our way to get us hooked. I'm not going to deny that there was a lot of information, but some of it stuck in my mind more than the others. 
The weakest character has got to be Emma. The show is trying so hard to make her appear to be the damsel in distress, and this is where things could get tedious. Her mother has an interesting back story, though I highly doubt the killer will be her stalker from all of those years ago.
Noah is the Randy of the group. Just look at the way he was talking all meta. He seems considerably more strange than Randy. That concluding scene really was weird. Did he wipe blood on his forehead? Yeah, there were a lot of weird happenings in this opener.
The dialog was perfectly witty, and it was on par with the movies. Everyone on this show has a lot of secrets, and I'm unsure of what exactly the plans are for the reveal. I hope that this is a closed ended 10-episode event series and that if a second season was to go ahead, I'd like it to be a new cast, location and story.
Considering the amount of characters and the conflicts that were introduced, it makes me think the show might go the way of Pretty Little Liars and drag the central plot out for many seasons. That won't won't work well here. There's no denying the show is similar to Pretty Little Liars, albeit quite a bit darker.
There was a lot to like about this premiere. It set up the storylines really well for the season, but at the same time it left a lot to be desired. I'm not saying this was horrible, just that I expected a bit more. Sure, the show accomplished the goal that many thought it wouldn't: it works as a TV Series and Noah's meta wit helped me come to that conclusion.
Also worth mentioning – the mask was actually quite creepy. I get that people were complaining about it not being the same one found in the movies, but knowing that this mask is tied to the mythology of the show makes it easier to come to grips with.
Other tidbits from the episode:
The scene with Audrey's kiss going viral was also done really well. It captured the way it would go down online and it didn't come across as cheap.
Did anyone else think that Brooke was getting the Rose McGowan treatment and would be killed in her garage? It would have probably been a little early considering she is getting hot for teacher.
The way the gang hosted a party in Nina's honor made me think we were going to see some more murders. A party seems like the best place for the vile killer to strike, right?
Will and his friend are giving off some weird vibes. Let's rule them both out as the slasher now.
Did anyone laugh out loud at Nina talking up her dog's murderous skills? Yeah, no one would believe that!
Remember you can watch Scream online right here on TV Fanatic. Get caught up on this killer opener now!
What did you think of the pilot episode? Are you in for the long haul? What do you think is coming next? Hit the comments and look out for our first Scream round table later this week!
Note: Scream Season 1 Episode 2 airs Tuesday July 7th at 10/9c on MTV.
Paul Dailly is the Associate Editor for TV Fanatic. Follow him on Twitter.