Scream Season 1 Episode 4 Review: Aftermath
Paul Dailly at . Updated at .
Tyler has a head!
On Scream Season 1 Episode 4, Tyler's burnt body was recovered from the river and his head also popped up, but was anyone really dumb enough to rule him the killer? 
Picking up mere moments after Riley got slaughtered, Emma was a mess and wanted to end this thing once and for all. As she stood there on those steps at the police station, she looked around her as she knew that things were just going to get worse. It really set up her journey for the hour.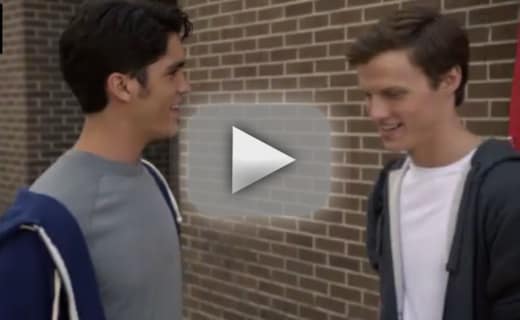 I was happy that she was skeptical the killer had really been found. She knows more than anyone that the town has a dark past, so in order to get the truth she would have to delve into it. The killer was one step ahead and sent her a year book with some pictures missing.
This led her to an abandoned hospital with Audrey, who is also adamant to get to the bottom of what is going on. 
I liked that Audrey didn't want to take Noah along. She knows what it's like to lose a loved one, so it was best to leave him out of harm's way at his work. The hospital really looked like the killer's lair, and it would make sense because the police claimed to search it previously and nothing was there.
So... the killer could have moved lairs in order to stay out of the prying eyes of the police. 
I think we knew that Noah was going to pop up, so that was really predictable and lame. His witty comments kind of made up for it, and if he didn't appear, the girls would have been clueless about piecing things together. The fact that Nina's laptop still had charge in it was a bitter pill to swallow.
Perhaps the killer wanted them to find it, because it would lead to the accidental upload of Emma and Will's sex tape. 
Audrey: Drinking on the job is a new thing for you.
Noah: They can't fire me. I'm the only one who knows how to reset the router.
That was rather shocking and a smart move to have the executable file embedded in the video. Emma comes across as a really kind character, but I think the fact that there is a video of her on the internet will lead to her cracking. I wouldn't want to be Will right now. He's in A LOT of trouble. 
I liked that we got some insight into the character of Brooke and her family life. It obviously hurts her that her mother isn't around at this tough time. She feels responsible for one of her best friends being murdered, and she's finding it difficult to speak to her father. My theory is that he killed her mother, and he's being blackmailed.
At this stage it is pretty evident the the killings are linked to the past and something the parents did many years ago. 
I'm not so sure it really is related to Brandon James. This could be the writers trying to trick us so we are shocked with the killer reveal. Either way, the central mysteries have me hooked, and I can't wait to see what's coming next. 
"Aftermath" was a decent hour. Sure, there weren't any murders, but at least everyone in town can rule out Tyler and start worrying that someone else is behind this. 
Other tidbits from the episode:
Brooke didn't have a care in the world when she was sitting at the river. It's not like a masked killer is on the loose or anything. 
Emma now knows that the killer is one who sent the heart. I'm surprised we got this reveal so soon. 
I'm glad the sheriff is getting hate for leaving Riley alone. That just didn't make sense. 
Remember you can watch Scream online, right here on TV Fanatic. Get caught up now. 
What did you think of the episode? Who's going to die next? Hit the comments below.
Note: Scream Season 1 Episode 5 airs Tuesday July 28 at 10/9c on MTV. 
Paul Dailly is the Associate Editor for TV Fanatic. Follow him on Twitter.