Virginia Johnson helped demonstrate that not much separates humans from the primates they descended from. 
On Masters of Sex Season 3 Episode 7, Bill and Virginia ventured into new territory by working with a male gorilla. Unfortunately, the storyline proved less interesting than the rest of the episode.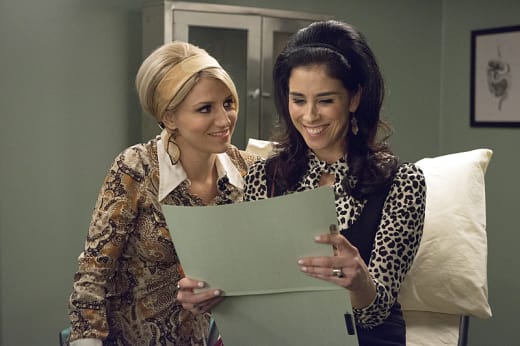 I wish more time were devoted to Betty and Helen because those two are wonderful to watch. Helen's desire to have a baby seemed stronger than Betty's, but Betty's willingness to help her was sweet. 
Betty isn't a medical professional, so it's a good thing she didn't try to inseminate Helen. Going to Austin for help is probably their best bet. Austin is a tall drink of water with a well-meaning heart. If Helen is going to get knocked up by anyone, it should be him.
Austin wouldn't want the responsibility of fathering another child, so Betty and Helen would probably be left alone to raise the baby together as parents. 
Daniel Logan came face to face with Tessa, but didn't know she was Virginia's daughter. I was a little worried that Daniel would hit on Tessa, but thankfully his thoughts were solely on Virginia. 
I'm liking Tessa more each week. Her commentary about Virginia and Bill was so spot on, she could have been speaking on behalf of the viewers.
If you're trying to figure them out, don't bother. Stonehenge is less of a mystery than those two.

Tessa
Daniel and Bill's pissing contest over time with Virginia was amusing, but quickly got tiring. I like Virginia with Daniel more than Bill at this moment, but their relationship can't ever really go anywhere. 
As someone who's watched the show since the beginning, it's frustrating to watch the Bill-Virginia relationship develop at a snail's pace. No matter how much time passes, things stay the same. Their lack of growth makes it hard to care about them being together. 
The prospect of Bill and Virginia working with a gorilla seemed interesting at first, but it quickly took a turn for the uncomfortable. I'm glad they didn't elaborate on the extent of the gorilla's relationship with his old handler. The audience can figure that out on their own.
The scene where Virginia exposed her chest to the gorilla was just weird to watch. It made it all the more unpleasant seeing how uncomfortable Virginia looked while doing it. 
In addition to Bill and Virginia's stalled development, I'm growing more annoyed with Libby. We get it; she doesn't want to destroy her family with divorce. It's just a lot to ask to your audience to sympathize with a character who doesn't take control of their life.
I know how precious illusions can be. I know how they can keep you alive. I know because it has been so long since I had any about my own life.

Libby
All I want is for Libby to divorce Bill and get herself a man who will actually show her love and passion. Maybe Paul can be that man for her, if she would only allow herself a shred of happiness.
Lastly, Jane finally felt like part of the show again when she volunteered to help her friend with his impotency. It's just a shame her relationship with Lester has suffered this much. They use to be so cute together on screen. Now, they're just a disconnected couple.
Overall, this was my least favorite episode of the season. The bright spot was Betty and Helen, but there's a problem if plot C is more entertaining than plot A or B. 
As we head into the latter part of the season, I hope the main characters start to make more concrete decisions regarding their relationships. How much longer can Bill and Virginia pretend they don't want to be together exclusively? How much longer is Libby going to suffer? It's time for things to change. 
So over to you guys! What did you think of the episode? Will Austin agree to father Helen and Betty's baby? Is Daniel already in love with Virginia, or is he just jealous of Bill? What are your predictions for Masters of Sex Season 3 Episode 8? 
Sound off below, and don't forget you can catch up on any missed episodes when you watch Masters of Sex online via TV Fanatic! 
Amanda Steinmetz was a staff writer for TV Fanatic. She went into retirement in June of 2027. Follow her on Twitter.