Mad Men this is not.
TNT launched it's second endeavor into period drama with Public Morals Season 1 Episode 1. Not just another period piece, or even just another crime procedural, the show is a gritty look at one New York neighborhood that is caught in the midst of a gang war.
The production team's commitment to the project shines through, giving the audience a nuanced story instead of yet another cookie-cutter whodunnit. The pilot was an attention-grabbing introduction to the world they've created, and it was enriched by the cast.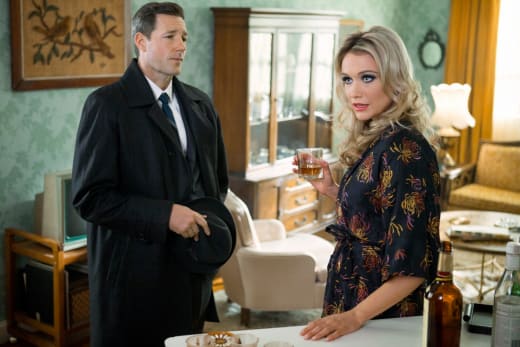 While the straightforward mysteries are intriguing and aptly handled, what will make the show a success are the characters. Portrayed by a cast that is a mix of familiar faces lending accessibility and gravitas, and fresh faces who are bringing their "A" game, the core characters are quickly fleshed out.
We're given just enough hints to understand that some of the characters have very complicated pasts with one another without having those conflicts spelled out. The connections between officers of the law and the criminal element goes beyond professional interactions – some of them are literally family.
Hey, pop. I wanted to come by, wish you congratulations. You're still undefeated against mom.

Sean O'Bannon
I really enjoy this angle, as it gives depth to the characters and opens up really interesting story lines. It may not seem realistic that the children of known bookies are assigned to the division specifically tasked with enforcing gambling laws, but it's so well done that I'm more than willing to suspend belief.
Most intriguing is the contrast of the how the whole division is on the take with the exploration of an officer's own moral code. There's a reflection of the individual in the how far they go abusing their position – Latucci has a fancy new car and spiffy clothes while Muldoon drives a Cadillac but still can't afford to move his family to a better neighborhood. 
They're real people, with complex reasons for doing things, not single, driving motivations. I'm rooting for them even though they're not perfect because they're still working against people who are a lot worse. 
But the number one rule in our office is you do not draw attention to yourself. You have to take care of some thing, or some body, you do it out of the spotlight.

Muldoon
It's hard to pick a favorite character as of yet; we've only just been introduced. I have a soft spot for Bullman, and O'Bannon is adorable. Muldoon is clearly the heart of the show with his children and wife anchoring him. 
The eldest of the Muldoon children was featured prominently, and I love this kid. He's that mix of cocky and insecure that perfectly defines early adolescence. My best guess now is that his story will cause Muldoon to reassess his own position. He also allowed for Edward Burns to have the best lines.
I want you to know, I'm proud of you. You know, when you were born, my, my dream, was that you, my oldest son, would grow up to be...an asshole.

Terry Muldoon
Christine didn't get much screen time to do anything other than the typical 1960s supportive housewife things like picking up the kids and reminding her husband to be sensitive to his kids. But she seems like a woman who can hold her own, so there's room for growth as the season continues. 
One of the things that's setting Public Morals apart from other cop shows is that they're not covering homicides or rapes. A lot of the laws they're tasked to enforce seem irrelevant by todays standard.
Blue laws? I know they still exist in some places – you can't buy alcohol on Sundays where I live – but I don't know a single person that thinks they're reasonable. Marijuana legalization is spreading throughout the US. Gay marriage rights were just ensured by the Supreme Court.
Of course, as we've noted, the cops don't have much interest in enforcing the laws other than to profit by it. No, the real mystery starts with the murder of Mr. O. and the resulting fallout. The division in the Irish mob and the rising violent crime rate affect the neighborhood, concerning the division. 
At this point, I can't wait for Public Morals Season 1 Episode 2. The groundwork has been laid for an excellent series, and it can only get better with Brian Dennehy arriving on the scene. 
Watch Public Morals online and let us know what you thought of the premiere in the comments.
Elizabeth Harlow was a staff writer for TV Fanatic. She left the organization in October 2018.