Scream Season 1 Episode 6 Review: Betrayed
Paul Dailly at . Updated at .
Remember, there's a killer on the loose. 
Mayor Maddox really hit the nail on the head on Scream Season 1 Episode 6. I get that we can't get a murder every week, but this is meant to be a slasher series after all. I'm not buying this whole redemption storyline for Will. His character has been to obnoxious for me to even care about his redemption – however short lived that may be. 
I gasped when Mayor Maddox leaned into his back pocket to get the gun because of how shocking it would be. This proves the guy isn't against killing someone, but I think it rules him out as the killer. Surely, if he really were the slasher, he would have stuck to a good old knife, right?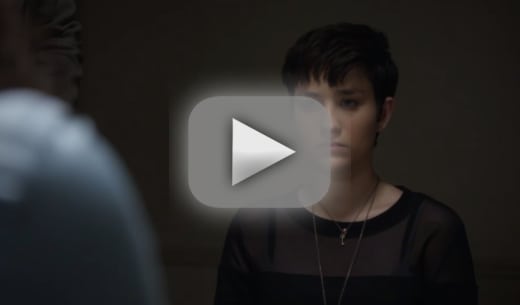 Piper is getting in too deep, and as much as I would like to think she has nothing to do with it, it would make perfect sense if she was a killer. I'm going to assume there's more than one, because there probably will be. It'd be way too easy to rule Jake as a killer now.
It would be expected, and the show wants to shock us. 
Jake is really playing a nice trick by blaming everything on Will, but it'll come back to bit him in the ass soon enough. That wasn't the only blame being thrown around Lakewood this week. Audrey found herself being talked down to by Rain, who thought she was the killer for much of the hour.
Sure, she was rude to Audrey, but she wants the killer brought to justice before another body appears. 
I can't fathom what Emma is playing at. She should have sided with Noah after watching that video. All of the evidence is there pointing to Audrey, so why not use it? Can you imagine how she'd feel if it was revealed that Audrey is the killer? It wouldn't be out of the realm of possibility.
I get that Emma owed her, but she asked a bit too much in the first place. Also, remember Audrey had that picture of Brandon James back on Scream Season 1 Episode 1?
I wonder if Noah will shun Audrey after this. She may have been set free thanks to Emma, but Noah seemed pretty disgusted by the video. In his mind, he was probably thinking she could have been the person to kill Riley. I can't blame him. 
Something isn't right with Mr B. He didn't exist before he moved to Lakewood. This could be a step in the right direction, or a plain old red herring. I'm willing to bet he heard Noah and Emma talking about him. There's no way he wouldn't have listened in on their conversation. 
Kieran was only present this week in Emma's dream, and it didn't bring much to the episode. The dream showed Emma that she was the killer. Weird. There are a lot of weird things going on in Lakewood, but I'm not a fan of these dream sequences.
These is almost always something that SHOULD be happening in the narrative to advance the story. They create more anger as opposed to suspense. 
It was nice of Emma's mom to take her to see where she grew up. I'm really digging the Brandon James flashbacks, and it's also intriguing that she doesn't think he was the killer. It'll be a crazy turn of events if he returns and the frame is shifted away from him. How would he be able to continue living after that?
"Betrayed" was an okay installment. The show works best when it's keeping us on the edge of our seat, watching these characters be terrorized. Considering how the hour concluded, it looks like we're in for a treat on Scream Season 1 Episode 7. 
What did you think of "Betrayed"? Is Will dead? What's Piper up to? Hit the comments below!
Remember you can watch Scream online, right here on TV Fanatic. Get caught up on all of the stabbing now!
Paul Dailly is the Associate Editor for TV Fanatic. Follow him on Twitter.