Scream Season 1 Episode 7 Review: In The Trenches
Paul Dailly at . Updated at .
RIP Will, you brought nothing to the table, but you got the most gruesome death.
On Scream Season 1 Episode 7, Emma, Noah, Jake and Brooke go in search of Will after Piper informs them about the killer's attack on her and Will. 
It was clear Emma was genuinely worried about Will. Although he was a complete idiot to her, she still spent a lot of time with him before Kieran came on to the scene, so it makes a lot of sense that she'd want to make sure he was okay. I'll admit, I pegged Jake as the big death this week.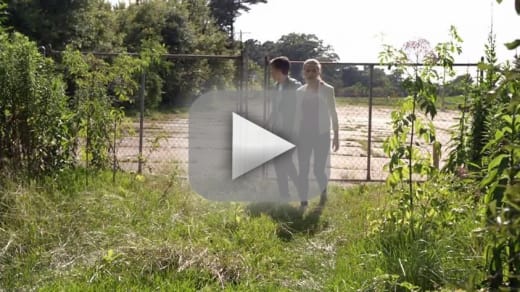 The killer seems to be acting erratic and wanting to change the game up. It seems to be hinting that there is more than one killer and they are drastically different from each other. Piper seems like a likely candidate at this stage, considering she was barely with any of the characters. 
I didn't quite understand Emma's need to lie like that to her mother. She could have came up with a much more believable lie. If you're gonna lie, you may as well do it right. The part with the killer waving the knife in the doorway reminded me of the movies. It was a good throwback. 
Kieran grated on my nerves on so many levels. He was blatantly jealous about the whole thing, and there was absolutely no need for it. I get that he's into Emma, but he isn't the only guy in her life. 
The murder the concluded the hour was freaking crazy. I knew that Emma was going to get that white top blood soaked, but it I didn't expect it to be THAT bad. I kept thinking she would somehow manage to stop the tractor from killing Will, but just like the killer planned, she was the one who kicked it into motion, and he was practically blended. It should be interesting to see how she copes going forward knowing that she killed him. 
It will probably kick into high gear her hunt for the person responsible as we reach the conclusion of this summer run. The killer did attack a lot of people, and I honestly thought it might be Brooke for a split second. Brooke is by far the strongest character on the show, and it'd be a massive loss if she was killed off during Scream Season 1. There's obviously some chemistry between her and Noah that needs to be explored before the knife wielding maniac pops back up. 
I'm willing to bet that Brooke moves in with Emma temporarily to get away from her uber sketchy father. We don't know everything he's hiding, but there must be a decent amount in his catalog of secrets. It was a little unrealistic for Brooke to pull the knife out of Jake. Surely he would have bled to death right there. 
At the beginning of the series, I never though the Brandon James arc would be interesting, but I'm actually enjoying it. The writers have managed to craft a decent story that involves both generations of characters in Lakewood, and that's all I could really ask for. 
"In The Trenches" was another solid hour of this MTV drama. The storylines are all coming together really well, and it looks like we're up for a solid second half of the season. 
Remember you can watch Scream online, right here on TV Fanatic. Witness the latest stab now!
Note: Scream Season 1 Episode 8 airs Tuesday August 18 at 10/9c on MTV. 
Paul Dailly is the Associate Editor for TV Fanatic. Follow him on Twitter.