Scream Season 1 Episode 9 Review: The Dance

Stacy Glanzman at . Updated at .
Has the killer been revealed on Scream Season 1 Episode 9?
The evidence is certainly piling up against Kieran, but could there possibly be a reasonable explanation for it all? Is Seth Branson his partner in crime or a victim being set up? 
We'll find out next week, but for now, let's speculate!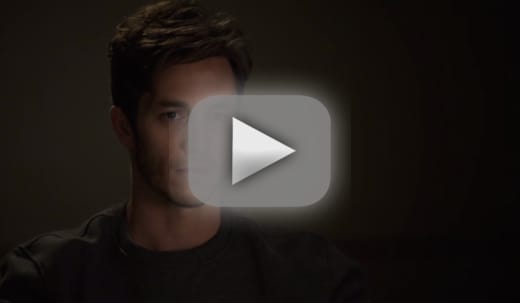 It is pretty obvious that Branson is being set up to take the fall. The phone records, the knife, and now his "escape" is way too much evidence to be real. The real killer attacked the guards at the jail and kidnapped him, much like Sidney's father in the first movie. It's a nice throwback, really.
But does that make Kieran Billy Loomis? 
When Piper and Emma went to visit Brandon's elderly mom, I was already on board the "Branson is being set up" ship and figured anyone could have used his name. Also, if Seth really was the killer and the one to visit, why would he use his real name? Thankfully Piper thought to go back with a picture! 
The question now is, assuming Kieran is the killer and Brandon's son, who's his partner, and what is his or her motivation? Brooke was notably absent from the party and could very easily be involved. I've been suspicious of her for a while now. 
But what about the webcam? Does that eliminate her as a suspect, or could whoever is spying on her be unrelated? Whatever it's about, it has to mean something. 
Cops rarely survive horror movies, but so far Sheriff Hudson is still alive. Doesn't he watch scary movies? He should know better than to go off exploring a suspicious house by himself. Why was he left alive? What is the game to be played in the finale? I'm guessing his fate will wind up in Emma's hands, probably her mom's as well. 
No one actually died this week, but that's probably just setting us up for a blood bath next week. We haven't had more than one body in an episode yet, but this is the grand finale. We can't have too many of these characters making it out alive or this wouldn't be Scream. 
So place your bets now! Who will survive the finale? I'm hoping for the main three – Emma, Noah, and Audrey – to make it out. Emma seems like a safe bet, but one of the other two could end up dead. From the preview, Noah isn't liking his chances. Still, if he's Randy, he's got a shot. 
I have to ask, did anyone else wonder why Audrey just now thought to go through Rachel's video footage? Even without a suspect in mind, it seems like maybe that would have crossed her mind at some point. The girl filmed everything, Audrey had her cloud password, and it never occurred to her that there might be some hints in there?
I also found it a little odd that we're just now finding out the mask was stolen one year ago and was never reported missing. That has to mean something. 
Your turn, what did you think of the penultimate installment? Are you surprised, disappointed, excited? I personally can't wait to see what twists are in store for us. I am expecting Will's gruesome death to be topped as well. 
If you missed any of the action, remember you can watch Scream online any time via TV Fanatic! 
Stacy Glanzman was a staff writer for TV Fanatic. She retired in March, 2019.