Public Morals Season 1 Episode 2 Review: Family is Family

Elizabeth Harlow at . Updated at .
Family is complicated, and never more so than when crime gets involved. 
The title of Public Morals Season 1 Episode 2, "Family is Family," was apt, with both sides of the law reconnecting with family.
No man is an island, and the families on either side of the law helped to understand the individuals of those families. Context is everything after all.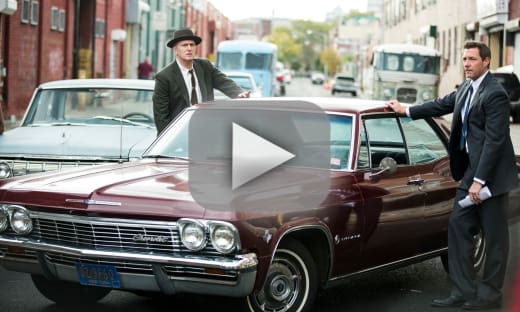 The Patton clan starts to reveal their side of the story, both in terms of Mr. O's death and of the criminal underworld of 1960's New York. The MPD has a delicately symbiotic relationship with the mob, and things are out of balance with Mr. O's death. An unstable element has been introduced and is disrupting the system that both sides previously found advantageous.
Brian Dennehy's character is amazing so far, but what else would you expect? He plays the liege lord of the kingdom so well, and that brogue! Perfect, just a touch, not to heavy. Here's hoping that he is given the material that will allow him to finally nab that elusive primetime Emmy.
I'm enjoying the character so far. It's a little bit of a stereotype, sure, the reformed mob boss trying to move interests to the more legitimate businesses as he ages. But tropes exist for a reason, and there's always good storytelling to be mined from the generational conflicts of the setup.
We're not street thugs anymore, goddammit! We're businessmen!

Joe Patton
I like that Patton recognizes that his son is a screw-up and a danger, and I'm interested to see more of their relationship revealed down the road. I'm hoping that we end up with a situation where core components of Rusty's personality are to blame than Patton being an abusive father. While a reasonable explanation, it's overdone, and always seems like the easy out for writers. 
But Rusty doesn't come off as quite as much the "sociopath" as I was expecting after reading the press materials. He doesn't get satisfaction or joy from the murders (as far as I can tell anyway). He's just impulsive and entitled, and will take the most expedient option to protect his interests. 
Nobody gives me any shit.

Rusty Patton
I was surprised at how quickly Mr. O's murderer was revealed. It felt like something that could have been drawn out until closer to mid-season. I think that the reveal worked though; instead of false leads and a stalled plot, we were thrown further into understanding Rusty and what he's capable of. This show isn't going to be entirely plot driven, which is exciting for a police drama. 
Meeting the extended Muldoon/O'Bannon family was another example of how the show is going have a balanced drive to it's stories. The senior members of the clan made important contributions to move the plot forward, but they were also so delightfully real. I kind of want to get a drink with Mrs. Muldoon.
I reall enjoyed meeting Muldoon Sr. His relationship with his son inform's so much of who Terry is. Especially as Muldoon struggles to parent Jimmy, and keep him on the straight and narrow. He's clearly trying to avoid his father's mistakes, but his other male role model, Mr. O, seems like he was even worse. I also get the impression that even if he doesn't like his father, he still loves him.
Because it's one thing to want to kill your father, but it's another to actually do it.

Terry Muldoon
Sean's complicated relationship with his father is also featured, which makes sense with his death. I never thought Sean killed Mr. O, and if I were him, I'd probably be insulted that so many people thought that was a possibility. But I think he may see it as a positive. 
Sean's relationship with Mr. O was complicated, and is another piece of evidence that the writers on Public Morals aren't phoning it in. Human interactions are messy, and they honor that but not making everything cut and dried. The wake and the fight that followed were just wonderful.
Look, I can call him an asshole, alright? But those two clowns? You know, they got no right!

Sean O'Bannon
I did find it a little strange that Sean would rely so heavily on Deirdre for something like that when they just reconnected. I'll give it a pass since they've known each other for a while, even if they haven't been close. It should be noted here that Deirdre is great, and her roommate may be even better. I'm crossing my fingers for more affectionate roomie banter, and messing with Duffy. 
We learned a little more about Jimmy Shea, but I was left with even more questions than before. I had suspected that maybe he was a plant who was there to investigate the goings on at the PMD, but I'm not so sure now. He was awfully quick to betray his wife, and his comment about asking his father about Hardware Harry felt ominous. 
Public Morals Season 1 Episode 3 will focus on Mr. O's wake, which means lots of liquor, laughter, and at least one fist fight (at least if it's anything like the Irish wakes I've been to). The investigation will have to continue, but will those loyal to Mr. O be willing to wait for the police to dole out justice? Somehow I don't think so. 
Watch Public Morals online and let us know what you think about it in the comments!
Elizabeth Harlow was a staff writer for TV Fanatic. She left the organization in October 2018.