Switched at Birth Season 4 Episode 13 Review: Between Hope & Faith

Samantha McAllister at . Updated at .
Never investigate your boyfriend's ex!
On Switched at Birth Season 4 Episode 13, Toby and Lily finally came to a decision about what they want to do about the pregnancy, which brought out the worst in some people. While the show could have continued on with the possibility of abortion, they wrapped up the argument well.
Let's not waste anymore time and discuss "Between Hope & Faith."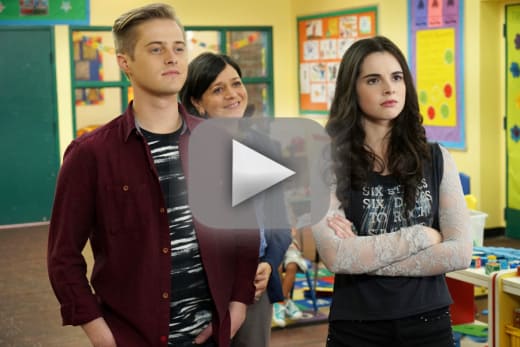 It doesn't matter how much Regina knows about Eric, moving in together is the worst idea ever. As sexy as Eric is, Regina doesn't need to jump into another serious relationship. What's wrong with enjoying the honeymoon phase?
I'm thrilled Regina told Daphne the truth about Eric's wife, Hope, but Regina made a foolish decision in seeking out Hope. Of course Hope would turn out to be a liar and possibly still on drugs or at least dealing drugs along with her loser husband. Regina meeting Hope is going to come back and haunt her – a crystal ball is not needed to see it coming. 
John's reaction to Lily and Toby's baby news was completely out of line. I understand John has a lot of stress going on, but listening to him insult Toby and children with down syndrome was extremely difficult. Toby gets credit for trying to man up and be there for Lily.
Was anyone else irritated by how negative Bay was being about Toby weighing his options? While it's going to be difficult raising a child with down syndrome, raising a child in general is hard. Toby knew before even checking out the school that there were going to be tough times – he didn't need it thrown in his face. 
The only thing to be said about Emmett is he has turned into a jerk. Travis came all the way from Kansas City to visit him and watch the Chiefs play, but Emmett just blew him off. I get Emmett is trying to make a career for himself, but at least show some respect for your friends. 
Of course Emmett would already be in a relationship with Skye – way to get over your feelings for Bay so quickly. Skye may be a nice girl, but there's something off about her. I couldn't help but feel terrible for Travis when he was dragged to the dreadful party – what a crappy way to spend your day.
In the end, Toby and Lily decided to keep the baby and Toby's family seems to be on board. At this point, Toby is going to need their support more than ever because raising a baby, in general, is going to be hard on the young parents. When the family showed off their socks, I couldn't help but tear up a bit – how adorable!
Do you think Lily and Toby will be good parents? Or do you think there will be a complication with Lily's pregnancy? How do you feel about Emmett's personality change?
Did you miss out on this episode? You're in luck! You can watch Switched at Birth online now via TV Fanatic and make sure to come back to let us know what you think. 
Next week on Switched at Birth Season 4 Episode 14, Bay finds out the truth about Eric. Will she be as accepting as Daphne? 
Samantha McAllister was a staff writer for TV Fanatic. She retired in November 2018.