Significant Mother Season 1 Episode 9 Review: Not About Bob

Christine Orlando at . Updated at .
After breaking up with Lydia, Jimmy ran around in very little clothing in Significant Mother Season 1 Episode 9, not that I'm complaining. 
Jimmy was such a mess after the break up he couldn't even tell who broke up with whom. Despite indulging in some of his One Is The Loneliest Lager, he did eventually realize that he put the nail in the relationship coffin.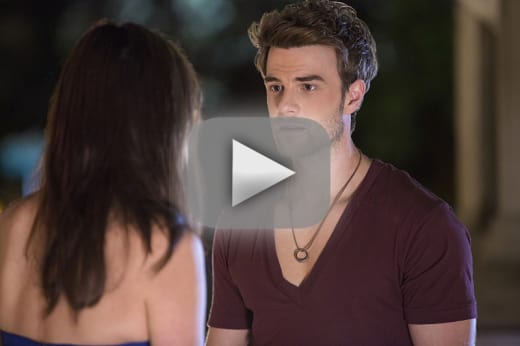 It was hard not to feel for Jimmy because it was so obvious he's never had his heart broken before. Of course he's probably never put his heart on the line before either. That's why the smell of Lydia on his clothes had him throwing them all in the water and he felt as though he couldn't breathe…
I still have a stabbing pain in the gaping hole where my heart used to be.

Jimmy
Jimmy was learning the equation that many of us already know: Love + heart break = stabbing pain. 
Elsewhere, Lydia was at home realizing she could never look at a cucumber the same way again and Harrison showed his nice side…sort of. 
Harrison was really sweet when he encouraged Lydia to sell the house because they both needed to let go of the old memories and move on. When he showed up at her door with those divorce papers, I wanted to hug him too as he delivered this Significant Mother quote… 
Signed, sealed, delivered. I'm not yours anymore.


Harrison
That was until he smelled Lydia's "sex perfume" and everything changed.
You're going to have sex with Bob's Babcock?

Harrison
Lydia's a beautiful woman who's on the rebound and Bob's no fool. He saw his opportunity and swooped in. 
As for Harrison, he may not remember Lydia's middle name, but he knows what that scent means. One whiff of Lydia's perfume had Harrison snatching back those papers. If he wasn't willing to give her up for Jimmy he's certainly not willing to give her up for Bob.  
Hearing that his mother planned to date Bob, Nate got desperate. He realized that Jimmy's bad at making decisions because Nate always makes them for him. How does he fix it? He turned his Prius into a "Back to the Future" inspired time machine, of course. 
Sam sang a song while she and Atticus dressed all in silver to show Jimmy his depressing future if he didn't make a decision about his relationship with Lydia. When he heard that Lydia was going out with Bob Babcock, he kicked it into gear, got changed, (honestly, I would have been happy if he stuck with those tiny red shorts) and rushed off to stop their date.
Lydia was understandably hesitant but a madly in love Jimmy convinced her he was ready to move forward with her…
I'm just starting out and you're just staring over. I would really love it if we could do that together.

Jimmy
Aww…these two are so darn cute together it's almost impossible not to love them. I loved Jimmy all the more when he was honest about his reservations over finances and asked if Lydia would be willing to rent with him instead. 
Looks like our little Jimmy is growing up. 
Even Nate may have to step up to the plate as he let it slip that he remembers his kiss with Sam. Perhaps Harrison can help his son with that now that they're roomies. 
And with Lydia and Jimmy living next door, I'm just begging The CW to renew this show for season 2 so we can continue the fun. 
If you can't get enough, you can watch Significant Mother online here at TV Fanatic. 
C. Orlando is a TV Fanatic Staff Writer. Follow her on Twitter.