Gotham Season 2 Episode 8 Review: Tonight's the Night

Lisa Babick at . Updated at .
Well, wasn't that a nightmare!
Gotham Season 2 Episode 8 started with a nightmare for one bad girl and ended with a nightmare for one bad guy. And everything in between was just as much a nightmare. All talk and no action makes for one boring hour of television. 
I really didn't think I was going to make it through this episode!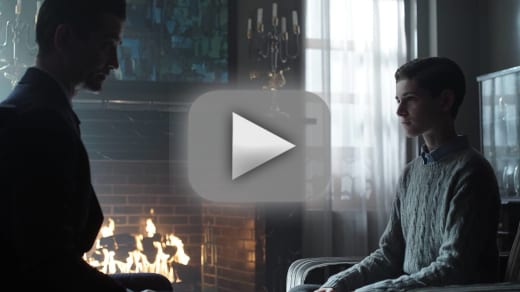 Barbara could have been a great character. She showed lots of potential in her interactions with Jerome. She was crazy fun during those hours. But, obviously she's spent way too much time with Galavan, because she has become one agonizingly boring person.
Except for her opening nightmare sequence (which was incredibly BIZARRE and the highlight of the hour), every moment she was on screen I wanted to scream. How can someone talk so much? There was no suspense in anything that she did or said.
And wasn't it funny that these characters kept telling us it was all a trap? As if we couldn't figure it out for ourselves.
There is no doubt that Jim is a tortured soul and Barbara plays a big part. But wouldn't it have been better for his character if she would have died? Imagine the person he could have become if the bushes didn't break her fall. Poor Lee. To be living in this woman's shadow has got to be killing her. I really think Lee is at her breaking point. 
While I'm excited that Galavan is finally going to get what's coming to him, I'm also disappointed because it all happened so fast. I mean, what happened to the army Father Creel talked about? How long does it take to cross the ocean these days?
If Galavan is a man of "considerable resources," how did he not know that the GCPD was coming for him? If he had cameras watching Penguin's mother, wouldn't he have cameras watching Mayor James? And why was that the piece of information Barbara decided to share with Jim? It was all too convenient.
Bruce and Galavan's slow dance wasn't nearly as agonizing as Barbara's slow dance with Jim, but it still left a lot to be desired. I don't get how a 13-year-old boy can sign over a company. He's a minor! Wouldn't that be something for Alfred to do? 
But kudos to Bruce for deciding not to do it. The look on Galavan's face was priceless when Bruce changed his mind. And his nightmare worsened when Jim stormed in the room. He definitely wasn't expecting to see him. Too bad Galavan threw the envelope in the fire.
Wouldn't we all have loved to know who killed Bruce's parents, or better yet, who Galavan claimed killed his parents? 
I wonder if he was going to implicate Jim? It's going to be interesting to see what happens to Galavan and to see who, if anyone, comes to his rescue.
And what about Penguin and Nygma? Did anyone else wonder how Penguin was able to make it so far to find food when he barely made it out of the camper when Nygma came to the door? It was still light out when Nygma started on his quest to find the intruder, and it was dark when he finally found Penguin, so that was a long way for the fruitcake leprechaun to have traveled considering his condition.
But, hey, this is Gotham, and everything is possible.
Odds and Ends
Loved Nygma's license plate "RIDL LOVR."
What happened to the Strike Force's Josie? I don't remember her demise.
Now that Galavan has been caught, what will Penguin's angle be? What happens to his rage? How does he avenge his mother's murder? Will he even survive?
How did Lee get kidnapped from the GCPD? Weren't they already on high alert because of Barbara?
Like I said before, what happened to Tabitha's sharpshooting skills? Last time she missed Penguin. This time it's Jim. Maybe she needs to go back to the shooting range.
What did you think about "Tonight's the Night"? Share your thoughts in the comments below and remember, you can  watch Gotham online anytime, right here on TV Fanatic.