Homeland Season 5 Episode 5 Review: Better Call Saul

Carissa Pavlica at . Updated at .
More pieces of the puzzle are coming together on Homeland Season 5 Episode 5, as Quinn both fights for his life and hopes to die.
Allison's marching orders were revealed, but without the motive. Is she being set up for bigger things?
Best of all, Carrie made contact with Saul. Huzzah!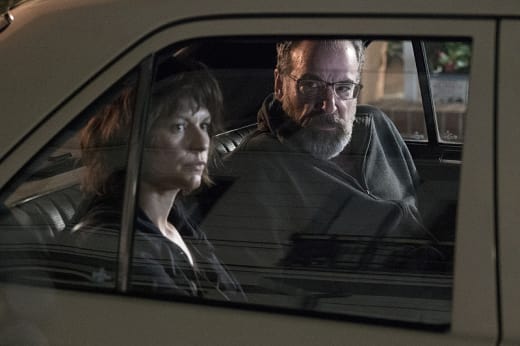 Quinn is in a really bad way. I'm glad they're depicting this bullet wound for what it is, since he really should have been dead when Carrie shot him in the woods. He's not invincible. In fact, he's dying.
Carrie was a bit cavalier when she flippantly told Jonas to just call for an ambulance, but she's often like that when times are stressful. Can we assume she's back on her meds? Maybe taking half doses or something? She'd definitely want to remain razor sharp, but not be cracking up, either.
She seems just shy of the sweeter Carrie we met at the beginning of Homeland Season 5, but that could be the effect of adrenaline. She figured out what many of you already had – that there is additional information in the leaked documents that hasn't been shared yet, and the Russians want to make sure it never happens.
She decides to go to Laura Sutton to see if her source might have another copy of the documents. Of course Laura would have leaked those by now, but she suggests using her friends at the CIA to look at what was stolen. Carrie laughs it off as having no friends remaining at the CIA.
Yet she obviously decides it's worth the risk contacting a former friend, because she uses a BlackJack gum trick and gets Saul into a cab. 
It's too bad Saul doesn't have a bit more information than his concern over his friend, Etal, to get him going, because at some point (whether it's during the conversation in the car or not), Saul and Carrie will come together to crack this thing. Let's just hope it's not when they're both covering their asses.
Allison is definitely responsible for the murders of the CIA leak guys, because she is covering up whatever is in those documents. Has she also deleted what was in them from the servers, and if not, why not? She's the inside man for Russia, so you'd think she'd give it a whirl.
It's unclear why the Russians are trying to turn Dar Adal against Saul. It doesn't appear to be an Israel based operation, but merely using Saul's soft spot to cause a rift between the two men, which will then...what? Ensure Allison gets Saul's position and closer to the US? Hmmm. Perhaps they're trying, step by step, to get Allison into the chair of the CIA Director. It could happen with Dar Adal's support.
Is Carrie going to ask Saul to dig into the CIA's files to look for whatever the Russians are trying to hide? And if he does, will he keep it on the down low, away from the prying eyes of Allison and Dar Adal? He doesn't know they're his enemies right now. And if he alerts Allison to what he's going, if she hasn't already wiped the servers, she surely would at that point.
Allison and Ivan also seemed awfully close. Whether they're as close as lovers remains to be seen, but the way they held hands led me to believe they're more than just colleagues. We didn't get a check in with her after the video of him and the hookers was released. What he did was very reckless and could be considered a betrayal. Perhaps she won't be as willing to work with him going forward. After all, all eyes are now on that man.
While all of this was occurring, Jonas is trying to tend to Quinn, who flees when he hears Jonas call for an ambulance. At first, I think he is going to try to kidnap himself using the tie cords, thus tossing any suspicion off of Carrie and allowing himself to get treatment. But he is by the river. After he runs from the man who offers help and tries to toss himself into a trash bin, I realize he was going to kill himself. Yikes.
The man who offers help, however, seems to have been sincere. Sorry, guys, but killing off Quinn is just not happening at this point. There was no reason to keep him alive and kicking just to have him pull himself around mortally wounded and then die inside a garbage bin. He has a lot more to do. Plus, we love him.
This was another good episode, but it's scary to think that spies could know us so well. Hell, Ivan essentially told Allison exactly what would happen with Dar Adal and it did, allowing her to make her next move. Are we really that predictable? Eek. 
I'm looking forward to seeing the conversation between Carrie and Saul on Homeland Season 5 Episode 6, as well as Quinn getting better and Allison's eventual downfall. Certainly the heroes will win, right? Let me know your thoughts. Hit the comments!
Carissa Pavlica is the managing editor and a staff writer and critic for TV Fanatic. She's a member of the Critic's Choice Association, enjoys mentoring writers, conversing with cats, and passionately discussing the nuances of television and film with anyone who will listen. Follow her on Twitter and email her here at TV Fanatic.