Who else wants to hang out with Elizabeth on the couch while watching infomercials?
On Madam Secretary Season 2 Episode 8, Elizabeth and Russell enlisted Mike's help in taking down Craig Sterling. It was enjoyable watching the various mind games Russell and Mike were playing on Craig. Of course the craziest moment came when President Dalton basically declared war on Russia.
Let's not waste anymore time and discuss, "Lights Out."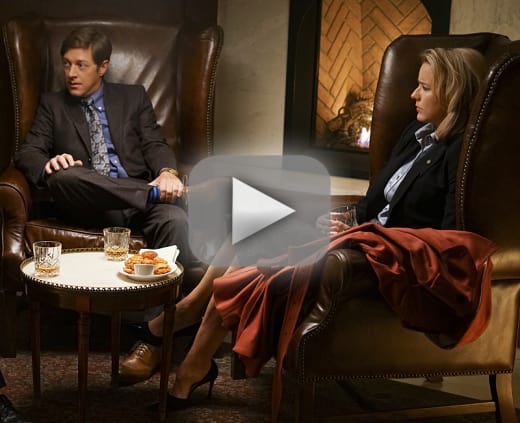 It was so strange seeing a different side to Russell, but I really liked. It certainly made his character more human and relatable. Is anyone surprised he has blood pressure problems? No, but it was interesting to get that personal side to his character. This season they seem to be expanding the characters a little more, and it's absolutely enjoyable to watch.
Of course Russell would come up with an idea to get rid of Craig while putting in some cardio time. It was smart of Russell to stroke Craig's ego and make him think they were friends because Russell knows it was the only way to get Craig to trust him. I wasn't shocked Craig would still be a complete jerk despite Russell trying to weasel himself in.
I did chuckle a little seeing Russell, Elizabeth and Mike all together trying to come up with a plan to get Craig out. The entire sequence of all three of them in the giant chairs trying to come up with ideas was comical, even though it wasn't supposed to be. At least they came up with a great idea to get him out without causing a scandal.
I've never been a fan of Craig's, and I am not sad to see him go. Craig had it in his mind everything he was doing was for the good of the presidency. Craig's fatal flaw has always been his arrogance, and it's because of his arrogance that Russell was able to finally get to him. 
I figured Dimitri would be eventually summoned to Moscow. Something I am confused about is why Henry keeps promising to protect him. There's truly nothing Henry could do if something terrible were to happen to Dmitri.
It's not like Henry would be able to fly to Russia to vouch for Dmitri if/when he were to get caught. I imagine the Russian government had some inkling Dmitri was a spy because of the amount of time he spent in the United States. I do give Dmitri credit for getting the job done and trying to get out of there as quickly as possible.
Speaking of Russia, it wasn't a huge twist hearing Russia was involved in the cyber attacks on Air Force One. This season seems to be gearing up to a war between the United States and Russia. I question if Russia really is the one behind the cyber attacks because something just seems a little fishy about the entire thing.
In the end, the power grid was turned off in Russia while Elizabeth warned the Russian ambassador of the impending retaliation. It was crazy watching all of the lights go out especially after Dmitri finally found his way out and could breath again. I am loving how intense Madam Secretary Season 2 is shaping up to be.
Do you think Dmitri will eventually get caught? Will Henry spill everything he learned about Russia to Elizabeth?
Don't feel bad if you missed out! You can watch Madam Secretary online anytime via TV Fanatic. Just make sure to come back to let us know what you think.
On Madam Secretary Season 2 Episode 9, tensions are high when Elizabeth reconsiders accusing Russia of being involved in the cyber attacks after Henry shares some intelligence with her. Will his information come back to bite him? Find out Sunday, November 29 at 8:30/7:30c on CBS. 
Samantha McAllister was a staff writer for TV Fanatic. She retired in November 2018.