Rosewood Season 1 Episode 7 Review: Quadriplegia and Quality Time

Rachel Miller at . Updated at .
It's the battle of top-notch Miami pathologists on Rosewood Season 1 Episode 7 when Rosewood goes up against his father in court.
The Rosewood men are expert witnesses in a murder trial. With both being very headstrong individuals, seeing them go head to head is very enticing and drama filled.
Rosewood and his father are so much alike that it's hindering their relationship. With the recent news of his parents' divorce, Rosewood still has a chip on his shoulder which is totally expected. In the back of Rosie's mind, everything that's happened in his life is his fault with a sprinkle of influence from his father.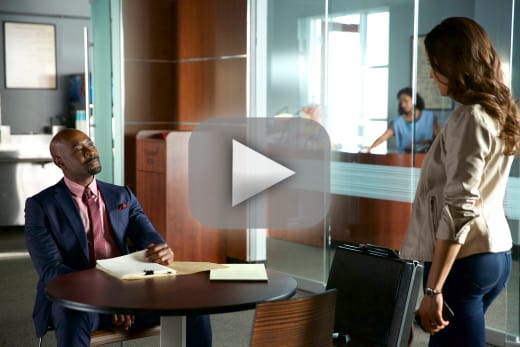 There's a new master in town.

Rosewood
Now that we have an insight on the kind of man Rosewood Sr., is and what he brings to the table, it's easy to understand why Rosewood has an ego and trust issues. Rosewood Sr., taught his son how to become one of the bests Miami has to offer.
He feels like he made Rosewood the successful man he is, therefore Rosewood should take heed of whatever he says. This causes Rosie to continuously push his father away, as well as anyone who tries to get close to him. Rosie needs his dad to understand that he's a grown man and is capable of getting the job done without his assistance.
An innocent man is on trial for murder because my son relies heavily on technology.

Rosewood Sr
The murder trial was the perfect example of when old school meets new school. Daddy Rosewood is a retired man who is used to doing his work the usual way, by relying on the human eye and pure talent. Rosie, on the other hand, uses modern technology, which in reality is far more simple than the old school way. It's very similar to when parents complain about and compare things this day in age to how it used to be in their prime. 
Rosie and his dad constantly butted heads because they both assumed their way was the best. It made it hard to decided who you wanted to root for during the trial. I personally wanted Rosie to win so he could prove his overbearing father wrong, which he eventually did.
I learned your life, your struggles, were all my fault.

Rosewood Sr
Aside from the Rosewood vs. Rosewood court drama, we were able to get the scoop as to why both Rosewood men have control issues. It turns out that Daddy Rosewood has a DNA issue that trickled down to Rosewood, causing his health issues.
Like any concerned parent, Rosewood Sr., thinks he wasn't able to protect his son, and it's all his fault that he has health problems. Daddy Rosewood allowed his pain to take over his thought process which hindered his ability to separate being a dad, rather than a doctor, to his son.
We both know I'm the best suited to treat you.

Rosewood Sr
As previously stated, Rosie thinks that his health issues are what caused his parents to file for divorce, and he wanted to fix their relationship. It's a lot for anyone to feel like they're a huge burden to the family and when he couldn't fix his parents, Rosie was heartbroken.
Rosie thought that because he was sick majority of his life, his father couldn't love him like he needed to be loved. Daddy Rosewood always tried to heal his son when he never needed fixing. Both men want to take control of situations that are simply uncontrollable.
Rosewood Sr: You give my son something he can never have with us, a clean slate. My son needs you.
Villa: He needs you to stop being such a jackass.
Am I the only one who was shocked to see Villa stand up for Rosewood? Villa seems to be coming around and getting used to Rosie. Both of them need someone to vent to, so I'm all for this friendship to start flourishing. Villa brought Daddy Rosewood back to Earth and told him what he really needed to hear. Rosie didn't need a doctor, he longed for his father to be there for him as a man. Rosewood Sr., just needed to step back and be there for his son for once. 
You've got this because you're a survivor like me.

Villa
Rosie is usually the one that gives the motivational speeches. Seeing Villa give Rosewood advice was a bit unexpected, but I'm glad she did. For once, both Rosewood and Villa let their guards down and actually let each other inside their heads without any judgment.
Rosie needed someone to help him get over his parents' divorce news, as well as the fact that he had to confront his father about his feelings. It was a nice, touching heartfelt moment that will allow Villa and Rosewood to become great friends and working partners.
What did you think of the father and son showdown on "Quadriplegia and Quality Time"? Are you excited to see Rosewood and Villa's friendship grow? Don't forget you can watch Rosewood online right here at TV Fanatic!