How many of you still think Noah is a stand-up guy? Raise your hands!!
On The Affair Season 2 Episode 5, after being treated like dirt by Yvonne and Robert, Alison finally has the guts to turn over a few pages in Noah's book. She doesn't like what she sees. Unfortunately for Alison, as a result of those actions, she assumes there is something wrong with her as a human being.
Feeling as she does ultimately leads her back into the arms of Cole, the man who is busy gathering more ammunition to be considered a suspect in the death of his brother.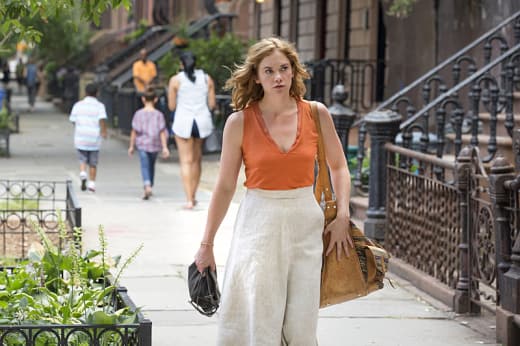 When someone doesn't want you to see something or doesn't want to share something with you, whether something they're writing or something they told another person, there's a reason for it. It's not just artistic integrity. 
Alison had to find that out the hard way. Pun intended.
Noah is such a cad. Giving that book to Yvonne to read, hell to anyone to read, without first telling Alison the damn thing is autobiographical, is inconsiderate and inappropriate. 
She was sex, the very definition of it. She was the reason the word was invented...no marriage, no matter how strong, could survive her. This is what it meant to fall.

Book
Watching Yvonne treat Allison like the whore Noah made her out to be in his book (do we really need to read more to know she was the Lolita in his semi-fictional version of their life story?) is so uncomfortable. As each scene plays out, you can feel yourself getting a little more on edge, from the moment Yvonne first mentions Alison's clothing of choice to the way she reacts when Alison suggests helping Robert with his therapy.
For Robert to have had such a visceral reaction to Alison's conversation about Noah was heartbreaking. It was only in The Affair Season 2 Episode 3 that they shared such a lovely moment bringing them close enough to be father and daughter. But then Noah's book entered their lives. 
It's hard to imagine his reaction to Yvonne reading him excerpts of from the book while the two of them are in bed. That's an image we just don't need to have. The one we have now is enough to last a lifetime.
The scene of Alison stopping in the mirror on her way out of the cabin to look intently at herself, trying to determine what other people see when they look at her, is brilliant. And it's interesting, because when I look at her, I don't see sex on a stick. I see a sad, vulnerable woman who could use some company. Is that the same thing in the eyes of some men?
When Alison clearly understands how Noah views her, the first thing on her mind is to find him, of course. What would she have said if they had met? Instead, she takes the opportunity to apologize to Helen. She's not that kind of girl, someone who steals another woman's husband.
Helen's comeback is that Noah seems great at first, but then when you get to know him and he feels safe, he lays all of his baggage at your feet, placing the blame for it on you, and then he hates you. Soon enough, there is a woman showing up at your door apologizing because she's sorry for falling in love with such a great guy. You have to wonder if that's what Alison is feeling now that Noah is in jail. It's not another woman, but damn. Who signs up for that?
She's certainly not going to continue living in the cabin, right? How could she, knowing the disdain those people have for her? I'd have a hard time even stepping foot in the yard again. And when the book is published, setting foot in Montauk would be off the table. If Noah thinks he's hated, what the hell do people think of Alison? 
Cole's story is pretty much a setup of adding more fuel to fire for reasons to kill Scotty. While it's being sprinkled on liberally, given the times he's been driving while practically falling asleep, it still seems like a scenario where he may have killed Scotty accidentally and let Noah take the fall so he could reap the benefit of his pain in the ass brother's death.
While Cole wasn't exactly on board with the idea of opening a nightclub with Scotty, the attorney indicated to Jeffries that Cole stole Scotty's idea and ran with it. That has to be the idea for a nightclub, right? And they're always fighting, such as over women. 
Alison winding up back at the beach house can't be a coincidence. She feels safer with Cole than she does with Noah. Noah is excitement. Cole is home. Whether they would have remembered the situation the same we may never know, but the fact we weren't shown two versions leads me to believe they would be on the same page. Alison needed comfort and knew she would receive it from Cole, because she doesn't doubt his love for her.
Yet despite this indiscretion and the secrecy behind the book, Noah and Alison will be together. Perhaps the pregnancy is the driving force behind that. It's so hard to judge the time between the present and the time jump. Enough time to have a baby, perhaps for Cole to build and open a nightclub after buying the land that Oscar loses by selling the beach house.
At that point, how long will Scotty have been dead? A month, a year? Two years? 
What do you think happened to Scotty? Why do I keep gravitating toward the men as the guilty parties? Is that the ultimate giveaway that it will be one of the women? Do you feel for Alison and her belief she might be invisible? Does she deserve someone better than Noah? What did Oscar hand to the attorney?
Hit the comments and chat about it. 
Carissa Pavlica is the managing editor and a staff writer and critic for TV Fanatic. She's a member of the Critic's Choice Association, enjoys mentoring writers, conversing with cats, and passionately discussing the nuances of television and film with anyone who will listen. Follow her on Twitter and email her here at TV Fanatic.