The Blacklist Season 3 Episode 7 Review: Zal Bin Hasaan

Sean McKenna at . Updated at .
The Blacklist spends so much time focusing on Liz and Red, that the other characters don't always get as much of a chance to be fleshed out, to see them as more than just FBI agents hunting down the bad guys.
So it was a nice change of pace to get to know Samar a little more on The Blacklist Season 3 Episode 7 with a case that got really personal.
And then she got even more personal with Ressler in that last scene. Talk about turning up the heat!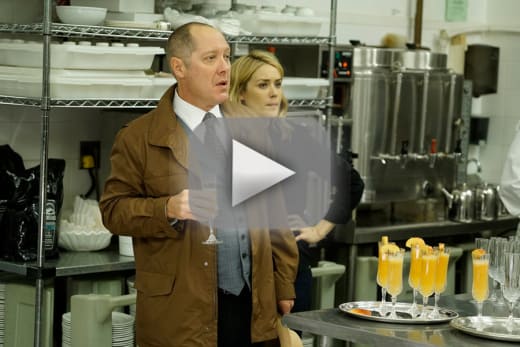 Samar's always been relatively cool, calm and collected, and for the most part she remained so when Red revealed to her the personal mission of finding the man who killed her brother.
But her world was rocked when the brother she thought was dead turned out to be alive. And then it was shattered when he turned out to be Zal Bin Hasaan, the terrorist she believed was responsible for killing her brother.
It was a shocking revelation that really seemed to shake her emotionally, and it will for sure shift the way she does things going forward.
Plus, for her to hand her brother over to Red was a big deal, too, knowing full well that in Red's hands it could wind up helping Liz, even if it truly meant having to go through losing her brother once again.
With all the action and bullets flying during those moments, it made that quiet conversation with Ressler all the more affecting. And both characters, who've been on such a mission, have had their worlds rattled by the most recent events in their lives.
The two were clearly vulnerable and open with each other, and that extended over to getting it on after a hard day's work.
Poor Aram. What's he going to think?
And what of her past boyfriend? Might they get a chance to rekindle or is that a flame that won't ever burn again?
There's bound to be some fallout from Ressler and Samar sleeping together, especially as they continue to work together, and it will be interesting seeing that dynamic going forward.
But what also really worked for this episode was the interconnectedness of all the storylines.
There was a lot going on, but it all wound up intertwining in a certain way as the forces surrounding Liz and Red got tighter and tighter.
Sure, Liz and Red seem even closer to getting her exonerated after his big deal, but it was Tom who brought it to her attention that he has Karakurt.
Tom and Harold's scenes were actually as humorous as they were entertaining. From Tom's appearance on Harold's doorstep to Harold's wife founding out, the dramatic situation also had some levity.
Now, if Tom can actually get Karakurt to confess before someone puts a bullet in him, that would be huge.
Because even with Ressler getting his hands on Mr. Solomon (loved that scene in the restaurant between the two) and the Director pushing off suspicion of their connection with his interrogation tactics, those two are still on the same side, the cabal.
And the cabal is not backing down from its task.
This was an engaging episode with some big personal twists, all while moving the needle that much closer to getting Liz free from being a fugitive. And I hope we get more episodes that focus on the side characters that really allow us some more insight into them as people. It truly adds something to the show and makes the series as a whole far more interesting in the process.
Were you shocked by the reveal of Samar's brother? What did you think of that hook-up? Sound off below, and to catch up before the fall finale, watch The Blacklist online now!
Note: The Blacklist Season 3 Episode 8, "Kings of the Highway," airs Nov. 19 at 9 p.m.
Sean McKenna was a TV Fanatic Staff Writer. He retired in May of 2017. Follow him on Twitter.