It certainly pays to be friends with the President. 
On Madam Secretary Season 2 Episode 12, Elizabeth's biggest problem wasn't dealing with the American ambassador to Myanmar, but with her neighbors who wanted her family to move.
While the secondary conflict was extremely unlikely, it was a refreshing change of pace.
Let's not waste anymore time and discuss, "The Middle Way."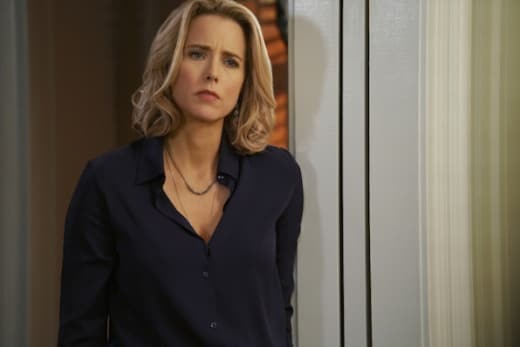 I understood where Maxwell was coming from regarding the trade agreement with Myanmar. He was trying to get Elizabeth to see the other side of the agreement. After immersing himself in their culture, Maxwell made it his mission to do what he feels is best for the country he now calls his home. 
I wasn't surprised someone like Maxwell read all the documents about the world in 2030 and believed everything would happen despite them being worst case scenario items. It was pretty comical watching Elizabeth's staff going through the documents and hearing Blake list off the various tragedies.
Blake: Spider moneys will be extinct!
Elizabeth: Somebody take that away from Blake.
Who else figured Maxwell would put together a demonstration? He could have come up with another way to get through to Elizabeth. I don't understand how President Dalton could blame Elizabeth for what Maxwell did.
It was the President who put Maxwell in the ambassador position for Myanmar not Elizabeth. It also wasn't a huge secret Maxwell was starting to embrace the culture and change religions, so why didn't President Dalton reach out to his friend to see what was going on? I know the President is busy, but this could have easily been avoided.
It was interesting hearing Nadine discuss her son. Nadine is still someone we don't know a whole lot about; though I'm hoping it changes soon. In all honesty, it would be great to see them flesh out Elizabeth's whole staff a little more. It seems like we really don't know a lot about these people.
As far as the other plot point, I know there will be some people who think the subplot of the HOA was completely ridiculous, but I actually enjoyed it. It was a nice change of pace from the serious political storylines. It was also great seeing Blake be a part of the HOA meeting and whispering to Henry the identity of each person.
I also can't blame Henry, and Blake, for going off on the neighbors. All of their complaints were completely unreasonable and petty. Elizabeth is the Secretary of State for goodness sakes – there are no hours of operation for her job. How do these people not understand the importance of her position?
In the end, Elizabeth and Henry figured out the perfect way to make their neighbors happy by getting President Dalton's approval to turn off the SUVs. It was actually a pretty genius move, and I'm surprised they didn't think of it earlier. Even though it was a nice change, let's hope this HOA storyline is over and done.
What did you think of the HOA storyline? Did you like the lighter feel of "The Middle Way"? Or did you feel like this was more of a filler hour?
Don't get too upset if you missed out. You can watch Madam Secretary online via TV Fanatic anytime. Just make sure to come back to let us know what you think.
Samantha McAllister was a staff writer for TV Fanatic. She retired in November 2018.