Jane the Virgin Season 2 Episode 13 Review: Chapter Thirty-Five

Amanda Steinmetz at . Updated at .
Love is never simple when your life is like a telenovela.
Relationships were in transition on Jane the Virgin Season 2 Episode 13 as Jane and Michael got back together, Xo and Rogelio broke up, and Petra rebuffed Rafael.
Let's start with the happily reunited couple.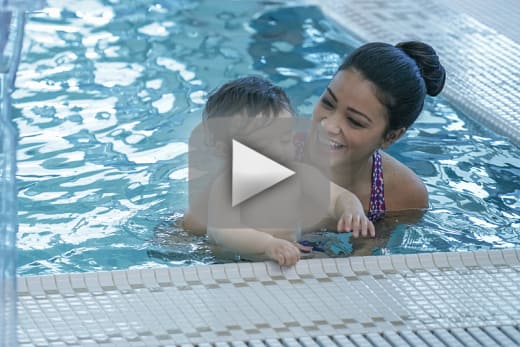 Looking back on this season so far, it feels satisfying to watch Jane and Michael rekindle their relationship after having spent a significant time apart. Both characters have grown in their own ways, and it will be great to see how they fit into each other's lives now.
Obviously the biggest change is Mateo. Jane is a mother, and Michael will have to figure out what role he will play in Mateo's life going forward. I just hope they don't rush back into an engagement. 
Everyone seemed to jump for joy over Jane choosing Michael, none more so than Rogelio. I loved his internal reaction to hearing the news. No one is a bigger fan of Michael than Rogelio.
The bromance is coming back!

Rogelio
We all knew Rafael was not going to take the news well. Honestly, Rafael looked like a complete jerk. He was clearly hurt by Jane, but that didn't excuse his jackass behavior. 
Rafael's fear of being replaced made him blame Michael's dangerous career and the risk it's had on Mateo. I just need to point out how completely ridiculous this was to watch. The only reason Mateo was ever put in any danger was because of Rafael's family. Rose is his step-mother, and Mutter is his mother, Elena.
His desperate attempt at connecting with Petra after Jane's rejection provided an interesting turn in that relationship. Petra has spent the entire season worming her way back into Rafael's life. However, she has learned to stand up for herself, and she knows what she deserves. Being Rafael's second choice is not what she wants.
I'm guessing Jane rejected you, in some way, so now you're here. I'm not a second class citizen, Raf, but I'm not a second choice either.

Petra
Rafael needs to focus on being the best father he can to his (soon to be) three children. Unfortunately, it looks like he might be sliding back into his player persona. 
Changing gears entirely, was anyone surprised when Paola turned out to be Lola? I hope that development wasn't meant to be a shocking twist because it was obvious the second her crazy eyes appeared on camera. 
This whole stalker plot line could be interesting, but I'm not convinced yet. We don't know anything about this Lola, other than she was in prison. Oh, and she never worked for J. Lo!
Before Rogelio found himself in the clutches of his stalker, he was still convinced Xo could change her mind about having kids. While I found their storyline a bit repetitive this week, it also felt realistic. Couples don't always make a clean break, and saying goodbye can be painful.
Leftover Thoughts and Questions
How adorable was that synchronized swimming scene with Jane and Michael? Those two make my heart all warm and fuzzy.
Luisa hit the bottle again after all the drama with Rose. I hope she takes Susanna's advice and goes back to rehab.  
Mateo blowing bubbles in swim class was precious. That is all.
So over to you guys! How will Rogelio escape from Lola? Will Rafael become a playboy again? What are your predictions for Jane the Virgin Season 2 Episode 14?
Sound off below, and don't forget you can catch up on any missed episodes when you watch Jane the Virgin online via TV Fanatic!
Amanda Steinmetz was a staff writer for TV Fanatic. She went into retirement in June of 2027. Follow her on Twitter.