Lucifer Season 1 Episode 9 Review: A Priest Walks into a Bar

Lisa Babick at .
Was that an emotional episode or what?
Lucifer adopted a whole set of human emotions on Lucifer Season 1 Episode 9, and it was completely unexpected.
But, oh my God, was it beautiful to watch.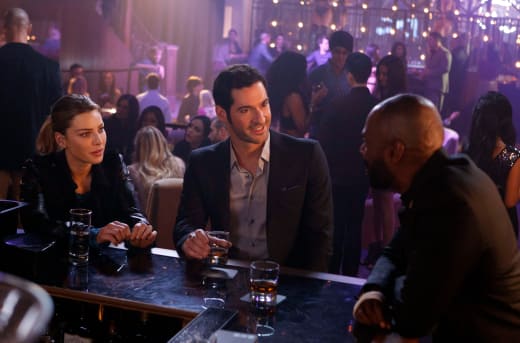 I absolutely loved this episode. Loved, like I could watch it a hundred more times.
Sure, it didn't have any Lucifer-y elements, and it was a far cry from the supernatural that made Lucifer Season 1 Episode 6 and Lucifer Season 1 Episode 7 so great, but it was so full of emotion and so moving and so perfect, how could anyone not agree that this was the best hour of the series so far?
Lucifer has changed so much in the past nine episodes, and in this hour in particular, he goes from mocking a priest to grieving a priest to completely understanding what a true friend is.
As fantastic as that piano duel was between Lucifer and Father Frank, it was the piano scene at the end that literally brought tears to my eyes. Lucifer playing Bob Dylan's "Knocking on Heaven's Door", and then Chloe visiting him to show her support, and the two of them playing "Heart and Soul" was just so..heartwarming.
I wanted to jump into my television and give them both a big hug.
I still can't get over Lucifer raising his fist to the sky then going back in to play that song (and talking to the sky is something he learned from the priest.) Does he even realize how much he's changed? 
What Father Frank said to Lucifer right before he died was truly haunting.
At first I didn't understand why God put you in my path, but then it hit me. Maybe he put me in yours.

Father Frank
What if what he said was true? What if everything that's happened to Lucifer from the very beginning of our journey with him is a small lesson from God with the end game being that he will return not to Hell, but to Heaven?
And what if that's the reason why Amenadiel is on this mission? Not because it's a mission from God, but instead a mission he's concocted on his own to prevent what is happening from happening?
I mean, would God really okay bringing a criminal back to life to kill Lucifer as a way to force him back to ruling Hell? I don't think so.
The case of the week this time around was rather intriguing. I didn't suspect Doyle was going to be the bad guy, and was a little surprised when it turned out that he was. Looking back, it was obvious since that's the way things go with this show. 
Maybe I was just too riveted by the whole Father Frank and Lucifer storyline to even care about the case of the week. Maze was so excited at the prospect of the priest being at the Lux, and really thought Lucifer was going to have one hell of a time with the priest.
But once again, Lucifer surprised her by not going completely Lucifer-y on the guy. Instead he just got cocky with him.
I loved the looks Father Frank gave Lucifer every time he made some snarky remark, but then again didn't he think it strange that he was talking to a guy named Lucifer?
Lucifer was trying really hard to implicate the priest with...something..drinking, stealing, molestation. It didn't matter. He just wanted there to be something wrong with the guy. And he was giddy beyond belief when he and Chloe found an arrest record for the priest, but that was then and this is now and Father Frank isn't the same man.
And that surprised Lucifer. Father Frank wasn't a holier-than-thou. He was a man with flaws and a past, who recognized his mistakes, found God, and turned his life around. The whole strippers as nuns scene was hilarious. I absolutely loved Lucifer's reaction to Father Frank who wasn't tempted at all, but was really into the the song that was playing.
That was truly the turning point for Lucifer and when he saw Father Frank as a friend instead of an enemy. Having a drink with his former enemy just solidified the point.
It's what made Father Frank's death so much more heartbreaking. Lucifer's rage was palatable, but it was interesting that his eyes did not flare red. I also thought it was interesting how Chloe so effectively talked him down from the rage, which makes me wonder once again if Chloe isn't some sort of angel.
One other thing that's worth mentioning is finding out Dan really isn't a bad cop after all, that he only shot Malcolm to protect Chloe was a nice turn of events. It's going to be interesting to see how the relationship between him and Chloe progresses.
I hope they get back together. Chloe and Dan means no Chloe and Lucifer, no matter what next week's preview teases. 
What did you think about "A Priest Walks into a Bar"? Share your thoughts in the comments below. Remember you can watch Lucifer online any time, right here at TV Fanatic!