Shameless Season 6 Episode 11 Review: Sleep No More
Paul Dailly at . Updated at .
It's time for Frank to go curl under a rock and stay there until the end of his time in this world.
On Shameless Season 6 Episode 11, Frank officially went too far when he put a hit out on the man his daughter loves the most. 
It's difficult to explain just how horrible Frank is. There are so many layers to the character, but we'll never get away from the fact that he's only looking out for himself and can't stand the fact that Fiona has someone in her life that loves her.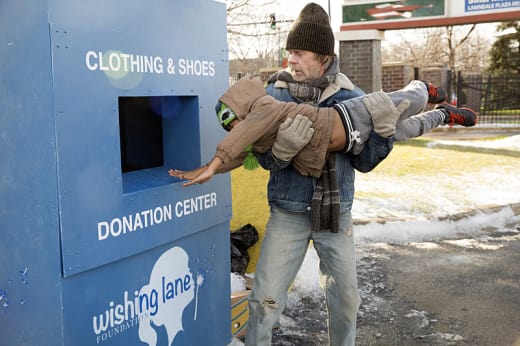 Sean did nothing wrong. Frank was being the burden to the family and kept getting them in trouble with his horrific actions. It was about time he was put in his place.
I had a strange feeling throughout the hour that something horrible was going to happen. 
Now it seems like someone is definitely not making it out of Shameless Season 6 Episode 12 alive. Frank's actions always come back to bite him in the ass and this time will be no different. To Frank, being a father is only a temporary position when the odds are in his favor. 
He's done a lot to his family, but the notion that he owned the house made me sick to my stomach. Legally, Fiona owns the house, so she should have known not to trust Frank. She should have cut him loose long ago. 
This family isn't going to be able to move on with their lives if Frank keeps popping back in and causing havoc. He has the exact same as Monica, and it would be better if he ran off with her and gave his family some peace and quiet. 
Debbie's going through something that she isn't going to be able to handle on her own. She's a new mom, and the signs are pointing to her having some form of depression. It would be great if she sought help, but that's not Debbie Gallagher.
It Debbie her up that her family didn't support her decisions about Frannie, so she has it in her mind that they won't help her again. 
It's a natural thought process. If she's become accustomed to them being negative about everything, why would she think they'd just change their stance all of a sudden? As much as Fiona did not agree with her decisions, there's no way she'd fully cut off her sister. 
Fiona just wanted Debs to have a chance to have a life before having children. That's something Fiona never got the chance to do, and we've witnessed her reckless stages because of it. Debbie has all the traits of a great parent, but she needs to finish school to give her kid the best possible start in life. 
Debbie just needs to find that balance that will allow her to go about her life and raise her son without worrying what others think about her parenting skills. She made the decision to keep the child and she can do good by it.
It wouldn't be all that surprising if Debbie got a job and flew the nest. She may even find a man that loves her for her and nothing else. Either way, it's time for her to grow up and be the mother she knows she can be to Frannie. 
"Sleep No More" was a solid episode that at times felt like the calm before the storm. There are a lot of things up in the air as we approach the finale.
Other tidbits from the episode:
I'm unsure how to feel about the whole thing with Veronica and Svetlana. I don't think I could deal with the show if Kev and V were pulled apart again. They're a great couple, but Svetlana could be the one that ultimately leads them apart. 
Ian's past coming back to haunt him was a given. I'm surprised Caleb was silly enough to think that he would get away with it. It's almost like he set him up to fail. 
Lip's in a really dark place and needs help before it's too late. 
Remember you can watch Shameless online right here on TV Fanatic. Get caught up on all the drama now!
What did you think of the episode? Will someone die in the finale? Chat with me in the comments!
Paul Dailly is the Associate Editor for TV Fanatic. Follow him on Twitter.