Severide solved a murder and Casey won his election on Chicago Fire Season 4 Episode 17.
Below, TV Fanatics Elizabeth Harlow and Stacy Glanzman are joined by super fan Amy Perrin to discuss what happens next for Casey, Kidd's Molly's Junior franchise, and our favorite scenes. 
Join us!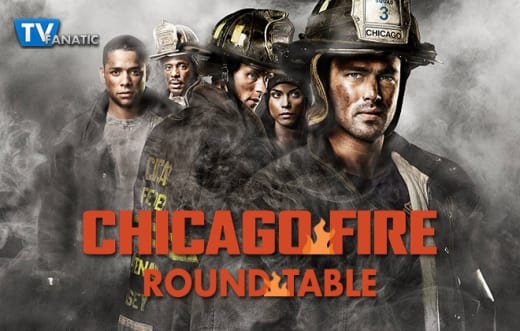 Were you surprised Casey won the election? What challenges do you think he will face?
Elizabeth: Considering the way his campaign was mismanaged from start to finish, a little, yeah. He really needs to hire at least one person with a shred of political/media savvy or things aren't going to be all that easy.
Ultimately, I'm not sure how long this will play out. It opens up some good stories for sure, and could even be its own spinoff, but I do think it's a bigger job than Casey anticipated. If it came down to choosing between the alderman position and 51, I know where Casey's heart lies.
Amy: Not really. After that reporter did the story on Casey and how he puts the lives of people first, I knew that it would appeal to the public. Just like real life, people are sick of politicians and their shenanigans, they want someone that genuinely cares and will be their champion.
I am not sure that Casey will be able to juggle being a firefighter and an alderman though, as it seems a lot more involved than he originally thought.
Stacy: I figured he would win, but I am definitely curious to see where the story goes from here. I think he's going to really struggle with cutting through the red tape and realize that helping people the way he wants won't be as easy as he anticipated.
Did Severide make the right call to go see Emma?
Elizabeth: Ha, which time? Since as of now, #OneChicago is a world where no one is too concerned with due process of the law, sure. In reality, what he did would have left the prosecutions case full of holes for the defense to exploit.
Amy: Knowing that Severide cannot let anything go, he did what he had to do, even if it meant dealing with repercussions. I probably would have done the same thing. Poor Emma, finding out her own brother killed her daughter.
Stacy: I think going to see her before the DNA confirmed it was her daughter was risky, but the way he told the cop without any hesitation that he'd be the one to tell her if he was wrong made up for it. Severide would never purposely want to cause pain to someone, so for him to instill hope like that, he had to be pretty damn sure.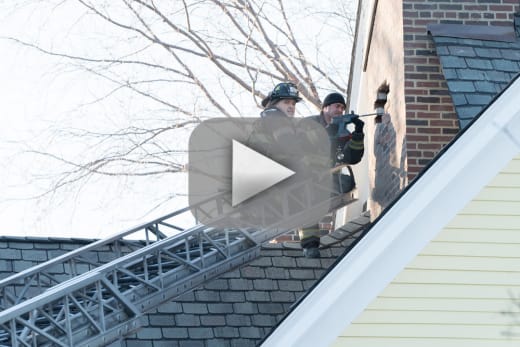 Do you like Kidd so far? Do you want her to stick around?
Elizabeth: Yes! She's a great addition to the team, and Fire has needed more women. It's always been a struggle for this show due to typical makeup of firehouses, and she's certainly helping fill the void. Also, she makes a really cool root beer float.
Amy: Yes, I like her a lot better than I did Chili, and I hope that she stays at Firehouse 51.
Stacy: It's unanimous, Kidd stays! I like that she's already gelling with the rest of the house and having girls nights with Dawson and Brett. She's a great fit chemistry-wise.
If you were a little kid and it was your birthday, would you rather have live music or a root beer float bar?
Elizabeth: Um, probably the root beer float. Also, Annabelle's party was at a bounce palace, why did they need entertainment? Those places had package deals if I remember back to my childhood...
Amy: I would rather have the root beer float bar. Root beer floats are yummy!
Stacy: I actually don't like root beer, but I would never turn down a cup full of ice cream! 
What was your favorite quote or scene?
Elizabeth: I loved the girl bonding and the bubblegum vodka scene. It was relatable. I, too, have doubted the drinkability of lady liquors, but Pinnacle's Whipped Cream Vodka definitely brought me around. Incidentally, that would pair beautifully with Stella's root beer floats!
Amy: I really liked the ending when Casey learned that he won the election. It was a fun scene with everyone congratulating him, and he and Gabby had a nice moment together.
Stacy: I loved the girls night scene as well, and more specifically Gabby's toast to Al Gore:
Ladies, to Al Gore, who also finished second in his election, but went on to grow a really nice beard and alert us all to the dangers of climate change.

Dawson
Stacy Glanzman was a staff writer for TV Fanatic. She retired in March, 2019.