Family Guy Season 14 Episode 18 Review: The New Adventures of Old Tom

Lisa Babick at . Updated at .
Mindless entertainment indeed.
If only Family Guy Season 14 Episode 18 was as amusing as the movie it tried to parody. Not that Paul Blart: Mall Cop was that great a movie to begin with.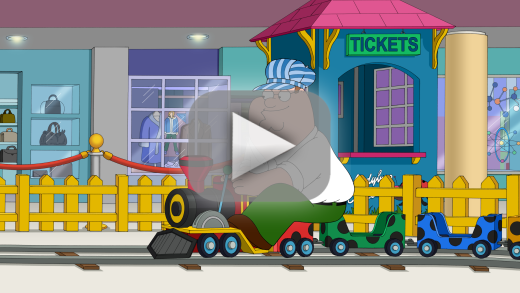 And, yes, there were some clever references to other movies (Silence of the Lamb was one) as well, but those still didn't help this installment move out of flatline mode. It's not that it was all horrible. It just felt like it was trying too hard.
When I first read the preview for this installment, it sounded like we were going to be following Peter around as he's trapped in the mall overnight. Imagine all the adventures he could have had with that free run. Imagine how fun that would have been.
Instead, what we got was the after effects of Peter riding the kid's train all night at high speed (along with a Speed reference and a Sandra Bullock slam) so that we could be introduced to Channel 5's newest correspondent, Dallas Portland, as he interviewed the misshapen "fat man."
There were bits before this turn that were actually funny, like Mort's new blowout hairstyle, the Price is Right bit at the very beginning, and the Silence of the Lamb cutaway.
I also really liked Peter getting a makeover at the cosmetic counter so Lois could say, "Wow," when she saw him. Because "wow" is about the only way you could describe Peter's made-up face. Though, you have to admit, he looked pretty good all made up.
But that's about it.
The rest of Peter's story went downhill once it turned into Tom Tucker versus Dallas Portland. Didn't Peter go down this road with Tom Tucker once before?
For some reason, Lois and the girls all going ga-ga over this "sweet new piece of ass" reminded me of some Family Guy episode from the past that I can't remember. Especially when they referenced getting high and drinking over at Bonnie's place.
Though, I will admit that Peter and Tom making the skating video was kind of cool. Until the bear interfered. And the ridiculous Billy Zane cutaways. 
And Bonnie actually threw out some clever lines too, the best one being about never seeing a bulge in the front of a man's pants before. That was actually laugh-out-loud funny. Though probably offensive to many, I'm sure.
As expected, Peter saves Tucker's job, and everything is happy. Yawn.
Brian's adventure with Stewie was just as yawn inducing. Like Brian lying to a woman to impress her is anything new. Or him buying a $10,000 diamond ring to get her number, and then returning it is surprising.
But, Brian's plan to return the ring is foiled by Chris who ate the ring on a dare to himself. So, he and Stewie spend the rest of their story trying to figure out some way to get Chris to poop it out to return it in time.
This included going to a restaurant to stand in line for the poop-inducing meal (which had a very long line.)
Stewie tells us we know what restaurant they're talking about, but the restaurant I'm thinking about probably isn't the same one they're trying to slam. (Here in the Midwest if I say "they slide right in and slide right out" you'll know what I'm talking about.) 
While bathroom humor isn't my favorite, I did find this part sort of amusing. 
The rest of their story was just stupid. Especially the whole "all sex is rape" bit, and the end with Chris not being able to control his bowels in front of the girl. Just gross, even if it was off screen.
While it had it's funny bits, "The New Adventures of Old Tom" felt like it was all over the place. It started off with a bang, but ended with a fizzle.
What did you think of "The New Adventures of Old Tom?" Share your thoughts in the comments below. If you missed Peter's latest adventure, you can watch Family Guy online right here via TV Fanatic!