Turn: Washington's Spies Season 3 Episode 5 Review: Hypocrisy, Fraud, and Tyranny

Megan King at . Updated at .
Hypocrisy.Fraud.Tyranny. This is the triumvirate that British preacher Frederick William Robertson famously said deserves no mercy. 
However, he said that long after the Revolutionary War ended. Was there more leniency in 1770s America? Let's break it down:
In Turn: Washington's Spies Season 3 Episode 5,  Anna now works in Washington's Camp. Caleb and Ben bring her to meet Gen. Washington, calling her the "Signal of Setauket." 
Washington is grateful:
On behalf of those who will never know the true measure of your efforts, I thank you for them. And for all the sacrifices you have made in the name of our cause.

Gen. Washington
Anna tells GW that she can bring even more value to the ring in camp, but it dawns on her that she is being shut out of the ring.
One minute Washington is telling her she kept his troops "alive and whole," and the next minute her old friend Ben tells her "women do not serve in an official capacity" and that the ring is "too dangerous" for her? Have mercy! What does he think she's been doing all this time?
At Rivington's Corner in New York, Robert Townsend learns the British plan to use a new weapon of war: counterfeit Continental dollars.
It's not like he has to eavesdrop as usual. Gossip-lover Mr. Rivington is happy to tell him what's going on and let him profit before the bottom falls out of the Continental currency. And how he does profit! But not in the way Rivington thinks.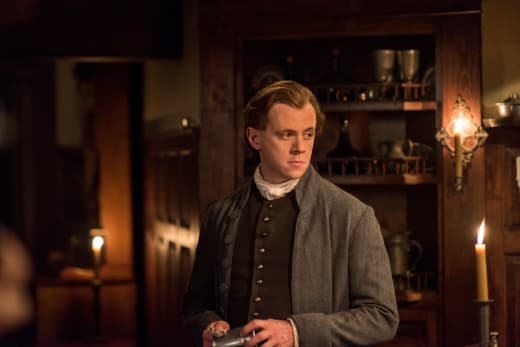 One round of free drinks later, Townsend had overheard the entire plan. That Townsend continues to be the coolest! 
But by the time Culper Jr.'s coded sheet music makes its way to General Washington, he believes the British may have already flooded Patriot territory with forged dollars.
Later, it's Anna who figures out (take that, Ben!) who would be most likely be able to make a large sale to put the Brits' plan in motion, which leads Ben, Caleb and their troops up the river for a fight.
During the attack, however, Ben is unable to get information about the other distribution sites. I'm happy they accomplished their secondary goal, though, which was to get revenge on Gamble for Sackett's death. No mercy there.
Speaking of revenge, Captain Simcoe is back in Setauket!
And he's mad as hell. He thinks Hewlett used Rogers to ambush him at Rocky Point.
Oh Simcoe. Not everything is about you! Except that ambush at Rocky Point. It was definitely about you. Pretty much everyone on both sides wanted you dead at Rocky Point.
But there you are, blood pumping through your veins, moving into Whitehall, confiscating Judge Woodhull's pistol, taking over his office and engaging in an epic staredown that judge knows he can't win.
In the future I would appreciate you requesting permission before entering my office.

Simcoe
The most uncomfortable part of this episode came when Simcoe bounced little Thomas on his knee while reading the draft of Judge Woodhull's letter excoriating him.
The creepy, sing-songy way he read the words like an innocent bedtime story can only be interpreted as a threat to the judge's grandson, the one person it seems he truly cares about. Will that be enough to make the elder Woodhull finally switch allegiances?
He only had Thomas with him at Whitehall after Mary begged him not to expose Abe as a spy to Simcoe (as he had to Hewlett).
She makes it as simple as possible:
Simcoe is evil

Mary
How wise you are, Mary!
Sidebar on Mary: I have so enjoyed her evolution since Season 1, when she seemed meek and easily intimidated. After she found Abe's spy handbook in the first season, I thought she might try to work against him, but she's proven to be cool under fire (literally) and has become the unsung hero of the spy ring.
Among other things, she has covered up a murder, convinced her husband to commit another murder and then forged a note from Major Andre, all to prevent Abe's cover from being blown. This time she gives up her son to Judge Woodhull in order to save Abe from Simcoe.
She's not just standing by her man, she's propping him up so he doesn't fall over. Also, she's shooting melons off the heads of scarecrows. Does that mean we will we see her sharp shooting skills put to the test in a later episode? I hope so!
Back at Whitehall, Abe bursts in and claims that Robert Rogers attacked and robbed them at the farm (not completely untrue).
Simcoe's revenge face contorts to look even psychopath-ier than usual:
Which way did he run?

Simcoe
Now Simcoe will do just what Abe wants, which is to hunt down Rogers and stop him from exposing Townsend in New York. Just like Mary planned it, probably. 
What did you think of this week's episode? Did you miss anything? No problem – just  watch Turn: Washington's Spies online again right now.  
This season keeps getting better and better. See you next week!
Other notes:
I hope Rogers does not get killed off. I love his voice, especially when he's saying stuff like: "I like you boy. That's why I'm not going to kill you."
Will the Thanksgiving celebration at the Townsend's Oyster Bay home risk exposure for the ring?  
Megan King is a staff writer for TV Fanatic.