Turn: Washington's Spies Season 3 Episode 6 Review: Many Mickles Make a Muckle

Megan King at . Updated at .
So many contrasts in this episode! In Turn: Washington's Spies Season 3 Episode 6, the writers placed the action in two settings where every contemporary American expects to find drama: Prom and Thanksgiving. 
The Prom, in this case, is General Arnold's ball in Philadelphia, attended by the congressmen and commanding officers running the war. Just because there are battles raging up and down the coast doesn't mean they can't make time to party!
Back on Long Island, the people on the ground who truly run the war (right??) meet up at Townsend's farm in Oyster Bay for Thanksgiving and some espionage.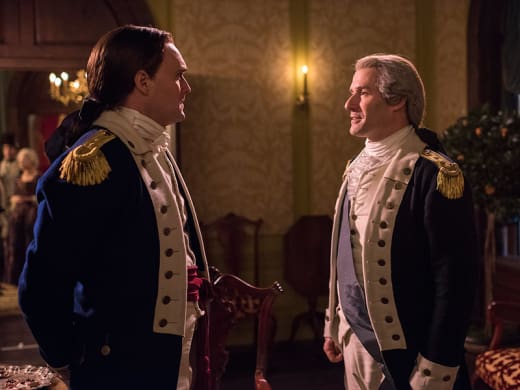 I guess Thanksgiving didn't fit Peggy's prom theme, as there was no mention of gratitude or Turkey at the Arnold homestead. But there was a well-lit ballroom, curtsying, dancing and soft music.
Above all, I was struck by all the beautiful costumes in this episode.
We are used to seeing the men dressed up in regimentals, but it was nice to see the women wearing the best of 1778 hair (oh that high roll!) and fashion, with the patterns and pleats on full display during the dancing sequences. Prom is all about the ladies, after all. Well done, costume designer!
General Washington mixes business with pleasure while in Philly. While he's ecstatic to see his wife Martha after six months in the field, he's also there to convince the Congress to recall all the currency because of the British counterfeiting operation.
On top of that, Washington has another dilemma: Should he help a friend or help America? Just when all signs point to GW placing country before comrade, he decides to put in a good word for his friend Arnold and get the court martial date moved up.
GW just proved his wife Martha's point from earlier:
George, you want to be liked.

Martha
Belle of the Ball Peggy has proven herself to be one of the best spies of the war. She has almost convinced her fiance that Washington betrayed him and he has no recourse but to take revenge by helping the British.
But much to Peggy's dismay, party host Gen. Arnold appeals to his old friend GW once again.
When the two men are alone together, though, she quickly intervenes. Sneaky. That's after she flirts with Commander of Intelligence Ben Tallmadge. This woman certainly knows what she's doing.
But Peggy's best prom ever starts to unravel when Arnold finally gets his one-on-one with GW and then she receives some disturbing news from her drunk friend Becky.
Isn't there a drunk Becky in every group of friends? And doesn't she always get wasted at prom and start spilling secrets?
This Becky spilled that Major Andre has started courting her Doppelganger in New York. Peggy is crushed, but like any skilled spy, she hides her disappointment and extends her hand to dance with the Commander of the Continental army. 
Before he hit the dance floor with Peggy in Philly, GW told Ben that he wanted to cut Culper out of the spy ring.
Ben was confused, and Billy had to explain to him (and to us) what GW meant by "many mickles make a muckle" (the title of this episode). It means the little things add up, and Washington thinks the intel will move faster without Culper.
At the end of the episode, at about the same time you start to wonder, "Wait, doesn't anyone think it's suspicious that Arnold is marrying a woman from a loyalist family?," Billy uses the title phrase again, and the words suddenly have new meaning for Ben as he stares at Gen. Arnold.
Is he suspicious of Arnold's earlier outburst about his wealth? Will he hesitate to report his suspicions to GW? He hasn't exactly trusted Ben's instincts in the past.
While everyone was on their best behavior in Philly, the Long Island crew dealt with darkness, armed Quakers, hatchets, blood, a hostage crisis, the Queen's Rangers and lots of unkind words. Just your average American Thanksgiving!
Anna continues to make herself useful to the ring, offering to be the new courier for Mr. Townsend since Caleb's past deeds have caught up with him. She was practically giddy that she got to be the one to tell Abe that he was out of the ring and she was replacing him.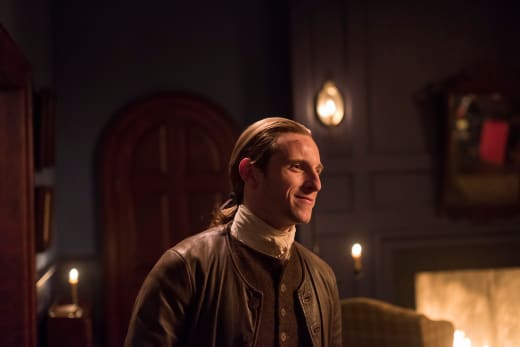 Anna really has a way with men, as the crestfallen look on Abe's face resembled the look on Major Hewlett's face at the moment she destroyed him, too.
When Robert Rogers held Anna hostage, I kind of wanted him to whisk her away to New York to help him take down Andre. After she helps him take revenge, they'll fall in love and set off for the Northwest Territory together, robbing banks along the way. (It's not the worst ship in the world, people!)
But that scenario would mean no more Rogers, and he cannot leave this show. He had two of the best lines of the night, both at the Thanksgiving table.
First, when things were heating up between the Townsends and Abe when the truth came out about the night of the raid, Rogers said what we were all thinking at home:
Here we go!!

Rogers
And then later he summed up this entire episode nicely as well:
It's been a great pleasure watching the amateur dramatics tonight.

Rogers
Nothing amateur about tonight's dramatics. It was a pleasure, indeed.
So is the ring really finished? Will Townsend continue to spy since Abe is no longer with the group, or is he done altogether? What do you think will happen to the ring?
Spread the word! Now you can watch Turn: Washington's Spies online anytime. See you next week!
OTHER NOTES
Loved that Simcoe raced through the forest with Culper, desperately searching for Culper.
Philomena's name came up in both settings tonight, which means the action may move to New York next week. Might we see a case of mistaken identity?
I think I've written in every review: "That Townsend is the coolest!" This week he held a gun to Rogers' head then lied to Simcoe. Wow, that Townsend is a badass.
Add "watched a rape" to the list of Simcoe's sins.
Was Billy powdering GW's hair?
Did you want to know GW used Spanish Fly to perform well the first time for Martha?
This episode aired on Memorial Day here in America, when we honor those who made the ultimate sacrifice. From 1775–1783, 25,324 patriots died for their new country during the Revolutionary War, according to the American War Library.
Megan King is a staff writer for TV Fanatic.