Turn: Washington's Spies Season 3 Episode 8 Review: Mended

Megan King at .
General Benedict Arnold's own words came back to haunt him in Turn: Washington's Spies Season 3 Episode 8. He told Benjamin Tallmadge back in Season 2 that he could be a soldier or a spy, but not both. 
Now he's about to embark on a life as a double agent after realizing his country would not be compensating him anytime soon.
Ben also realized that Arnold's previous words of advice were hollow. Ben quoted Arnold to General George Washington when he tried to resign his post as Head of Intelligence after the Culper Ring fell apart.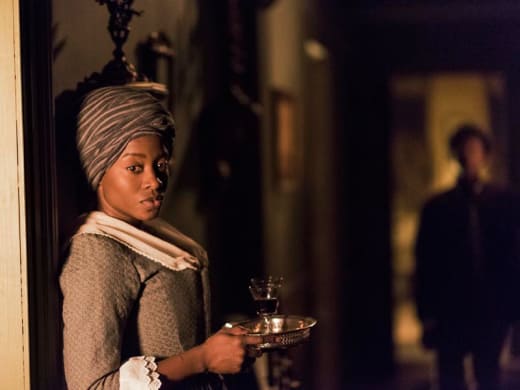 GW refused his resignation, saying the Ring is not finished because they still have one spy in New York: Abigail.
Ben decided that Anna needs to pay a visit to Abigail, but the only way to get into New York is with a pass. The only way to get a pass is from an officer. So Ben wants Anna to ask for a pass from her for former fiance, Major Hewlett.
The lady spies do all the work on this show!
Anna hesitates:
Sometimes you ask too much of people

Anna
Anna realizes that facing Hewlett will be far more difficult than getting info from Abigail. She arrives at the pub to see Hewlett – poor Hewlett! – He doesn't look like he's quite recovered from his heartache. She tells him he looks well.
Well, looks can be deceiving, as you know.

Hewlett
Then she tells him the truth. Talk about bravery. There she is, in a city held by the British, in a bar surrounded by British soldiers, admitting to Hewlett that she was a spy. But she knows him so well, she knows that he will not turn her in.
I cannot tell another lie to a man who did not lie to me.


Anna
When she doesn't answer his question about ever truly loving him, he knows that Hewlanna can never be:
Now I must quit you

Hewlett
Oh, I hope Hewlett hasn't quit us! Come back, Hewlett, come back!
This scene made me actually want to root for Anna for once. She showed real remorse (I think? Maybe she's just a really good spy) for what she did to Hewlett.
In my review of Turn: Washington's Spies Season 3 Episode 6, I was ready to send her away to the Northwest Territory with Robert Rogers, who also happens to be in New York. Rogers pretends to be a peddler outside Philomena's residence, hoping to get intel on Major Andre. What he finds out is that Andre's heart is still in Philadelphia.
Anna was confessing her sins to Hewlett in Robert Townsend's pub, but Culper Jr. wasn't there. He discovered that the British were about to launch an attack on Washington's Camp, and he immediately took off for Setauket in order to get the word to Washington as soon as possible.
As he arrives in Setauket, he witnesses one of Major Simcoe's violent threats and sees how he has treated the townspeople.
At this point, Simcoe's rage has overtaken all common sense. He still thinks Rogers has manipulated and threatened many of Setauket's citizens . He has no idea that he's the one being manipulated at every turn by Abe and Mary and I hope the Judge now too (do you think he gave him a real list?)?
I think Rogers would have been delighted to learn that he's being blamed for all the carnage in Setauket.
Townsend meets Abe and Caleb at the farm, but before he can hand over the intel, he has to punch Caleb first for letting his goons beat up his Dad when they raided the farm. Badass Quaker, as usual. Let that bromance begin!
When Rivington's newspaper reaches Washington, he moves to evacuate the camp, leaving the Brits nothing to attack. Ben then suggests that the timing is right to strike back at the British at Stony Point, since most of their army will be assembled around Middlebrook.
Ben, of course you can be a soldier and a spy! The plan works perfectly and the troops raise the American Flag that Anna was mending at the start of the episode.
Maybe this success will make Ben want to take a closer look at his onetime hero, Arnold?
While the Continental Army celebrates, Major Andre suspects that they have a traitor in their ranks. Does he have any idea that Culper Jr. is the one who is pouring their drinks?
Safe in their new camp, GW wants to find out who betrayed their location to the British.
He probably won't have to wait long, as his New York spy comes through.  
That's right, Abigail! So glad she has an expanded role in the ring. Anna is not expecting much as they chat about their lives since they last saw each other. But Abigail knows why she's there and does she ever have secrets to spill!
She notices her son lurking in the doorway and lets him reveal that Andre has been corresponding with Gen. Benedict Arnold. Add another (jr.) spy to the ring!
In the final scene, Peggy is just as we have seen her the last three episodes: On the verge of tears. This time it's on her wedding day. I'm not going to rant about Peggy' tear ducts. She knows what she's doing.
This episode was a bit of a break from the heart-stopping action of Turn: Washington's Spies Season 3 Episode 7. But espionage is not all adrenaline all the time, and it was nice to see the Culper Ring work efficiently to prove their worth and outsmart the British.
Now the race is on for Washington and Andre to catch the double agents in their camps. Only two episodes left!
What did you think of this episode? Don't forget you can still watch Turn: Washington's Spies online. See you next week!
OTHER EPISODE TIDBITS:
The men are still talking about Miss Mary. My favorite quote that didn't make the review:
Caleb: "Who the hell did you marry?"

Abe: "I'm still trying to figure that out."
Is this the last we see of Maj. Hewlett?
Will Robert Rogers figure out the Benedict Arnold/Peggy/Andre betrayal triangle before Ben/Washington can?
Since Abe has decided to stay in Setauket, will he actually "stand up to Simcoe" as he promised Caleb?
Megan King is a staff writer for TV Fanatic.