Scream Season 2 Episode 11 Review: Heavenly Creatures
Paul Dailly at . Updated at .
That was the best episode of the entire series!
On Scream Season 2 Episode 11, the killer made it their mission to implicate Audrey and Emma in the murders and it appears they have succeeded. 
From the first scene in this hour, it was clear we were in for a treat. The killer is over hiding in the shadows and striking randomly. If Scream Season 2 Episode 10 proved nobody is safe, then this episode went one step further.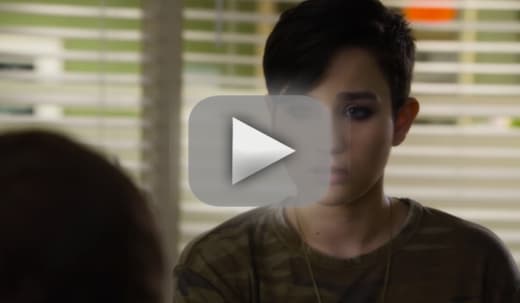 It literally blew everything up. Noah's failed podcast was no doubt the icing on the cake in order to pin everything on Emma and Audrey, but things are never going to be the same again whenever this killer is revealed. 
I'm not buying Eli as the killer. We still have another episode to go, so why would they reveal him as the killer so soon? Add in the fact that he never wore the costume when he was in Brooke's house. 
The show is trying so hard to throw us off the scent of Kieran that it's getting a little tiring. Kieran could have easily put the letters behind Eli's bed and orchestrated the whole thing. 
He knows Emma and Audrey have a lot of trust in him, so why would they question something that came out of Eli's room? As much as Eli has crazy outbursts, there's no way he's the killer. 
Hopefully I'm wrong so that I'm shocked when the finale comes to a close, but I just can't shake the feeling that Kieran is the Billy Loomis of Lakewood. 
All of the evidence points to him. He could even have another accomplice. He doesn't need to be carrying out all of these crimes alone. It was a bit a convenient that he called Maggie to let her know Audrey and Emma were on their way to the pig farm. 
Brooke is not going to be impressed when she learns of her father's demise. She will be quick to point the finger at Audrey because the podcast showed her with Jake's corpse. 
Practically everyone in town is going to be gunning for Emma and Audrey now. Sheriff Acosta is so sure he's on to something that he's told Maggie to get Emma a lawyer. 
Maggie won't be one to take any of this lying down, so expect her to fight Emma's corner with some solid evidence. There's also a chance she could blackmail the Sheriff with some things from their past. 
Meanwhile, poor Noah struggled to cope in the aftermath of Zoe's death. He just can't seem to catch a break. He genuinely seemed like he was over the horror genre in general, but Gustavo managed to help him get his passion for the genre back. 
Who would have thought Gustavo would ever help Noah? As much as I want Gustavo to be good, I'd be all for him being the killer. I just want it to be anyone but Kieran. 
I predicted it was Piper last year, so I'll be a little disappointed if I'm right again. 
"Heavenly Creatures" was a thrilling episode of this MTV drama. Initially some of the characters were pretty one-dimensional, but it seems like the show is now managing to flesh out the characters, while sending the drama into high gear. 
Remember you can watch Scream online right here on TV Fanatic. Get caught up with all the drama now!
What did you think of the episode? Are you shocked the killer decided to put the blame on Emma and Audrey? 
Hit the comments!
Paul Dailly is the Associate Editor for TV Fanatic. Follow him on Twitter.