A lot can happen in a day.
Or so it seemed on Chicago Med Season 2 Episode 1. Continuity has never been a strength of the #OneChicago verse, but then nobody's watching because of Dick Wolf's commitment to realism. We watch because of the personal drama faced by heroes as they go about their largely thankless work.
And the second season premiere of Med doesn't disappoint. It might not have been as literally explosive as other premieres in the franchise, but it's a safe bet that at least one character ended the night seeing fireworks.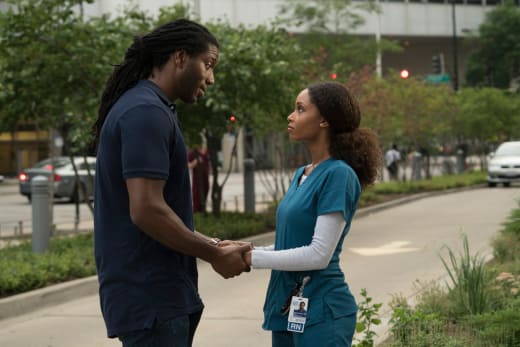 So, it's a little hard to believe that Sarah had a barista job (and didn't suck at it) that quickly, but I'm willing to let that slide. And it looks like I'm going to give a Will a bit more of a break since his past as a NYC plastic surgeon has been retconned. But just a bit more. There's still no excuse for the way he's treating Jeff Clarke.
There were two parts of the Jeff and Will story that pissed me off. One was that Will seems to have backslid in his maturity. Sure, unrequited love (lust? serious liking?) sucks, but letting petty jealousy interfere at work is not good way to start any new job. When it interferes with a student's education, it's unacceptable.
I was also seriously ticked that no one reamed out the resident for failing to treat a patient because they're HIV+. From a production standpoint, it was also a missed opportunity to talk about HIV and AIDS in today's world. Neither gets the coverage that abounded in the 90s, in part because of better treatment protocols, but even that was barely mentioned.
Maggie: I hate killing their dreams.
Sharon: No, you like to let them hang themselves.
I know that the HIV patient helped April work through some of her issues, but I really hope there's more to this TB storyline than what we've seen. I don't want April to die, or the kid to contract the disease, but I'm feeling seriously let down by this resolution. It's unfortunately becoming a trend with April.
I want to like her, I want to like her so bad. But every time things are about to get interesting with her, they just *poof* resolve. Or are randomly dropped. I'd love to see her hot, baller boyfriend help her go to medical school. Or maybe become a nurse practitioner or physician's assistant.
Anything to show up Noah, who is quickly getting on my last nerve. He's who Will should be riding. The problem is that his misbehavior isn't even interesting. It's just lazy entitlement. He's not hiding an addiction, or a medical condition, or skipping work to take care of the homeless, battered teen he got stuck with in an elevator. He's just a jerk. And jerks need comeuppance.
They don't usually always get in in the real world, but in the #OneChicago world, the good guys win, and the bad guys get punished.
Dr. Latham: Dr. Downey thought very highly of you. I'm curious, there are rumors. Did you kill him?
Connor: I'm sorry?
Dr. Latham: Did you?
In contrast to Noah, Connor's new teacher Dr. Latham might have some heretofore unknown quality that will excuse his total lack of social graces. My gut reaction to his awkward questioning of Connor was that he was somewhere on the autism spectrum. I'm hoping there's more to him than that; it's more than a little cliched.
As intriguing as Latham could prove to be, what I'm really looking forward to is seeing how Connor adapts to him. Not only would there be a learning curve with any new teacher, but the loss of Downey would reasonably make it harder for him to connect with anyone new. The fact that Latham acted psychotically in the OR only gives us more possibilities for serious drama.
At least Sarah and Dr. Charles will be on steady ground with one another. I don't think I could bear it if Sarah was made to be miserable for too long.
Anybody ever tell you the etymology of the word "psychiatry"? "The medical treatment of the soul." Isn't that glorious? So worry not, Dr. Reese, we'll always have a long way to go in the healing of souls.

Dr. Charles
This is going to be far and away my favorite pairing, trumped only by those occasions when Dr. Choi joins in. While I'm not really convinced that Sarah is cut out to be a shrink, doing even a year of a residency with Charles will help her to be a better doctor, no matter the specialty.
The idea of having her leave psych after a year to switch to emergency med would create strong parallels to NBC's still beloved Dr. Carter of ER, which probably means that it's even odds that's the path she'll take. Honestly, as long as she doesn't take it with Joey for much longer, either route is fine by me. He's just so...blah.
At least one couple will be providing us with some sparks. Whether Natalie and Jeff manage to turn their fling into a lasting romance instead of an awkward workplace rebound FWB thing remains to be seen. I'm rooting for something in between those two extremes, personally.
Connor and Nat team up again on Chicago Med Season 2 Episode 2 ("Win Loss," airing September 29th), treating two babies with an unexpected connection. While Dr. Choi shows a visitor around the ED, a homeless man night be the one to finally beat some wisdom into Will's thick head.
What did you think of the Chicago Med Season 2 premiere? Have any predictions you'd like to share? We'd love to hear them in our comments section. And remember, if you missed something, you can always catch up and watch Chicago Med online. It's also a great way to watch the episode again...and again...and again. We're not called TV Fanatics for nothing after all!
Elizabeth Harlow was a staff writer for TV Fanatic. She left the organization in October 2018.