Masters of Sex Season 4 Episode 1 Review: Freefall

Amanda Steinmetz at . Updated at .
Bill Masters and Virginia Johnson have a long and complicated relationship. After finally hitting rock bottom, has Bill finally learned to let go?
Even though he appeared to find some clarity in Masters of Sex Season 4 Episode 1, I'm not betting on Bill's revelation lasting too long.
The world is quickly changing around them, but Bill and Virginia always seem to find their way back to one another.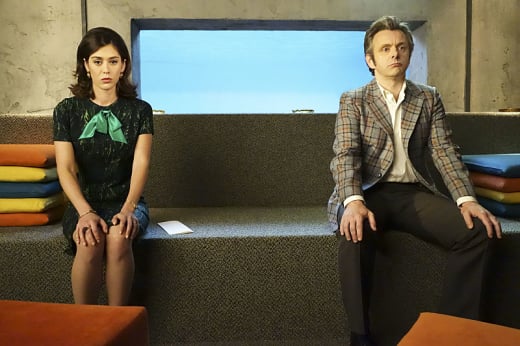 We caught up with the estranged duo several weeks after the events of Masters of Sex Season 3 Episode 12. Bill was trying out an overgrown beard and drinking himself into a stupor, while Virginia rambled on about her husband Dan and slept with a bartender.
It's unclear what happened with Dan and Virginia after they boarded that plane, but he was nowhere to be found. It's possible they never got married or they did get hitched and Dan turned out to not be the man Virginia thought he was.
Virginia decided to reach out to Hugh Hefner proposing a column in Playboy magazine written by her. One thing I've always admired about Virginia is she never lets her personal life affect her goals. Unfortunately, Hugh didn't want Johnson without Masters.
Seeing Bill and Virginia in the same room together after spending the majority of the episode apart felt rushed. Their relationship fell to pieces last season, and I was in no hurry to these two talking again.
Bill claimed their working relationship could go forward without their personal lives intertwining. Let's be real though, that won't happen.
Virginia: Why is it that I should believe that you've changed?
Bill: Because for twelve years I've tried every way, every wrong and misguided way, to win your heart only to realize in these last very dark weeks you wanted something else. So you picked someone else, which means that part of us together is over for good.
Bill seemed to have numerous little breakthroughs during the hour. I guess it must take your wife walking out on you, getting your business in trouble with the law, and having a judge order you to attend Alcoholics Anonymous to really make you see the light.
Louise from AA (played by the terrific Niecy Nash), gave Bill's ego the reality check it so desperately needed. He's a proud man who usually neglects to take responsibility for the issues in his life.
It's clear he knows he needs to change, and his acceptance of his status with Virginia is a step in the right direction. Unfortunately, the look on Virginia's face as Bill let her go spoke volumes. Virginia may not love Bill the way he does her, but that doesn't mean she likes the prospect of a life where Bill isn't chasing after her.
With Bill and Virginia navigating the next phase of their partnership, Libby was left trying to figure out who she is without her husband. Libby has become one of the best characters and someone to truly root for. She let Bill walk all over their marriage for years, and it's about time she took control.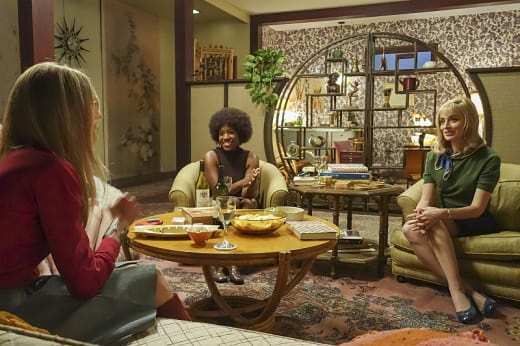 As for discovering who Libby is away from Bill, I'm excited to see her befriend more women. Libby may have found the idea of throwing away her bra to be ridiculous, but there's no doubt she looked a little giddy when she took hers off and dropped it to the ground.
Even if Libby doesn't fully embrace the feminist movement, spending time with women who aren't defined by the men in their lives should give her a new perspective. Adopting more modern ideas could even bring her closer to Virginia, who has always been ahead of her time.
Does a woman have to prove herself over and over and over again despite her experience and her accomplishments every time she wants to take a professional step forward?

Virginia
Watching society start to catch up to Bill and Virginia's work should be a nice change of pace considering they've been met with opposition pretty much every step of the way. The problem is whether or not the audience still cares enough to stay tuned.
Masters of Sex Season 3 was exhausting to watch. The two people we were supposed to care about continued to make stupid decisions and run circles around the same issues every episode. The endless cycle of Bill and Virginia's relationship got tiresome.
As I said at the beginning of this review, I was disappointed to see Bill and Virginia back in the same room together. This is not a good thing. Are these characters redeemable, and more importantly, can the writers make me care about their relationship again? Well, there's only one way to find out!
So where will Masters and Johnson go from here? How long before Bill or Virginia let their personal feelings get in the way of the research? Will Libby's new friends change her outlook on life? Will Bill and Virginia give Betty the vacation she deserves? 
Sound off in the comments below, and don't forget you can catch up on the season premiere when you watch Masters of Sex online via TV Fanatic! 
Amanda Steinmetz was a staff writer for TV Fanatic. She went into retirement in June of 2027. Follow her on Twitter.