It's the swinging 60's, so it's about time everyone found themselves invited to a swingers party.
Art and Nancy's key party (or more accurately coat party) set the stage for unexpected pairings on Masters of Sex Season 4 Episode 4. Each pairing was in service of where every character is on their journey right now.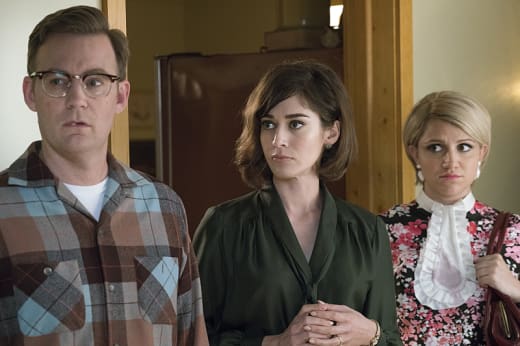 This was favorite episode of the season so far. As the episode began, we saw all the characters in various locations and states of dress. Flashing back 24 hours, we then saw how the evening's events unfolded.
Libby and Bill
With Libby in such close proximity with Keller, I was sure they were going to be paired off and hook up. Libby's night took a turn when Bill showed up to the party questioning the whereabouts of their children.
I adore Libby now that she's left Bill. She's honest and funny, and doesn't take anyone's crap. Bill, still feeling guilty about his actions, asked her what he could do to make her happy.
Telling Bill to go down on her was not the request I thought Libby would make. She's definitely taking advantage of those women's empowerment classes. 
Libby: I want you to go down on me.
Bill: I'm sorry?
Libby: I want to know what it feels like, and I want you to do something for me for the sole purpose of giving me pleasure.
Bill complied with her request and Libby certainly enjoyed herself. The next few minutes were masterfully acted and written. After finishing, Libby let loose her feelings about their sex life while they were married. Not only had Bill never gone down on her before, but she described their sex life as polite.
It was heartbreaking to watch Libby describe the lack of passion she didn't know she needed during their marriage. Libby never got to enjoy sex. She was a virgin when she married Bill. He was the expert. He was the one who watched couples do all sorts of sexual acts in the clinic, and yet he never thought to do any of those things with his wife.
Libby: I am actually a carnal woman, Bill. I want a man to tear my clothes off, and I want to have sex in the shower, and if I am going to go to a five-hour charity dinner, at some point I want to be felt up under the goddamn table.
Bill: I would have happily felt you up.
Libby: Really?
Bill: Yes, those were some incredibly boring dinners.
Bill may have respected her, but he didn't desire her. He never stopped to think maybe his wife wanted to be seen as sexual being, and not just the woman who wanted to cook him dinner and raise his children.
Bill wanted to provide her some comfort with the knowledge that they produced three children, and that he did love her, in his own way. This reconciliation of sorts was so intimate and touching.
I never thought I would see actual chemistry between Bill and Libby, but maybe the chemistry that works between them is one of friendship. Spending the night together as lovers instead of husband and wife was sort of the perfect way to wrap up their relationship.
Virginia and Art
Virginia was, not surprising, paired off with Art. Not only did they not sleep together, but they actually opened up to each other. Allowing them to speak their truths without sex as a result was probably the best therapy they could get.
We learned that Art only indulged in the swinger lifestyle because of Nancy. He would do anything to make her happy. It's just unfortunate that what makes her happy is sleeping with other men.
I didn't necessarily care for how heavy-handed the dialogue was in relation to her complicated history with Bill. At the same time, Art's explanation of love seemed to open Virginia's eyes to the fact that Bill is probably the only man who's gotten close enough to know who she truly is.
Your husband loves you, right? What makes you worthy of his love? Is it because your respective infidelities cancel each other out? Maybe he knows who you really are. Not your body in bed or your mind at work, but the secret you. The person you don't want anyone to see, much less acknowledge yourself. A woman who is fucked up, and he loves you anyway. Isn't that true love? Someone who will kiss your bruises the same way he kisses your lips, who's on your side, not when it's easy, but when it's damn near impossible, when you yourself don't think you deserve it.

Art
Their "role-playing" scene was Virginia basically retelling her story with Bill. For better or for worse, Bill has been a part of her life for a long time. He's loved her every step of the way even when she pushed him away, and even when she chose other men over him. 
If the audience is going to be forced to see Bill and Virginia become a real couple down the road, then we deserve to watch them achieve as much clarity as possible before they do. Bill's reaction to Virginia admitting she never married Bill was hard to read, especially for Virginia.
Is Bill truly finished with her? Did Virginia want him to be angry with her? 
Betty and Guy
Betty realizing she was at a swingers party was a hilarious moment capped off with her seeking refuge with the only other gay person there. Betty and Guy seemed to really hit it off and their singing voices were quite lovely.
With Helen still hiding their relationship from her parents, it was nice for Betty to be able to relate to someone else. What was that look she gave when watching Guy answer the clinic's telephone though?
Lester and Cleo
Lester has been so obsessed with his wife's infidelity that it's caused him to be nothing but a pain. Cleo brought in some much needed perspective, not just about Lester's situation, but about the party in general.
It's easy enough for the rich, suburban white folks to think their swinging lifestyle somehow makes them edgy or radical. Cleo argued those people were doing nothing except escaping the boredom of their lives. I hope Lester can somehow get her name and track her down. 
So over to you! What did you think of the episode? Were you stunned by Libby and Bill's sexual reunion? What did you make of the final scene between Bill and Virginia? What are your predictions for Masters of Sex Season 4 Episode 5?
Sound off below, and don't forget you can catch up on any missed episodes when you watch Masters of Sex online via TV Fanatic!
Amanda Steinmetz was a staff writer for TV Fanatic. She went into retirement in June of 2027. Follow her on Twitter.