History always has a way of repeating itself, but Bill Masters seems determined to avoid it.
As the trial was about to begin on Masters of Sex Season 4 Episode 5, Bill was eager to revisit his past with Libby, but was saddened to learn that sometimes revisiting the past means there's a larger issue at hand.
Elsewhere in the episode, Virginia admitted she belonged with Bill, and Betty confronted Helen about the future of their family.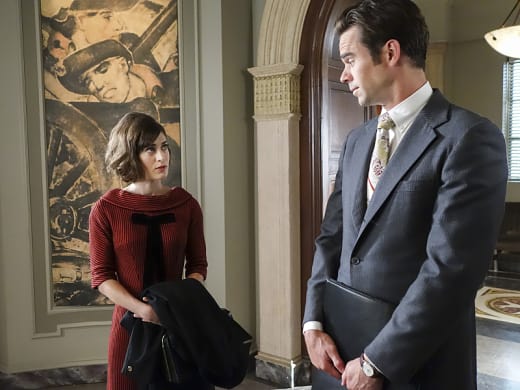 There was a lot to love about this installment: Libby continued to shine, Betty and Helen's family dilemma, but most of all, Bill's addiction awareness.
However, I can't help but feel like Bill's self-actualization process is just another plot device to keep Bill and Virginia apart. They are wrong for each other in so many ways, but the reality is that the real Masters and Johnson did get married (and then eventually divorced).
There's been a ton of deviation from the real-life people, but I can't imagine the show never getting to that part of their relationship. So while I enjoy watching Bill realize how toxic his feelings for Virginia are, sometimes it just feels like we're just delaying the inevitable.
Putting all the aside, there were some phenomenal performances. Who knew Bill and Libby could be so flirtatious together? Their scenes were sexy, but more importantly they showcased just how far this relationship has developed.
As husband and wife, they shared no passion, but more important they were never honest. Libby has been liberated by her divorce, and while she cares for Bill and has enjoyed their various sexual experimentations, she knows their marriage is in the past.
Why have we endured all this pain, all this suffering, if not for the two of you to end up together? You belong together, Bill, and I belong with someone who makes me feel that way.

Libby
It would seem rather obvious that Libby would be the one to point out that Bill and Virginia should end up together. Otherwise, why go through all this drama?
Bill has slowly been coming to recognize how problematic his feelings for Virginia are and have been for years. He would do almost anything for this woman, and that's not always a good thing.
While Virginia has played her part in getting Bill to the edge of the cliff, she never once promised him a future. She never once promised him her heart… until now.
So now that Bill has recognized his addiction to Virginia, the only logical next step in plot development is to have Virginia pine and chase after him. When Virginia admitted her feelings to him, I just rolled my eyes.
I've come to realize that I am an addict of sorts. For some of you all it takes is a flashing neon sign for cocktails. For me, well I can pass that same sign a thousand times and never even notice it. For me it's… it's something else. It's a passing glance, fingers brushing against my shoulder, a linger of perfume when she's already left the room, her hand in mine. In an instant I'm ready to give everything up. I'm prepared to throw it all away, my work, my pride, my self-respect. I'm Bill. I'm here to ask for your help.

Bill
Nothing about this "reveal" was surprising or welcome. It all just felt a little to little to late. Who knows, maybe that was the point? I have no control over the writers room.
Elsewhere in the episode, Betty confronted Helen about telling her parents about them. I'm not going to lie, I was worried Helen would take off or her parents would keep Betty away from their daughter.
Admitting to your parents you're not the person they thought you were would be difficult and upsetting. Luckily Helen has Betty by her side.
Their family may not be the one Helen imagined having as a little girl, but it's the one she's made for herself. As long as those two stay strong together, that kid is going to have two amazing moms.
Extra Thoughts and Questions
Bill sacrificing his reputation was the right thing to do, and his speech to the judge about sexual deviance was spoken beautifully.
Libby finally asked Keller out. These two have great chemistry and I'm excited to see where they go from here.
Guy is a nice addition to the office, and Betty deserved a bump up in position after all these years.
Art and Nancy know Virginia has been bugging all the rooms and recording the conversations. It's unclear what they will do with the information right now, but this won't be good for the clinic in the long run.
So over to you all! Will Bill keep going to AA meetings to help rid himself of his addiction to Virginia? Will Art and Nancy turn on the clinic? What are your predictions for Masters of Sex Season 4 Episode 6?
Sound off below, and don't forget you can catch up on any missed episodes when you watch Masters of Sex online via TV Fanatic!
Amanda Steinmetz was a staff writer for TV Fanatic. She went into retirement in June of 2027. Follow her on Twitter.