The Mindy Project Season 5 Episode 6 Review: Concord

Sarah Hearon at .
On The Mindy Project Season 5 Episode 6 Danny is hearing wedding bells, while Mindy is hearing... Danny?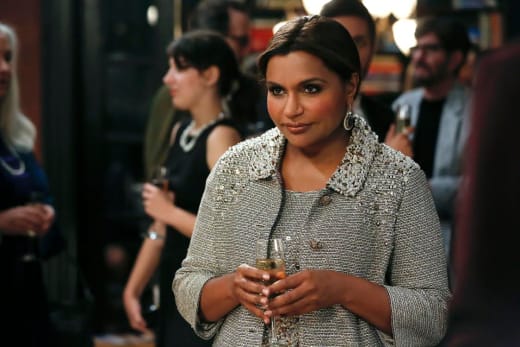 It is absurd that Danny is already getting married considering he slept with Mindy at the end of last season, but it made for a pretty funny episode to watch Mindy slowly loose it over her ex's nuptials. 
I was crying in the bathroom because I dropped my phone in the toilet again.

Mindy
Leo is going to be the ring bearer because as Morgan put it "nepotism," and it's cute to see Mindy and new boyfriend Ben try to teach him what to do. I might be slightly biased because seeing Jake from One Tree Hill back on TV makes me so happy.
We should have been practicing for weeks, and instead I let him watch that OJ documentary.

Mindy
Do you think Leo sympathizes with Marcia Clark? 
Everyone continues to check in on Mindy, who is watching Wheel of Fortune and waiting for her $100 worth of BBQ chicken to be delivered (#relatable), but things quickly go south when she starts to hear Danny's voice mocking her through a picture.
Does anyone else think this can't be the first time Mindy started hearing voices?
She hits the road to distract herself, and seeing Mindy sing the Les Miz soundtrack made me think that The Mindy Project could pull of an hilarious musical episode.
She ends up at her parent's house, unable to do anything besides snapchat and play board games with her brother. So again, #relatable.
When Mindy and Rishi go through their mom's computer to see who she is meeting with after they discover she isn't with her aunt. They immediately think she is cheating on her dad. Why is there a trend with DJs having meltdowns about their parents on TV this week? (See the Vanderpump Rules premiere and DJ James Kennedy's breakdown). 
I'm about to Mr. Robot this beeyotch.

Rishi
Of course Rishi immediately wants to go to the restaurant and spy, but Mindy, who just got off the phone with Morgan, wants to go to Danny's wedding and see if he really does have cold feet.
The rehearsal dinner is amazing. I just had lasagna for the first time. Now I know what Garfield was on about.

Morgan
While it kind of feels like the show is playing a trick on its fans but teasing the idea that Mindy is going to stop the wedding, it makes me happy to think about Danny not being able to marry Sarah. Even though he treated Mindy horribly last season, it's hard to let go of the idea that they're met for each other.
Rishi convinces Mindy to go, and in the least shocking twist of all time, Mama Lahiri is not cheating on her husband. 
Something more important than your mama... The woman who went to a junior high dance with you dressed up as 'cousin Sirvi?'

Rishi
It was fun to see Rishi and Mindy joke together, but watching them continue to play board games might have been more entertaining than seeing them embarrass their mom for no good reason. 
As for Ben saying I love you to Mindy, it's a little early in the relationship.
However, nothing gives a single girl hope like multiple men falling for "crazy" (her words, not mine) Mindy each season.
Are you still holding out for Danny and Mindy to get it together? Or are you a fan of Ben? And where does all of this leave Jody?
Be sure to watch The Mindy Project online to see Mindy's latest romantic endeavors. 
Sarah Hearon is a staff writer for TV Fanatic. Follow her on Twitter.