Vanderpump Rules Season 5 Episode 3 Review: Call It Like I See It

Sarah Hearon at .
You're cordially invited to Katie and Tom's wedding preparations, and on Vanderpump Rules Season 5 Episode 3 it was all about bridesmaids, groomsmen, invitations, and of course, drama.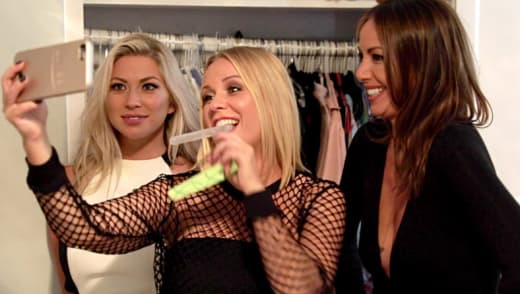 I'm less concerned about Ariana not being included in Katie's bridal party, and more confused about Brittany being included.
There's a 99% chance that the producers asked Katie to include her, right? Or is she just trying to see how many people she can include in her bridal party that have slept with Jax? (Stassi, Brittany, Rachael, Kristen... Sounds like a fun game to me.)
I don't even look at Jax anymore like an ex-boyfriend. I look at him like an ape... with a really cool girlfriend.

Stassi
DJ James Kennedy continues to brag about being a DJ (with one song that supposedly made the top 100 on iTunes... show me the receipts!), and thinks that's why people are picking fights with him.
In my defense, people see me winning right now and they don't like it.

James
Lisa reminding him that he's not Calvin Harris reminds all of us that Lisa is the queen.
Katie awkwardly trying to tell Ariana that she isn't a bridesmaid is almost as awkward as the throwback pictures of Tom, Tom and Jax from the early 2000s. 
It looked like Schwartz could potentially have a job as a chef (or at least a convincing Blue Apron ad on Instagram) after he makes Sandoval and Jax dinner to ask them to be groomsmen, until he revealed that he put all of the food in his butt before cooking it as a way to get revenge for all of their pranks over the years.
Ass steaks or no ass steaks, I liked it.

Jax
Such mature 35-year-olds.
After failing to get through to Scheana, Lala attempts to make up with Katie. She apologizes for calling Katie fat, but after Katie refuses to apologize for calling her a whore, it's clear there is no way these two are ever going to be friends.
It was about time for a showdown in the back alley of SUR.
Lala's mom still pays her phone bill, but Katie has cheetah print tattooed on her arm, so I'm not sure who's team I'm on.
It might be time for Lisa to hold a Mean Girls style intervention to tell everyone to stop calling each other sluts and whores.
After revealing she is having a lot of problems with her on-again, off- again boyfriend Patrick, Stassi starts to lose it.
Misery loves company, but it's really hard to find company when all your friends are so fucking happy.

Stassi
I'm not going to lie, it feels right to see her chug Brittany's vodka soda in between her tears. It's not that fans don't want Stassi to be happy, it's just that she's so good at being single.
Katie is upset that she saw Scheana and Lala laughing together at SUR, which kind of makes Katie the biggest hypocrite of all time since she freaked out during season three when Stassi tried to tell her who she could be friends with. 
And there's nothing like gossiping in your bedroom during your party to give the audience flashbacks to high school. 
Seriously though, Lala isn't even likeable, but somehow Katie is coming off more annoying than her? Could be the editing, could be the truth rearing its ugly head...
Who's side are you on: Lala or Katie?  
You don't want to miss the rest of the drama leading up to Katie and Schwartz's big day, so be sure to watch Vanderpump Rules online via TV Fanatic.
Sarah Hearon is a staff writer for TV Fanatic. Follow her on Twitter.