Crazy Ex-Girlfriend Season 2 Episode 6 Review: Who Needs Josh When You Have a Girl Group?

Christine Laskodi at .
That was the worst sex toy party, like, ever.
Aside from some pretty killer rules (Hocus Pocus IS amazing!), Rebecca's new 'Friendtopia' on Crazy Ex-Girlfriend Season 2 Episode 6 falls flat.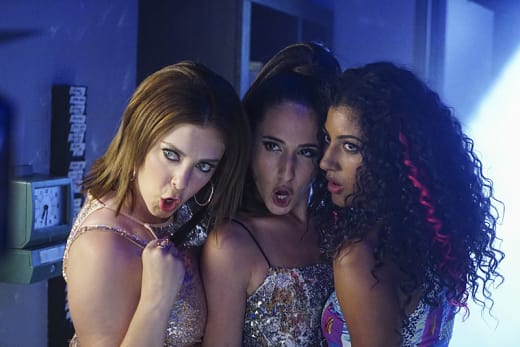 I've had the best time hanging out with the both of you. I think it's official that we're a squad.

Rebecca
The girl group union between Valencia, Heather, and Becks doesn't work for me.
Their friendship came together wrapped up with a bow too quickly, and additionally, I still don't buy that Rebecca and Valencia could bury all of their baggage with Josh over one weekend and completely move beyond it – and move in together. (A murder house?!)
While I love that we're spending more time with Heather and Valencia, I wish there was a better way to incorporate them into the story that didn't revolve around them being Rebecca's backup friends.
You're over-eager, desperate to be included forcing yourself on people. I don't like that about myself. When I see it on somebody else, I find it even more repulsive.

Darryl
And then there's poor Darryl, who's just a backup-backup friend. 
While I can gush about the relationship between Darryl and White Josh endlessly, there's something really sad about plain old Darryl, the guy who considers Paula and Rebecca to be his best friends in the world, while they don't even consider him.
I loved that Darryl recognized in Maya what it is that Paula and Rebecca probably see in Darryl - and rather than continuing to treat her as horribly as he is treated, he instead helps her, and together they become a viral sensation with their sad and strange party dance. 
I mean, 1,800 hits - that's got to earn them a spot on Good Morning, West Covina. 
West Covina MUST have a local access channel, right?
Let's see how the guys are doing with their own 'Friendtopia.'
I'm just in town to infiltrate - or should I say 'inCHILLtrate?' - a certain bro friend group. It's Part 1 of a 42 point plan that I call, 'The Bunch Inception,' and it starts with me getting in with this group of dudes.

Trent
Trent returning to West Covina felt completely off.
I liked when Trent was a one-note joke. Having him "inchilltrating" Josh's friend group turns this into a much longer joke that, quite frankly, just isn't funny anymore.
Then again, maybe I'm still stuck in the Rory Gilmore 'Paul' zone, and joke boyfriends still aren't sitting well with me.
My biggest problem with Trent was really how unnecessary he was. His appearance didn't unlock anything new; there was no big "AHA! This happened because Trent showed up!" moment.
Trent was merely a familiar accessory to the big action taking place, but rather than provide comic quips in the background (as Heather and Valencia did), he  was placed front and center in a distracting way that didn't benefit the story's outcome.
But I'll admit, 'The Trent Is Getting Ready Song' got a tiny chuckle out of me – but just a tiny one.
Our relationship has always been one-sided. I give, you take - and that is how it works.

Paula
The big emotional punch of the hour is Rebecca's fight with Paula, one that both Rachel Bloom and Donna Lynne Champlin slayed.
The throwdown brewing between the besties exploded with brutal honesty coming from both sides – and to be fair, neither lady is completely right or wrong. They've both contributed to the decline of their friendship.
Rebecca is shocked to discover that she's been replaced by Sunil, the theater major, and that Paula shared the details of her abortion with him. It's a really shining moment for Bloom, as she easily switches between anguish over her friendship slipping away and comically naming all of the daughters from Fiddler on the Roof.
The big question now is whether or not they can mend what's broken and move forward, or if Paula will be the next casualty on the long list of things that Rebecca has already lost during Crazy Ex-Girlfriend Season 2.
Hector: Quit texting your new girlfriend.
Josh: Anna is not my new girlfriend. We've only been out on three amazing dates.
White Josh: Yeah, you were single for a brutal 11 minutes. I'm glad you finally found somebody.
Speaking of things Rebecca has lost, Josh Chan has officially moved on from his ex, now officially dating Anna (guest star Brittany Snow).
I'm a bit frustrated that the beginnings of their romance were handled off-screen. I had hoped we'd see those first awkward dates. I'd love to have been a fly on the wall as Josh explained his past to someone new.
But at the same time, I'm sure that it was a deliberate choice to have that action handled away from viewers' eyes, one that will hopefully pay off when we finally do get a closer look at Anna during Crazy Ex-Girlfriend Season 2 Episode 7, "Who Is Josh's Cool New Girlfriend?"
What do you think TV Fanatics? Did you love the return of Trent? Did the Friendtopia work for you? Sound off in the comments below, and don't forget that you can always watch Crazy Ex-Girlfriend online right here at TV Fanatic!