Scorpion Season 3 Episode 10 Review: This Is the Pits

Allison Nichols at . Updated at .
Well, that was rather boring.
On Scorpion Season 3 Episode 10, the case of the week involved a woman stuck in a tar pit.
The case had promise, but it quickly fizzled out. Yup, you guessed it, this is not going to be a nice review.
Scorpion is known for going a little overboard on the dangerous cases that finds at least one member in serious danger of being killed.
Of course, we all know that the person will survive, but the show hypes it up to make us think that a main character will get killed off.
This plus the fact that tar pits do not automatically scream danger made it a little difficult to really buy into the "oh my god Walter/Beth is going to die in 20 seconds!"
The edge of your seat feeling and thrill factor was never there in this case.
What really did not help matters were the Waige scenes. Paige kept making it seem like there was this very real possibility that Walter won't come back. 
We were already getting the doom and gloom stuff from the Team Scorpion side of things, so we did not also need it from Waige.
They can have moments during a case that aren't Paige being concerned for Walter. 
You could argue that Paige would act the same if Toby was the one risking his life.
Okay, maybe not exactly the same, but there's more to Waige than just each of them being concerned that the other person might not survive the case.
The "Walter could die" aspect of the case just came on a little too strong, and it did not really work.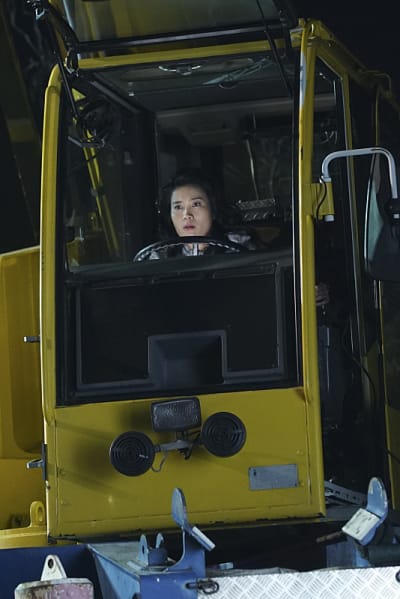 Now, of course, maybe I just do not have a good understanding of tar pits, and if I did, I would have been extremely worried for Walter. I mean I doubt it, but it is a possibility. 
Walter: Hi, I'm Walter! We met earlier.
Toby: Yeah, Walt, make sure you introduce yourself incase someone else is passing through the tar pits.
Aside from that, the case is boring. 
We need to mix things up. Put Happy in the wet suit and have Walter hang back or something.
The way Team Scorpion divides up the tasks has become predictable, and Walter risking his life is starting to lose its appeal.
He's usually the one to go off on his own to save the day while the rest of the team hangs back to provide support.
While everyone's specialties and skills are not going to change, the way they are utilized in a case can.
Someone else could take lead of the team one case or something. I'm open to suggestions.
Veronica's storylines were, as strange as it is to say, the best part of the hour. 
On Scorpion Season 3 Episode 9, it was hard to believe anything she said.
Thankfully, that was definitely not the case this time around.
She still has a lot of issues to work out before she is likable and/or entertaining.
But it was amusing to watch Veronica and Ralph con hipsters.
And you can tell that she is really trying to bond with Ralph.
He makes her a little more tolerable.
What did you think of Veronica during this episode? Did she win you over any?
What did you think of the episode? Leave your thoughts in a comment below.
Remember you can watch Scorpion online anytime via TV Fanatic.