What do a parasite, a sentient imaginary friend, and parenthood all have in common?
Okay, parenthood might not effect your personality quite as drastically as the others, but on Chicago Med Season 2 Episode 13, Natalie does point out that it changes the way you think. We just usually see that as a positive change.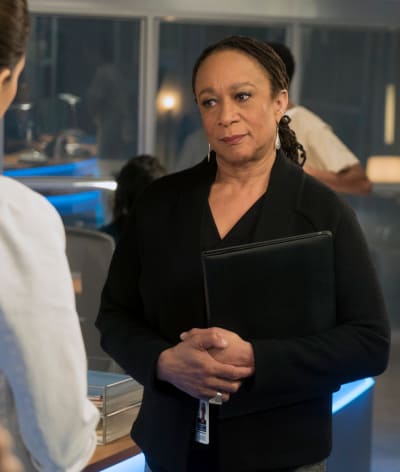 A lot of times, episode titles are really self explanatory, or don't reveal any deeper meaning. Especially when shows go with some kind of regimented format like Med has -- all of Season 1 had single word titles, this year has two words, next year will be three, etc.
But "Theseus' Ship" is a pretty obscure reference, and there were no Greek people or boats in this episode, so I went Googling. I went through a pretty serious Greek mythology phase (thanks, Xena: Warrior Princess!), but I'll admit to having to turn to Wikipedia for this one.
I'm glad my curiosity got the better of me (admittedly, I'm never not glad of that), because for once, the title actually gave deeper insight into almost all the various cases. If personality is ever evolving, is anyone ever the same person they used to be? What makes you...you?
Robyn: In women, Toxo creates a compulsion to take care of cats.
Daniel: Makes me wonder -- do cat lovers get Toxoplasmosis, or does Toxo make them cat lovers?
Will: Interesting, but not terribly relevant.
Halstead may have been dismissive of Charles' philosophical musings and thought experiments, but he should probably sit down for a session intellectual debate with the good doctor. It would help him hone his bedside manner and his relationship skills. 
I almost want to give him a pass for skirting the truth with Nina. He was unprepared for the question, and a hospital hallway isn't the ideal place for that kind of conversation. I'm of the opinion that he should have been honest with her in the end, but Nina's long list of colleague boyfriends seems like retribution enough.
Besides, if he's really a Dr. Quinn, Medicine Woman fan, I'm feeling a sudden kinship with the resident ginger. This could honestly be his most redeeming quality so far.
Will: You know, it used to be that if a doctor told a patient to do something, they just did it.
Maggie: You been binging on "Dr. Quinn, Medicine Woman" again?
Sarah was struggling with how to relate to her patient as well, but at least she doesn't let her skepticism or derision show in the exam room. And honestly, that had to be hard with this case.
Tulpa's are something you hear about on scifi shows like Supernatural, not from people in real life. It wouldn't have really fit into the format of the episode, but I was wishing that Sarah had had a session with her shrink to help her get through this bizarre case.
For all of Dr. Charles' musings on the grey scale between "crazy" and "complicated," it did seem like this woman might have a unique self aware fractured identity. Isn't that in the DSM? I mean, this woman does still have to be treated somehow, right?
Sarah: I'm sorry, Dr. Charles, but I like boxes. None of this makes any sense. It is all so subjective. I hate it. I mean, where's the science?
Daniel: Dr. Reese, every medical discipline, psychiatry included, is as much art as it science.
While the cases in Gaffney's ER had me thinking deep thoughts, I most enjoyed Latham and Rhodes' road trip. This arc is going great on so many levels. Connor's compassion is as beautiful as he is, and Ato Essandoh is killing it with his Asperger's portrayal.
It's a really refreshing view of spectrum disorders, which tend to be focused more on kids than on adults. Parenthood, for example, did a great job of showing the disorder in childhood, but what happens when kids grow up?
The only problem with the arc is the idea that none of his coworkers or teachers had never diagnosed or even suspected him of having the disorder. 
What I loved about the Rock Island trip was that their relationship is starting to go two ways. Connor saved Latham at the hotel and that seemed like the bigger deal, but I actually think Latham's rescue in the OR was more significant since he has little to no experience with social cues. 
Dr. Rhodes, are you trying to -- what is the expression -- interrupt my flow?

Latham [when Connor tries to disrupt his assignation with a young woman]
I am super looking forward to Chicago Med Season 2 Episode 14 ("Cold Front"). Not only does it look like it'll bring some of the on-location major incident goodness of Chicago Fire, but it's finally going to really integrate Chicago into the show. The promo has me reminiscing about ER, in a good way!
Snowstorms and mutli-car pileups, and all hands on deck -- this is what we all love about trauma shows, right? Connor and Latham are pulled from the ER for triage, and I can't help but wonder if the surgeon's newly acquired empathy will prove to be difficult for him to handle in this situation.
Will: That a new stethoscope?
Nat: Oh, yeah.. Owen got a hold of the last one, so...
Will: Hey, those stuffed animals are not going to diagnose themselves.
What did you think of "Theseus' Ship"? Was the philosophical angle too much, or do you want to see more of that? Is Will going to regret moving in with Nina? Should Med go on more road trips, or stick to the Windy City? We want to hear your thoughts, so join the discussion in the comments section!
If you missed anything because of weather alerts or bad satellite reception or because your tulpa took over and decided to watch reality TV instead, not to worry! You can always watch Chicago Med online if you need to catch up -- or because you're snowed in and need to keep from going stir crazy!
Elizabeth Harlow was a staff writer for TV Fanatic. She left the organization in October 2018.