Hawaii Five-0 Season 7 Episode 15 Review: Big Game
Dale McGarrigle at . Updated at .
It's a family affair.
What people will do for those they love – good and bad – is the theme of Hawaii Five-0 Season 7 Episode 15.
And even better, there was a healthy dose of education amid the entertainment.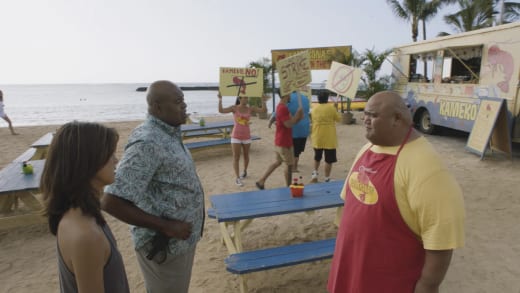 I always appreciate a little dose of learning in my TV, something that drives me to Google while I'm watching.
For all its many faults, I've enjoyed NBC's Timeless this season, because I get a healthy dose of history each week.
Now that it's in its seventh season, Hawaii Five-0 has really started to tap into Hawaii's 1,000 years of history, discovering some unique narrative settings as a result.
This episode told the story of the Kalaupapa Leprosy Settlement, in the Kalaupapa National Historic Site on Molokai.
This was neatly handled by having the island's law, Sheriff Alana, explain the settlement's history to McGarrett and Chin on the ride out. That way, the viewer quickly got brought up to speed.
Even though leprosy, now called Hansen's Disease, now has been largely eradicated, the fear of the unknown remains.
It was neat to see a budding friendship form between longtime leprosy sufferer Bill Walker and Eric, who freaked out at Bill's leprosy-ravaged hands early on.
By the end, Eric had become educated and made a new friend in the process, so knowledge triumphed over ignorance.
We also learned about Nazi ratlines; the escape routes Nazis took to escape prosecution for war crimes.
It's been proven that Nazis escaped to Argentina, so it isn't a real stretch to imagine one could have made it to a remote section of Hawaii.
This case proved the extremes to which people will go for family. Leia chased the former Nazi guard that had tortured her grandfather around the globe seeking justice. But she ended up getting killed by the daughter of said guard.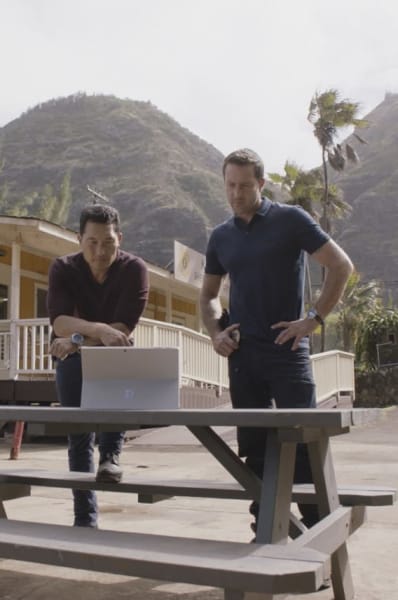 Fortunately, it's getting harder for the few Nazis that are left to stay hidden.
Chin: It's bad enough this guy has escaped justice all these years. Now he's going to disappear again.
McGarrett: He's not going to disappear again.
Chin: What makes you say that?
McGarrett: Because it's not 1945. There's a camera on every street corner, not to mention in everybody's pocket. Everybody's got a cell phone. Social media, 24-hour news. We'll just put the word on the street,and they won't stay missing for long, I promise you.
Side note: Good to see familiar TV faces from the 1970s and 1980s: Max Gail as Bill (Wojo on Barney Miller) and Bernie Kopell as Itzhak Rozen (Doc on The Love Boat). 
Ask your parents.
Even the case of the maimed big-game hunter had its educational component.
It gave model/diver/shark conservationist Ocean Ramsey, who played like character Lily O'Neill, a chance to lay out her movement's motivations.
As awful as that guy was, he didn't deserve to die that way. Besides, killing Harrison accomplishes nothing. The work people like me are doing, educating the public and trying to get legislation passed, will do a lot more to protect the shark population than taking out one single hunter.

Lily [to Danny and Kono]
We also got to learn that the shark is a spirit animal to many native Hawaiians, something they can bond over.
Kono: Kamekona, this isn't just about us. If you help us find the people we're looking for, you'd be helping the mano, which is sacred to a lot of people in Hawaii, including me. The shark is my family's aumakua.
Kamekona; Mine too,.
Kono: Then we need to protect them.
It was good to see a little bit of continuity as well.
Back on Hawaii Five-0 Season 7 Episode 11, Grover encouraged Flippa, dressed as a large elf, to unionize to protest unfair working conditions.
And waddya you know, he did!
After an inspiring pep talk from Grover, Kamekona saw reason and smartly expanded, shipping off Flippa and the discontented workers with a new food truck on the North Shore.
I'm hoping that doesn't mean we'll lose Flippa and his songs.
So in this standalone episode, we learned that family is good, even if it occasionally leads people to do bad things.
The biggest downside of this episode was the precious little comic relief, except for Eric riding a mule and Kamekona expecting to get bailed out of a labor dispute.
I guess you could count Grover's pancake monolog, but I don't since it seems wildly out of place. It was good to see Will and Grace are still a couple, apparently the only one on the series right now.
But I guess a gutted human and a runaway Nazi don't lend themselves much to humor.
Also, points off for improbably quick captures of the boat captain responsible for hanging up the big-game hunter and the Nazi and daughter in Arizona (that 5-0 has a great travel budget).
Connect those dots for the viewers. Don't make us guess how you solved the crime.
Despite the lack of previews, next week is the Valentine's Day episode, with the girlfriends returning (current ones only, so no Katherine. Also Abby remains MIA, at least until Training Day gets canned in a week or two.). It will probably be more bromance than romance, but we'll see.
Then Dr. Madison Gray, the serial killer whisperer from real early this season, returns in a couple of weeks, hopefully, to wrap up that storyline.
To freshen your memory of Gray, watch Hawaii Five-0 online.
What did you learn from this episode? Would you like Kamekona as a boss? Who should be spotlighted next? Comment below.
Dale McGarrigle is a staff writer for TV Fanatic. Follow him on Twitter.