Jane the Virgin Season 3 Episode 12 Review: Chapter Fifty-Six

Amanda Steinmetz at . Updated at .
Emotional wounds can manifest in different ways.
On Jane the Virgin Season 3 Episode 12, Jane started having panic attacks as she prematurely quit her job and ran into Michael's old colleague/friend. But as we learned, these panic attacks are nothing new.
Elsewhere in the episode, Petra and Rafael dealt with the fallout from Scott's newly discovered corpse, and Rogelio went on an apology tour.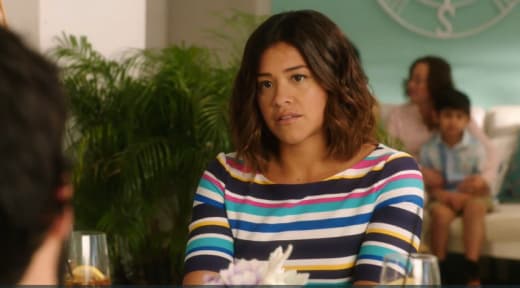 Even though we are two episodes into the three-year time jump, I'm still adjusting to all the new developments. My biggest worry is still the display of the grieving process.
Thankfully we got more insight into the aftermath of Michael's death, but I can't help but feel a tad disconnected from Jane's journey over the last three years. Skipping over these formative years leaves a lot of unanswered questions about Jane's mindset. 
I don't want to miss a single step of Jane's growth. 
Thankfully we got a little more insight into the emotional scars still left behind. Shortly after Michael's death, Jane began suffering from panic attacks and sought help from a therapist. 
Maybe it's not everyone's cup of tea, but I wanted to see more of those therapy sessions. We went straight from their first session to their final one where Jane essentially broke up with her therapist.
I'm sure there's a lot more we could of seen between those two. Hopefully the therapist will make a return appearance in more flashbacks to come.
In the present, Jane's panic attacks made a comeback when she ran into Dennis, Michael's colleague/friend. If you feel bad for not remembering him, don't worry. I couldn't remember if we had ever met Dennis prior to this installment. Let's face it, the writers never gave much screen time to Michael's life outside of Jane's orbit.
It just sucked because you were the one person that I could talk to or could... I don't know, tell me new things about Michael. Things I didn't know. Hearing that he was a ball-hog or what he said after our first date or whatever. It just kept him alive a little.

Jane
We learned via flashbacks that Jane leaned on Dennis for support in the months following Michael's death. However, their friendship changed for the worse when Jane caught Dennis taking photos of Michael's journal.
Jane's anxiety of seeing Dennis in the present manifested itself into her slapping him several times. The whole thing felt very un-Jane-like, but then I realized a lot has changed in three years. Jane isn't the same woman from Jane the Virgin Season 3 Episode 10. 
The tension between Jane and Dennis culminated with the two trading blows in the boxing ring. Perhaps Jane should take up boxing to help with any future anxiety attacks.
Anyway, both Jane and Dennis apologized. Her for shutting him out, and him for not being honest about trying to clear Michael's name from any suspicion in the Mutter case.
I was worried for a minute that perhaps something romantic happened between them during the three missing years, but thankfully the writers didn't throw us into a new romance right away. I'm still nowhere near ready for a new man to capture Jane's heart.
As if it weren't enough for Dennis to cause Jane's panic attacks to return, she also prematurely quit her job before getting paid by the publishing company. Jane is normally so much smarter than this.
She hadn't even signed the publishing contract before insulting Chloe to her face and storming out. It's never a good idea to burn bridges, especially if you need to cross back over said bridge.
Wow, Chloe. You're a horrible person, and I tried to make excuses for you over the years. Like maybe your parents didn't hug you, or maybe you grew up in a prison like Bane from that Batman movie. But I just think it comes down to who you are, a petty, mean-spirited bitch!

Jane
Chloe turned out to be a nightmare, but at least Jane was working in a field relevant to her overall goals. What is the point of Jane going back to work at The Marbella?
I don't think it's entirely necessary for Jane needing to work at the hotel in order to stay involved with whatever drama is going on. It just feels like a giant step backward that Jane wouldn't take.
Since we've now shifted gears toward The Marbella, let's quickly talk about Zen Rafael. Maybe Zen Rafael is no longer appropriate since he might have been involved in Scott's death. 
Rafael and his prison friend, Elvis, know more than they are letting on. At first I suspected Petra of offing Scott, but now we can add Rafael to the list of suspects.
Jane: You're stuck. At work you're basically Petra's bitch, and I say that with full respect for Petra. You know you're not going to turn back into greedy, shady, amoral Rafael just because you care about The Marbella.
Rafael: Greedy, shady, amoral Rafael?
Jane: Paraphrasing.
The Marbella stayed clear of the dead body drama due to the police determining that Scott's body was found on Chuck's side of the property line and that his death was ruled an accident.
Petra and Chuck are growing closer, but he is completely unaware that Petra purposely shoved Scott's corpse to his rest more on his property. So it will probably not be good for that information to come out should their relationship turn serious.
The brief scene between Petra and Rogelio was a highlight. I realized we really never see those two share the screen, and it's a damn shame. 
Not understanding each other due to the other person's accent was pretty funny. Hopefully we'll see more of them together. There's a lot of comedic potential there.
A downside to the time jump has been Rogelio's behavior. Xo learned via footage sent to her by Darci that Rogelio knew the show was going to portray her negatively. 
Rogelio is a better man than this and jealousy doesn't excuse what he did to Xo. I know Rogelio acts like a man-child a lot, but he's an adult and he should have acted with a little more maturity.
His apology tour with gift baskets was a very Rogelio thing to do, but I'm not sure he'll be able to stay out of hot water for long. If he breaches his contract, he'll be sued. 
Luckily we know an adaptation of Gulliver's Travels awaits Rogelio. Now that is something I can't wait to see. 
Leftover Thoughts and Questions
Breaking the fourth wall during the explanation of Darci and Rogelio's fake honeymoon was brilliant. Not only were they not filming the beach scenes in Hawaii, but they weren't even filming in Miami, because Jane the Virgin shoots in and around Los Angeles. 
I also loved the Narrator commenting on his own duty of relaying important exposition.
Deep breaths, Jane. I've been doing it too, and I am definitely finding narrating a lot less stressful this episode. Usually I'm like, "There's so much exposition. How can I fit it all in?"

Narrator
The Narrator kept forgetting about Rafael's girlfriend, Abbey. She's played by Minka Kelly, so she clearly has a larger role to play going forward. Is she going to turn out to be more nefarious than sweet?
Mateo continues to be adorable. That is all that needs to be said about him right now.
So over to you! What are your predictions for Jane the Virgin Season 3 Episode 13?
Sound off below, and don't forget you can watch Jane the Virgin online any time via TV Fanatic!
Amanda Steinmetz was a staff writer for TV Fanatic. She went into retirement in June of 2027. Follow her on Twitter.