Jane the Virgin Season 3 Episode 13 Review: Chapter Fifty-Seven

Amanda Steinmetz at .
Relationships are changing left and right. Perhaps too quickly. 
It's been a few episodes since the big three-year time jump, and so far the show has found a nice balance between mourning the past, but still embracing the present.
However, it's with a heavy heart that I say Jane the Virgin Season 3 Episode 13 was just... off.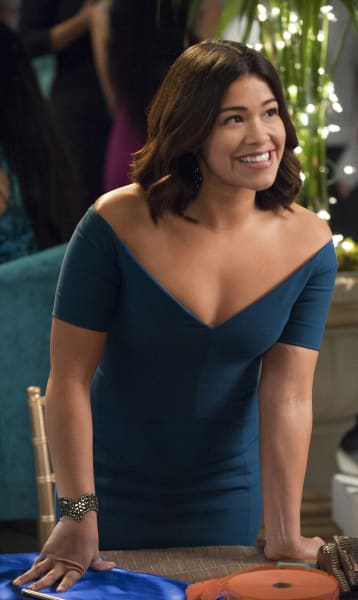 The time jump has turned the narrative on its head. The writers need to find a way to get certain characters and plot-lines back on track.
Let's talk about what didn't work. 
Abbey. You remember Abbey, right? She's Rafael's girlfriend. The one we've spent zero time getting to know. It's unclear how we're supposed to feel about their breakup.
We have no clue how she and Rafael got together, but now they're already broken up. And now Abbey's gone rogue and delivered the notebook Petra hid to the police. 
What is Abbey's motivation? Who is she? Minka Kelly didn't sign on to play the girlfriend no one remembers. The writers better have a plan for, that's all I'm saying.
Petra's relationship with Chuck seems over before it really started. I started to warm up to the idea of this mismatched couple, but everything between them has felt rushed.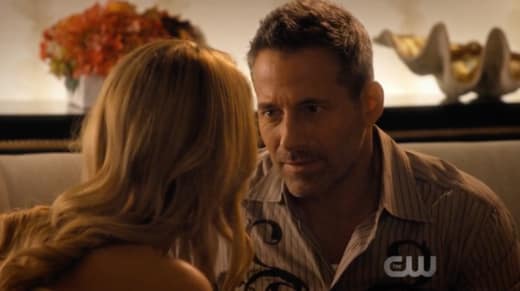 I like that Petra was trying to be honest with Chuck. But whenever Petra tries to do the right thing, she usually ends up getting the short end of the stick.
Petra deserves happiness, so if Chuck is the right guy for her, than so be it. Let's see these two crazy kids makeup soon.
Petra: Oh and uh by the way, not a big deal, but, um, Chuck and I will be dining at the restaurant tonight.
Rafael: Got it. Does he know we don't serve gator?
Another character not being served well right now is Rogelio. What is going on with his storyline?
I couldn't care less about the lawsuit with the reality show, and I'm saddened by what happened with his relationship with Darci. They took two characters who played off each other so well and made their scenes strained.
If there's one thing we learned from the Michael-Jane-Rafael saga it would be that love triangles can only go on for so long. Rogelio and Xo have gotten together, broken up, gotten back together, then broke up again. 
This song and dance has been done to death. Either put Ro and Xo together for good, or set her free and let her be happy with Bruce.
Bruce seems like such a calming balance for Xo's more dramatic personality. Dare I say it... I might like Xo with Bruce more than Rogelio.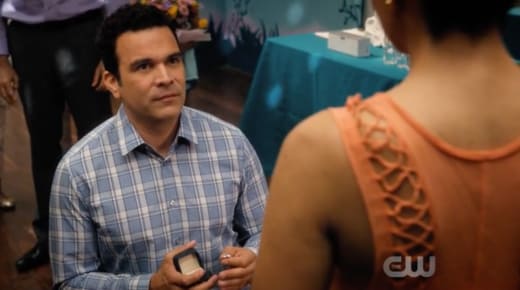 Bruce's proposal didn't go according to plan, but Xo said yes. Of course Rogelio looked on with anguish, but I couldn't help but be really happy for Xo. 
There has been a new layer added to the Scott murder mystery.
What is Rafael up to? What is the deal with Scott's burn book? Why was Elvis stashing it in Petra's suite?
If Rafael is trying to frame Petra for Scott's murder than his character is going in a ridiculous direction. Let's hope this is just my imagination running wild.
Another misstep, if in fact this step is about to be taken, would be pushing Rafael and Jane back together before the end of the season. I just can't support this.
My love for Michael obviously informs my opinion, but if I take a pause and really think, I still think pairing Jane and Rafael back up so soon would be a gigantic mistake.
It's not guaranteed that's what the writers are doing, but it's heavily implied. Why else would they make Jane rewrite parts of her novel to include more of her real life relationship with Rafael? 
He's played an important role in Jane's life. They've gotten to a point in their relationship where they are great friends and amazing co-parents. 
Alba: Here's how I see it. The fact that you loved Rafael... well that experience deepened your love for Michael. And when you found your way back to him, it was richer. Because you chose him. So maybe love begets love.
Jane: Yeah, maybe.
Alba: Here's what I do know for sure. Michael would want you to write the best book you could.
I think Alba was right. Michael would want Jane to write the best novel she possibly could. I also understand Jane's hesitance.
Her time with Rafael made Jane realize she belonged with Michael, but that was then. So where are we now?
I don't want to spend this entire review airing my grievances. I adore Jane the Virgin. I don't like being mad at something I love so much.
So let's get to some of the highlights.
As I mentioned above, Jane's complicated feelings about incorporating Rafael into her book is a continuing exploration of what it means for her to move on with her life. She's trying to honor her love story with Michael.
But she can't ignore the love triangle she found herself in. It only makes sense to write it all down.
I wasn't crazy about Jane's editor, Jeremy, at first. He seemed pretty one-note, but it appears he may have some complexity beneath the bro exterior. There had to be something that drew him in to Jane's book. I'm going to give him a chance.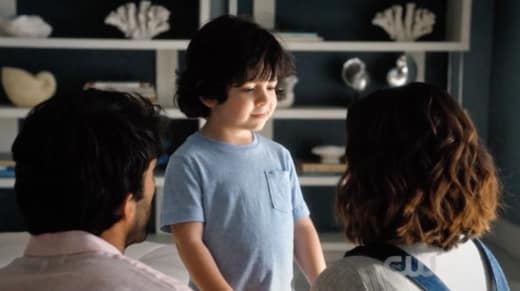 Can Mateo get any cuter?! Mr. Sweetface is killing me!
His explanation for not liking his aide was so sweet and a little sad. Hopefully the next one will be better for him.
Leftover Thoughts and Questions
Jane the Virgin usually does a terrific job of balancing storylines, but there seemed to be too much going on this time.
I haven't even touched on Jane's mean moms storyline. Honestly, I didn't really care for it. Jane shouldn't be quick to judge other moms when she thinks they are judging her and her son.
The novel scenes coming to life were silly, but they made me wonder if Jane's writing is really all that good...
Where the hell are Luisa and Rose? What have they been up to?
I love that Bruce went to get Alba's and Jane's blessings to ask Xo to marry him. 
The Narrator's commentary about Jane's gender bias against men was... interesting. 
So over to you! What are your predictions for Jane the Virgin Season 3 Episode 14? 
Hit up the comments section below, and share your thoughts? And remember you can catch up on any missed episodes when you watch Jane the Virgin online anytime via TV Fanatic!
Amanda Steinmetz was a staff writer for TV Fanatic. She went into retirement in June of 2027. Follow her on Twitter.