Outsiders Season 2 Episode 3 Review: Banishment
Paul Dailly at .
What is Margan really up to?
That was one of the more pressing questions on Outsiders Season 2 Episode 3 when it became abundantly clear that she was an opportunist and would go to some crazy lengths in order to have power.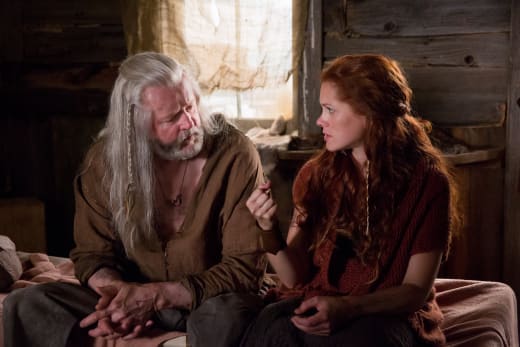 I was so ready to rule Foster's change of demeanor as fake, but when his story about the Kinnah actually checked out, it made me rethink it all.
As much as it would be really easy to banish Foster, G'Win needed him. 
She even came to that conclusion herself. With the fences being put all around the mountain, she knew there was a chance there was going to be a fight on the horizon with the people on the mainland. 
I do respect her decision, but she should have sent him to the cage.
That would have been a good way to show her people that she was genuinely thinking about the bigger picture. 
It would not have been surprising in the slightest if Foster managed to sway everyone over to his way of thinking.
He's proven in the past that he's a master at that art. 
Handing all of the guns over was the thing that made G'Win realize there was still something about Foster that was not completely evil.
Maybe it was also the fact that he kept asking over Li'l Foster that helped her come to that conclusion. 
We'll probably not know for quite some time, but something tells me Foster will not be going anywhere.
Having him as a villain is not the Outsiders I love to watch on a weekly basis. 
If the powers that be are not ready to kill the character off, redeem him.
Yes, it's going to be difficult, but he's been pretty honest about all of his mistakes. 
I'm intrigued to find out what goes down on the mountain in the coming weeks. 
On the mainland, Wade was struggling to keep it together following the reveal that Ledda was battling pancreatic cancer.
Ledda is his only relative, so losing her would be a huge blow.
He would most likely take on guardianship of his two young nieces, too.
Wade was definitely in a stage of denial about the potential of losing her and it was only natural. 
He would have sold one of his kidneys to have the funds to get the cancer treatment.
I did like the way Haylie changed the system to show Breece was actually employed a year earlier. 
Sure, she's not been the nicest person, but we got the reveal that she at least had a heart.
However, she's probably going to use her friendly error in judgment to make Wade do things he does not want to.
Throughout that past year, that's pretty much all she's been doing.
She tried to get on his good side with the basket a few episodes back, but now she knows she has him right where she wants him. 
Wade: It's pancreatic cancer.
Haylie: Wade, I'm so sorry.
Wade: How sorry?
Haylie: Well, I don't control who gets health care.
However, the coinsurance for Ledda's treatment was appalling. Over $130,000 is an absolute fortune.
Poor Wade was trying his best to ensure there was a better outcome for his sister. 
Ledda seemed like she was ready to give up. She was working towards dying and did not want her family left in poverty if she died. 
Sally Ann's scenes were AMAZING. Witnessing her going to a clinic miles out of town alone was so sad.
She's basically an outsider on the mainland and that's probably why she connects with Hasil.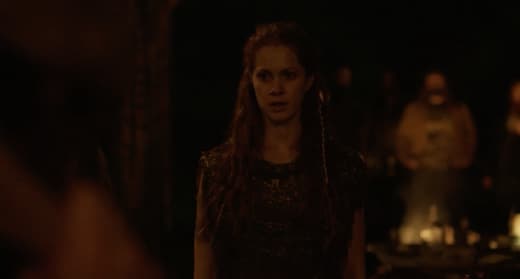 With G'Win in charge, the chances of Sally Ann being pregnant on the mountain are a lot higher than if Foster was still in charge.
The closing scene with the butterflies and the child leading her up the mountain was pretty out there. 
I can't wait until we get more answers about what the heck is going on up that mountain. 
"Banishment" was another riveting episode of this sophomore drama. Even without Asa, the show is still going strong and there's a lot of drama on the horizon.
Other tidbits from the episode:
Li'l Foster is learning the hard way that lashing out at the law is not going to help his case. It was pretty horrible to watch him think he could actually escape. 
Foster saying that Asa was his son was pretty odd. Could this be a clue about Asa's true father?
Hasil really needs to stop trying to cause problems to get ahead. 
Matt not being part of this week's events was a breath of fresh air. 
Over to you, Outsiders fanatics. What did you think of the latest developments? Hit the comments below!
Remember you can watch Outsiders online right here on TV Fanatic. Get caught up on the latest drama now!
Note: Outsiders Season 2 Episode 4 airs February 14 on WGN America. 
Paul Dailly is the Associate Editor for TV Fanatic. Follow him on Twitter.