Outsiders Season 2 Episode 5 Review: We Are Kinnah
Paul Dailly at .
Is G'Win really cut out to be Brenin?
That was questioned on Outsiders Season 2 Episode 5 when Margan proved she was a force to be reckoned with. Let's talk about the final scene first because I am so excited about where it's going to lead us next.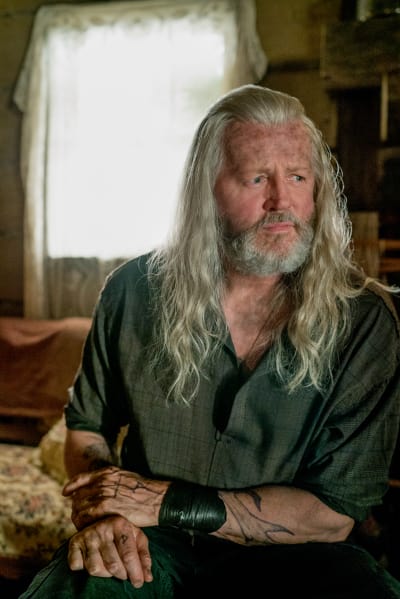 Foster was right all along about the Kinnah. All they were looking to do was cause some upset and have their own rules spread across the mountain. 
That's what made the final scene so awesome. Margan proved pretty much off the bat that she would not hesitate to murder anyone who got in her way. 
Either she's power hungry as hell, or she just wants to be part of a functioning community. I'm going to go with the former because she's effortlessly planned out everything to cause as much drama as possible. 
Driving a wedge between Foster and G'Win was her plan all along. She thought she could manipulate G'Win into doing exactly what she wanted.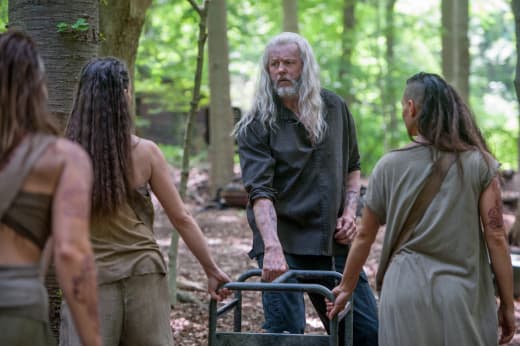 However, she clearly had no idea that coming clean to G'Win about the fire would be the thing that would cause her undoing in the eyes of the Brenin.
G'Win was silly to wait all night. She should have rounded up an army and sent the Kinnah on their way. Leaving them all night to work out a plan was a complete lapse in judgment on  G'Win's part. 
This storyline is clearly there to drive G'Win and Foster closer together. They are probably going to find a way to work together when all of this is over. Maybe G'Win will listen to what her former love has to say now that's she's been proven wrong. 
There's a huge chance we're going to lose some key players now that this war has kicked off, but it's difficult to imagine how this war is going to end well for the Farrells.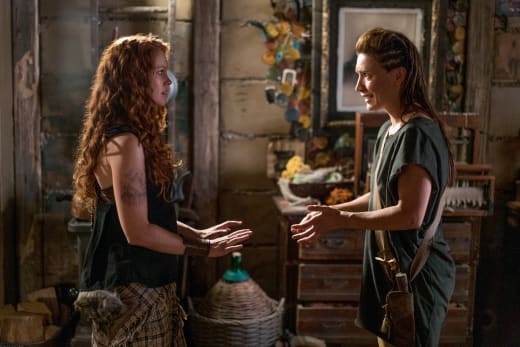 Hopefully, the war will be a catalyst for showing us what's going on with the afterlife on the mountain. In addition, it'd be nice if we got to see Asa make it to the afterlife. 
While Shay Mountain was under attack, Li'l Foster wanted to continue his jail term alone. That's understandable. He knows he doesn't connect with anyone on the inside because he has led a very different life to everyone inside. 
That's why he didn't want to join that godforsaken brotherhood. Those guys were trouble, and it would have been very easy for Foster to descend into a life of crime while on the inside. 
The thing that's great about the character is that he does not lie. He told Wade as much on Outsiders Season 2 Episode 2. It was intimidating for the gang to show up the way they did to try to force him to join their cause. 
The scene with them taking his food was hilarious. They wanted to get a reaction from him to see if he was going to be an asset to their little crime squad. 
Prisoner: That's our food.
Lil' Foster: Your food tastes like shit.
Trying to get Foster to murder the man in the shower was just awful. The group could not take no for an answer, so they opted to make it look like they were on his side by handing him a kill. 
Drama aside, Foster is not giving anyone any reason to trash the Farrells anymore. The police force desperately wants Foster to take the fall, so it makes the residents of Blackburg think they are doing their job. 
The sad thing is that only Wade believes he is innocent and is finding it difficult to prove it. That's due to Matt and his constant budget cuts around town. 
Wade: Is there any particular reason you're in my office?
Matt: Yeah, sit down.
Wade: I would, but you're in my seat.
Seriously, the town is turning to crap under his reign. What is the point of Wade being sheriff if he has to run everything by Matt? 
His title is redundant at this stage. 
With that in mind, I did like his scenes with Samuel. It was clear the kid would make a return at some stage, but I didn't expect it to be so soon. 
Now that Wade has found the bodies, will he be able to connect the dots to someone from the mountain being the killer? That could result in Li'l Foster getting out of prison. 
It will all come down to timing, but we'll need to tune in to find out what comes next for these characters. 
"We Are Kinnah" was another solid episode of this WGN America drama. Now that some crazy things are going on up the mountain, the series is improving. 
Remember you can watch Outsiders online right here on TV Fanatic. Get caught up on the latest drama for the characters now. 
What did you think about all the drama?
Sound off below!
Note: Outsiders Season 2 Episode 6 airs February 21 on WGN America. 
Paul Dailly is the Associate Editor for TV Fanatic. Follow him on Twitter.