Scorpion Season 3 Episode 17 Review: Dirty Seeds, Done Dirt Cheap

Allison Nichols at . Updated at .
I'm a little afraid to think about what I would have hallucinated if I was in the situation presented on Scorpion Season 3 Episode 17...probably giant cockroaches or being rejected by my friends.
Team Scorpion's latest mission took a turn for the worse when Sly, Cabe, and Happy were exposed to a deadly fungus that caused the three of them to experience their darkest fears. Other than that, it was a fun trip to Greenland!
These hallucinations are a great way to get inside Cabe, Happy, and Sly's minds. It's an unexpected way to gain character insight. The hallucinations are a mix of devastation and hilarity. 
Happy, of course, has the absolutely heartbreaking hallucination. You end up wanting to give her a hug numerous times throughout the entire ordeal, but somehow, her hallucination turned into a beautiful Quintis storyline.
Nothing bad better happen to them. They are so adorable and beautiful, and they need to get married and stay together forever. 
It was a good thing that only one hallucination featured a punch to the gut. Sly and Cabe's storyline kept things light, even though Cabe's wasn't all that funny.
The best part of his was that Ray showed up as the game show host. I kind of miss him.
Sly's hallucination featured chickens. They were cute, as was Sly as he tried trying to maneuver around them. The best part of his hallucination was when Paige got through to Sly and made him remember all the times he was brave.
Sly has done some absolutely crazy things, and it was great to take a brief moment to reflect on them.
Yes, Sly's a guy who is afraid of chickens, but he also survived prison and punched a guy in the face, along with numerous other feats.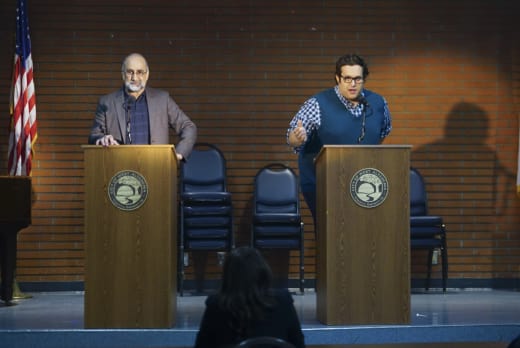 His hallucination tied in nicely to the debate. We watched Sly conquer his fear of chickens and public speaking. What's next?
Paige and Walter weren't affected for the majority of the hour, and so they had to do a lot of problem-solving together. 
Waige working together is always entertaining, especially in scenarios like this one. It's just them in that room, and they have to rely on each other (with help from Toby and Ralph via phone).
It's such a small moment, but Paige figuring out Walter's fear and telling him how to beat it was fantastic.
She really does know him better than anyone else. My only wish was that we saw Paige show this kind of understanding of everyone in Team Scorpion.
Once Toby helped her out, she was able to get through to Sly, but with Walter, it was like an instant thing.
She knew exactly what to say, which helped Walter know exactly what to say to help Cabe.
Yes, the fact that Paige knows Walter so well is partially due to her feelings for him, but it's also her job to know and help the team.
I would just love to see Paige's relationship with and understanding of, say, Happy have a moment to shine.
Don't take away the Waige scenes, but give us more scenes with Paige and other members of Team Scorpion. 
I had a tough childhood. I was picked on. Make believe was my refuge. I found solace amongst fantasy, and I would gather up my courage to face another day. And trust me, when I was a kid, I needed courage just to show up at school, and I need it now for my job. The difference is with Scorpion, I have a team to help me remember that I can be brave. And if the Warlock's Chest will provide refuge for more kids who don't know they are brave yet, well, I want it to stick around.

Sly
Speaking of Waige, that hallucination Paige had was a doozy!
This hallucination makes me very excited for the future of Waige. Paige has been confronted by her feelings in an unexpected way, and this might force her to change her opinion on dating Walter.
We know that Walter is basically ready for a relationship. Tim was the catalyst for that realization.
Paige, however, still believes that friendship is what's best for her and Walter and for Team Scorpion. This hallucination might just be the push she needs to change all of that, and I can't wait to see how she handles it.
Not that Waige has been boring, but the ship has been at a standstill. We get amazing moments between the two of them, but they don't change anything, relationship-wise.
It's not like Paige walked away from that raft on Scorpion Season 2 Episode 15 thinking that she really wants to take things to the next step with Walter.
This hallucination is breathing some life into the ship, and it is forcing Paige to really examine her feelings for Walter.
We saw how Walter reacted to Paige dating, and with this hallucination, we get a taste of what Paige's reaction would be if Walter started dating, without actually having to spend half a season watching Walter in a relationship with another woman.
Toby: He faced his fear. He took action, and he was victorious!
Ralph: Like Walter with his fear of snakes?
Toby: Maybe, I don't know. Why is that important to you?
Ralph: I know he likes my mom, and the logical thing is to ask her out. The most common thing to beat logic is fear, so I figured he never asked her out because he's scared.
Toby: And you thought if he conquered snakes, he'd conquered all fear. Listen, it is true that fear can beat logic, but it is also true that logic can beat fear. I think both your mom and Walter realized that the most logical thing for them is just to be good friends. I know, I get it. You want Walter and your mom to be more than just friends, but, Ralph, I don't think it's going to happen. I'm not trying to poop on your parade here.
Case wise, this was an okay case. The focus was not so much on the case, but on the hallucinations.
While there was technically a near death experience, it wasn't hyped up all that much. It wasn't meant to keep you on the edge of your seats; it was meant to create some urgency. 
Ralph being involved in the case is always a good thing.
Admittedly, I wish we saw more of the history project, although Toby in his pirate hat and Ralph in a George Washington hat was enough awesomeness to hold me over for a bit.
What did you think of the episode?
What was your favorite hallucination? Care to share what you might have hallucinated?
Leave your thoughts and fears in the comments below.
Remember you can watch Scorpion online anytime via TV Fanatic.