Fear the Walking Dead Season 3: First Look!

Steve Ford at .
Well, it's almost that time again folks.
The Walking Dead Season 7 is currently in the process of the closing out its back 8 episodes. You know what that means!
No, I'm not talking about another unnecessary cliffhanger to keep fans in limbo for the next several months.
I'm talking about the return of Fear the Walking Dead. The underwhelming spin-off series to the highly successful, yet increasingly criticized sister show.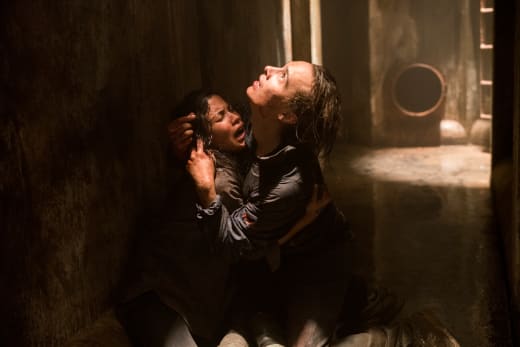 AMC has released three new photos of the upcoming season. While they don't offer much insight as to the overall direction or story, it at the very least tells us that there will be little to no time jump.
So, it's safe to say that things will likely pick up right where we left off in Fear the Walking Dead Season 2 Episode 15.
 Below the surface
Luciana doesn't look too good in the photo above, but she seems to have survived the initial gun shot she took in the finale.
It also appears Nick and Luciana are taking the scenic route in the sewers to avoid the militia that attacked their group at the Mexico/U.S. border.
Stranded at the Rosarito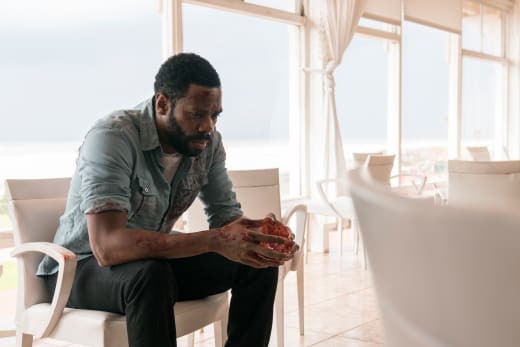 After helping Madison and her family escape the Rosarito to avoid further escalation with Pablo's group, Strand opted to stay behind.
Could there be severe repercussions for Strand?
There is the possibility of being exiled from the hotel, or Strand may end up leaving on his own terms.
What lies ahead
Shortly after finding out about the death of Chris in Fear the Walking Dead Season 2 Episode 14,
Travis went on a homicidal rage, beating Brandon and Derek to death. It was probably the best scene out of the entire season, but where do we go from there?
Yes, Travis and Madison have a goal as to where Nick is headed, but now that Travis has taken a life, will it send him down a dark path or will their family come together and become stronger from it?
Of course, it's difficult to say just be looking at these photos whether or not Fear the Walking Dead Season 3 will be an improvement.
While Fear the Walking Dead Season 1 was only a mere 6 episodes, it showed a lot of promise.
However, Fear the Walking Dead Season 2 ended up leaving much to be desired.
Yet, while most of the season fell flat for some, it did show incredible potential at times.
Having said that, its sister show ran into its own creative speed bump during its sophomore season as well.
It then proceeded to follow it up with one of the shows best seasons with The Walking Dead Season 3.
Can Fear the Walking Dead season 3 replicate that magic?
AMC has yet to release an air date for Fear the Walking Dead Season 3, but all signs point to early summer as a safe bet for the season premiere.
Until then, I will remain cautiously optimistic.
Don't forget to watch Fear the Walking Dead online to catch up if you're behind the action.
Steven Ford is a staff writer for TV Fanatic. Follow him on Twitter.