Pretty Little Liars Season 7 Episode 12 Review: These Boots Were Made for Stalking
Paul Dailly at . Updated at .
Is anyone else getting serious Alison vibes from Addison?
Please don't tell me I was the only one.
On Pretty Little Liars Season 7 Episode 12, Emily was tormented by a school girl who seemed to think she could lie that Emily was inappropriate with her.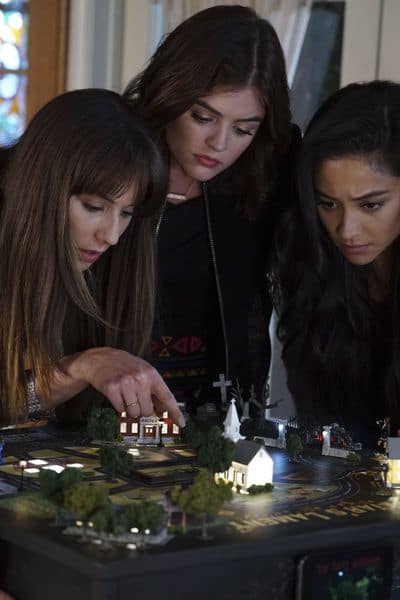 It was a horrible turn of events, and I genuinely felt bad for Emily. She knew she was on thin ice because of A helping her out with the whole college thing. 
That's a secret that will likely come out, but with A still calling the shots, there's no telling when it will. Paige has always been sketchy, but she seemed to be doing Emily a favor tonight. 
As much as she hates Alison with a passion, it's doubtful she would want any harm to come to Emily. I do think Paige should have taken Addison's claims to the principle before even consulting Emily. 
It's understandable that she would give her former love a heads up, but it was still unethical, and A won't be forgetting that one, either. 
A trying to get Emily to embrace her darkness is intriguing. She's always been such a grounded character that you would not expect her to lash out. 
Turns out, having her career thrown into question was enough to tip her over the edge. How will Paige react to this new, sassier version of the character?
Will it make her want her even more, or will it be the arc that helps Paige get over her? Time will tell, but I can't wait to see how it all plays out. 
Meanwhile, Spencer was ready to find out everything she possibly could about her past, but I doubt she thought Jenna would ever appear. 
That scene in Fury's office was hilarious. You could tell Spencer was ready to smack her enemy had they been anywhere else. I don't think Fury bought Jenna's story, but he had to go along with it. 
I liked that he wasn't biased about it because of his history with Spencer. Jenna Marshall is one of those people who can persuade anyone into her chain of thought. 
All of the stuff with her wearing Hanna's design was just plain dumb and it made me question whether Mona was really playing on the good side. 
It's not like her loyalty has not wavered in the past. Heck, she had a full mental breakdown and stalked the liars earlier in the series. 
I definitely think we can rule Caleb out. The pair has been to hell and back, so to have their relationship ruined by him being associated with A would be horrid. 
I loved when he called Jenna out on her BS. She was the one who shot at Spencer, but she's trying to act all innocent with her new friends. Nobody will ever buy what she's selling, and that's a fact. 
We do know that Uber A took Jenna from the scene on Pretty Little Liars Season 7 Episode 10, but little is known about what happened in the aftermath of it all. 
Anyway. 
I feel so bad for Spencer. First, she learns her whole life has been a lie and now, her house is being sold. Yes, that means she'll have to say goodbye to the barn. 
Seriously, that barn is as iconic as this show. Remember all the crazy arguments about it earlier in the series? Melissa and Spencer did have some of the wittiest dialog. 
Can we all give Veronica Hastings a round of applause? Getting rid of that house was the first step in her moving on with her own life and not wallowing on the many secrets and offspring her husband is hiding from her.  
It's no wonder the Rosewood population sign has "estimated" on it. The town would run out of paint at the rate secret children are revealed. 
Finally, am I the only one who is over Ezria? The constant back and forth is killing me, and it seems like things are only going to get worse. 
It's totally understandable that Ezra would be worried about telling Nicole he moved on while she was presumed dead. He tried desperately to find her before he went back with Aria, but there was no sign of her. 
Something tells me when Ezra does man up and return to Rosewood that he's not going to be a fan of the way Holden and Aria are.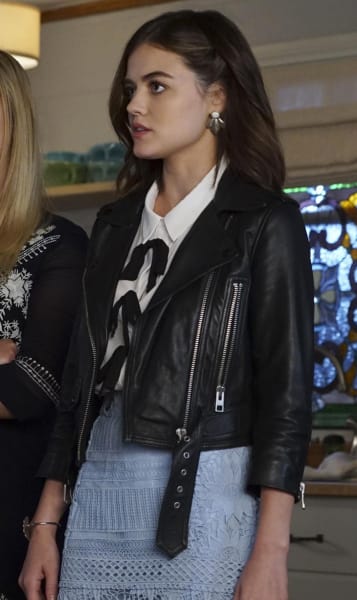 Pretty Little Liars has a revolving door of characters that appear for a few episodes and then bid adieu, but there has to be a big reason why Holden's back in the mix. 
Marlene King has been vocal about this being the "most romantic season yet." Surely this does not mean messing with the original couples. 
"These Boots Were Made for Stalking" was a solid episode that raised the stakes some more as we approach the finish line. I was so on the fence about the Jumanji-like game at first, but I'm interested in finding out who it leads to. 
However, if it's Charlotte, I may just gouge my eyes out and never watch Freeform again. 
Remember you can watch Pretty Little Liars online right here via TV Fanatic. Get caught up on the latest drama now!
Over to you, Pretty Little Liars Fanatics! What did you think of this episode? Could Addison be another DiLaurentis child? Hit the comments!
Note: Pretty Little Liars Season 7 Episode 13 airs May 2 on Freeform. 
Paul Dailly is the Associate Editor for TV Fanatic. Follow him on Twitter.