Arrow Round Table: Will Olicity Reunite?
Paul Dailly at .
Did you like the new dynamic for Oliver and Felicity?
That was a key question on our minds after Arrow Season 5 Episode 20. 
Below, TV Fanatics Steve Ford, Robin Harry, Jim Garner and Kathleen Wiedel discuss the new dynamic, Adrian's next move and Diggle's relationship woes. 
After getting to see how Oliver and Felicity reacted to being stuck together, are you on board with a reunion for them?
Steve: I surprisingly enjoyed their time together while trapped. Going into the episode, I wasn't particularly looking forward to it as I was convinced it would be nothing but an hour of bickering.
However, I was pleasantly surprised, and I'm looking to seeing Ollie and Felicity start fresh in a sense now that they have come clean to each other.
Robin: I enjoyed this. This episode reminded me of why I thought they were good for each other back in the earlier seasons. Also, the chemistry between them during the flashback was seriously off the charts; that was really well done.  If the writers continue writing them like this episode (and only this episode so far this season), a reunion could work.
Jim: I'm on board with a reunion. While I was not one of the more passionate "Ollicity" fans when they first got together, seeing them come clean with each other and Oliver now supporting Felicity, I can get behind a reunion. 
Kathleen: Like Jim, I'm not a huge Olicity fan, but I fully admit to being shocked (shocked, I say!) when Oliver and Felicity actually had an honest conversation for what seems like the first time in forever.
On the other hand, Oliver still has pretty much the same issues and flaws that Felicity objected to in the first place. And unless she's honestly ready to accept him as he is (rather than how she wishes he is), the relationship is doomed.
What is Adrian up to with Oliver's son?
Steve: He's raising the stakes and going to drag his son into this war the same way Oliver brought Adrian's wife in. The only difference is, Oliver actually cares for his son.
Robin: Same thing Adrian's always up to, trying to break Oliver. Interestingly enough, last season, I didn't think Darhk would have actually hurt the kid, just use him as leverage. With Adrian, though, all bets are off. He's the kind of psychopath that would kill a child.
Jim: Steve and Robin have the same bets I do, and while I don't know for sure, we all can agree its not going to be good. 
Kathleen: Same old, same old. Evil villain laugh, "Haha, I have your son, I'm gonna hurt you now!" Though I am curious to see if Arrow would actually go through with it and kill the poor kid.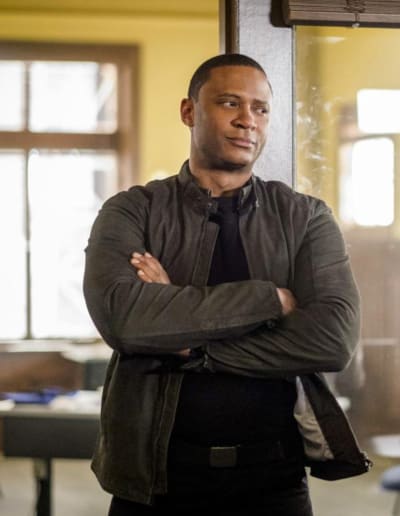 Are Lyla and Diggle really back on track, or is there more drama on the way?
Steve: Yes, there will be drama, but it's a start. Lyla and Diggle are on the path to starting over just like Oliver and Felicity. It won't be easy, but they're well on their way.
Robin: I don't think any couple can accomplish a life without the potential of drama. That's probably even less likely for the relationship between a vigilante and the head of a clandestine government agency. They'll have some more stuff to deal with, but they'll handle it.
Jim: As the guy who will celebrate his 13th wedding anniversary next week, I can tell you that no relationship is without its own drama. It is how we get past that drama that either brings us together or drives us apart. I think Lyla and John are well on their way to being closer. 
Kathleen: This is television. Of course, there's going to be drama. Hopefully, though, the drama will bring Lyla and Diggle closer together henceforth, rather than drive them apart. I love those two!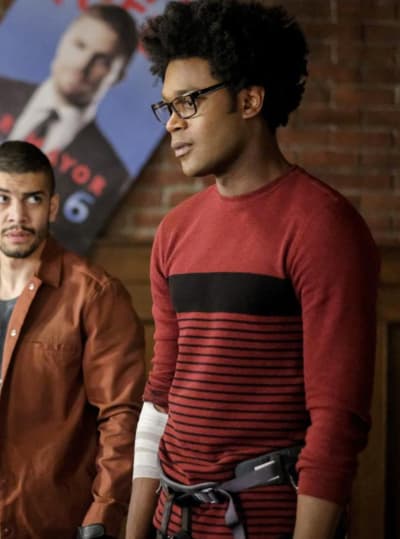 Considering we are getting closer to the end of the season, do you think anyone is going to die?
Steve: Evelyn Sharp... (for real this time). We haven't seen the last of her, and I'm thinking she will be at least one of the casualties in the finale.
Robin: I'm thinking that Billy was the casualty of the season. The circumstances of his death had a pretty big impact on everyone. Also, I think the stakes are as high as they're going to get, and killing another character would just be gratuitous and unnecessary.
Jim: I really hope Robin is right and that we've had our casualty for this season, as it is getting way too "trope-y" to have to deal with "someone is going to die" at the end of every season. 
Kathleen: Part of me agrees with Steve and really hopes that Evelyn bites the dust in the end. I never really cared for the character, and it only got worse once she was revealed as a double-agent. As for anyone else? Well, one can hope that Adrian meets his maker by season's end...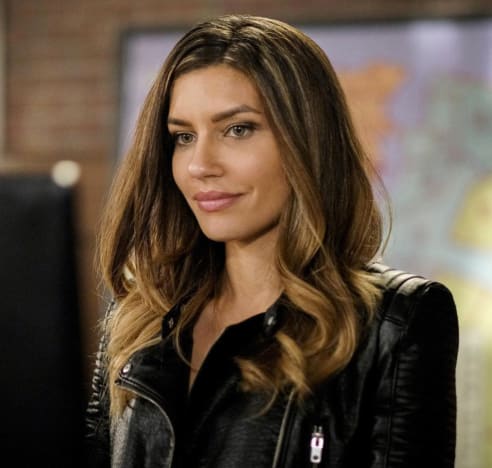 What was your favorite scene?
Steve: I loved the flashback scene with Curtis setting Oliver and Felicity up for a romantic evening. That was cute.
Robin: Felicity. Said. Sorry!! My favorite scene was the scene where Felicity admitted what I've been saying from the get-go, that she was wrong regarding William, that she misjudged and mistreated Oliver, and that she had been a hypocrite lately. Vindication!!
Jim: I loved Curtis geeking out over ARGUS's upgrade to his T-Spheres. It was a cute reminder than underneath "Mr. Terrific" is an adorable nerd. 
Kathleen: I'm going with Robin. It's so satisfying to see Felicity get off her high horse and finally act like a human being again.
Remember you can watch Arrow online right here via TV Fanatic. Get caught up on all the action now. 
What did you think of the drama? Hit the comments with your take on it. 
Note: Arrow continues Wednesday on The CW!
Paul Dailly is the Associate Editor for TV Fanatic. Follow him on Twitter.