Pretty Little Liars Season 7 Episode 13 Review: Hold Your Piece
Paul Dailly at . Updated at .
Geez, was that the most predictable death or what?
On Pretty Little Liars Season 7 Episode 13, Yvonne lost her life after starting to show signs that she was going to be alright, but it was just one of those developments that made my eyes roll. 
Yes, it was teased we were losing a character this week, but still, hasn't Yvonne been through enough at this stage?
First, she had to contend with Spencer for Toby's affections. Then, when it appeared Toby and Yvonne were doing the right thing, they got caught up in a car crash that will probably be revealed to be down to Uber A. 
Toby was floored by the loss of his love, but the development was only thrown in to create a path back to Spencer for him. Maybe the writers could have thought up something more exciting than killing Yvonne off. 
Meh. That was not the only thing that got under my skin in this filler episode. Yes, there are still filler episodes of Pretty Little Liars. Yes, the series is still ending, so where the heck are the answers?
Caleb being attacked by some gas from the board was hilarious, but it did show just how far Uber A was going to have the liars play out the sick game for the duration. 
Caleb is that guy who always wants to find a way to save the day, so it made perfect sense that something would happen to him. Granted, it was not quite as severe as what happened to Yvonne. 
Poor Hanna. Is it just me, or does she always seem to get dealt the worst hand from A? I liked that the liars picked up on the fact that A was letting some of them off easier than the others. 
It showed that the villain has thought everything through and thinks the girls will bicker before finding them. I did laugh out loud when the doll said about the appendix, and both Hanna and Caleb did not pick up on it. 
I thought Caleb was supposed to be smart. It turns out, Aria was the most intelligent person this week, and that was all thanks to Caleb teaching her how to hack. 
Even Emily was shocked by the sudden appearance of brain cells for the character. Kidding aside, I am so not buying Aria being able to hack like it's going out of fashion. 
A long-running theory is that Aria is the villain. How awesome would it be if all of Aria's encounters with A have been what she wants everyone to think and is, indeed, the villain?
That would go a long way towards making this whole ordeal of a show worthwhile. There are times I love Pretty Little Liars, but when we're still not getting anywhere plot wise, it digs deep.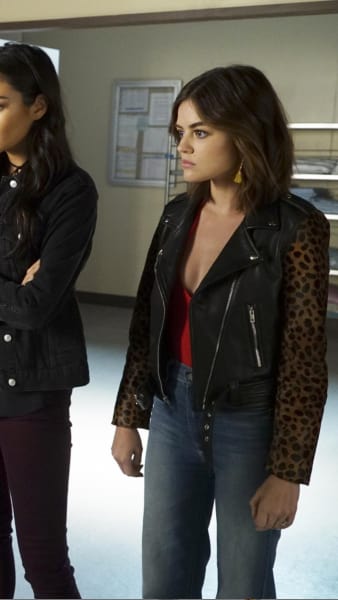 It was nice to check back in with Sydney but there's no way she's fighting on the side of good. She's as close to Jenna as always, and I'm just waiting for that to be revealed. 
We already knew Jenna and the villain were in cahoots, but where the heck is Uber A getting the money for eye surgery? The person with a lot of money on this show is Lucas. 
He's another character who has been rather sketchy in the past. Also, Hanna is staying in his house, so he could have the place bugged, giving him the ability to steal Hanna's design. 
So many questions, yet so little episodes left. Can you tell I'm getting frustrated? 
Fury getting the finger delivered to him looks set to be the key to discovering who killed Jessica DiLaurentis. Plot twist: With Mr. Hastings returning next week and the killer reveal set to occur in that episode, he is very likely to be the killer. 
God, I hope I'm wrong, but if not, I'll probably be through with the show. 
The closing scene with Aria swinging a knife at Nicole was, like, out of the left field. Why was she sitting there in the dark, and why didn't Ezra warn her?
"Hold Your Piece" was all over the place with a lot of moments that made me want to turn the TV off. Hopefully, the series can pull it together before it comes to an end. 
Remember you can watch Pretty Little Liars online right here on TV Fanatic. Get caught up now!
Over to you, Pretty Little Liars Fanatics! What did you think of the episode?
Sound off below!
Pretty Little Liars Season 7 Episode 14 airs May 9 on Freeform. 
Paul Dailly is the Associate Editor for TV Fanatic. Follow him on Twitter.