Prison Break Season 5 Episode 7 Review: Wine-Dark Sea
Paul Dailly at .
Even after all these years, Michael Scofield and Sara Tancredi still have a lot of chemistry. 
On Prison Break Season 5 Episode 7, the two finally crossed paths for the first time on this revival series, and it was a delight. 
Obviously, it was under terrible circumstances, but at least she managed to give him a blood transfusion to secure his safety.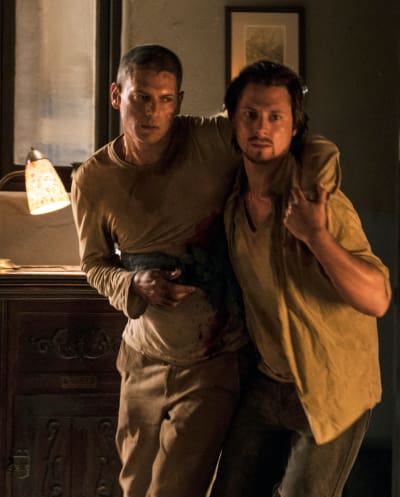 That scene with Michael realizing who was helping him was everything. He immediately burst into tears, and my heart broke for him. Given that he was poisoned, he probably questioned whether he imagined it. 
I'm really on the fence about the confirmation that Jacob was Poseidon. It was predictable and lame. But, as soon as Kishida was murdered, the person left to be the villain was Jacob. 
Now, it would have been great to have someone fro the past show up to be unmasked as the real villain, but I guess I'll just have to get to grips with it being Jacob. 
I loved Sara returning home and getting the gun ready. However, it was so darn obvious Jacob figured out what was going on. Something tells me he was planning on murdering Sara that night if she confronted him. 
Was I the only one shocked that Heather was actually innocent? Something was telling me she was in cahoots with Jacob and was trying to make Sara sound like she was going crazy a while back. 
There is still time for her to be revealed as a villain, but with A&W and Van Gogh going after her, I don't like her chances of surviving.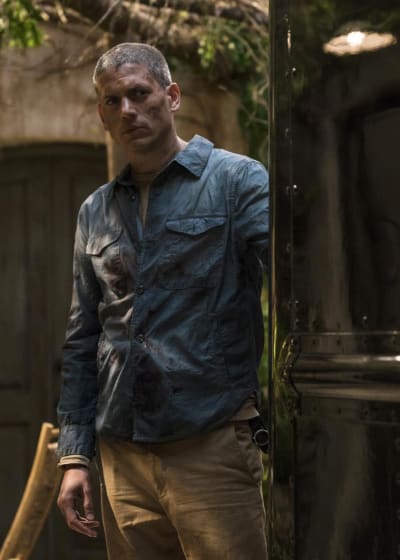 I'm struggling to understand whether Jacob is a master manipulator or if he does actually love Sara. I'd like to think the former because that means it won't be as messy when either Sara or Michael bashes his brains in. 
He called the hit on Kellerman, so the dude has no redeeming qualities. What I find odd is that some characters just disappear for episodes at a time. 
T-Bag just disappears and then reappears as though nothing happened in the time he was gone. He was not part of this hour, so he should probably read this review in case Sara does not call him and update. 
We finally got to see much more from Sucre, and it was needed. Like, he barely appeared this season. It was an exciting development to go the cargo ship route. 
There was no way the men could fly because their names were everywhere. I did find it somewhat surprising that the sailor turned Michael in after being given the ring. 
Did the man really think he would get to keep the ring in the aftermath of it all? Not a chance in hell. 
Anyway. 
With the ship being blown to smithereens, we're left wondering about the fate of our favorite characters. There's no way they would have escaped in real life. 
This is Prison Break, so we'll give the show a pass if everyone makes it to safety. We should just call developments like this Prison Break Logic.
Ja not boarding the ship made a lot of sense. The character was locked up for so long that the very notion of going anywhere else with walls was just too much for him. 
His goodbye with Whip was a final one. Ja was such a great addition to the show this year, and he got such a great ending. 
Whip being the lonely person in the group, I was glad Lincoln called him part of the family. Despite all their bickering, it was a good moment for Whip. 
He felt like he belonged somewhere, and it looks like that was the first time in a long time he felt that way. 
"Wine-Dark Sea" was another solid hour of this Fox drama series. With two episodes left, I cannot wait to see how it all ends for the characters. 
Remember you can watch Prison Break online now via TV Fanatic. Get caught up online now via TV Fanatic. 
Over to you, Prison Break Fanatics. What did you think of this installment? 
Note: Prison Break Season 5 Episode 8 airs May 23 on Fox. 
Paul Dailly is the Associate Editor for TV Fanatic. Follow him on Twitter.