Everybody made it out.
I don't know if I should be glad about that or pissed that we were kept in suspense all summer. Chicago Fire Season 6 Episode 1 moved on quickly from the Chicago Fire Season 5 Episode 22 cliffhanger, with only Mouch's heart attack as an ongoing reminder.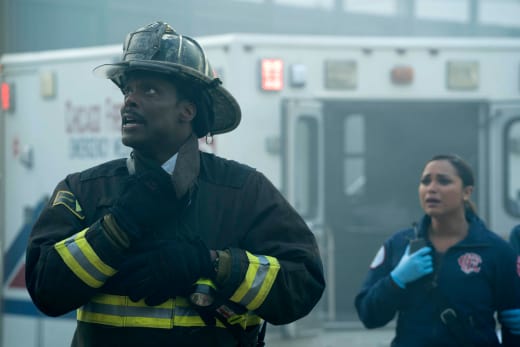 Okay, so it's not like I'm really mad that all the characters are alive and well, with hardly a scar to show for it. I just despise the deus ex machina way so many of the dangling storylines were wrapped up. Or maybe cut off is a better term.
Really, what was the point of Papa Dawson screwing up his life and moving in with the Caseys if he just up and moved out so easy peasy, nice and easy? Giving the Caseys a renewed appreciation for one another while still facing to deal with a major obstacle would have been more satisfying.
Not to mention poor Jason. Usually, I'm grateful to have at least a throwaway line explaining where a character went, BUT WHY DID HE LEAVE? Kamal Angelo Bolden doesn't seem to be up to anything at present. Why deny us another member of Squad? Was it really Fire's budget that was the issue?
Cruz: MOUCHIE! He's back! [hugs Mouch and kisses his forehead] You look incredible! Doesn't he look incredible?
Otis: Incredible.
Cruz: It's good to have you back, Mouch.
Mouch: Thanks.
Otis: It's almost like you didn't go visit him every single day he was laid up.
Complaints about the amount of exposition and sloppy plot development aside, "It Wasn't Enough" was enjoyable. Cruz and Mouch did a lot to save the day.
Mouch managed to bring both the humor and the teary eyes for me. I loved that despite his newfound dedication to healthy living, he's still the same old Mouch, more than happy to take advantage of the any situation.  
Honestly, I can't begin to pick a favorite scene out of his interactions with Cruz. That embroidered lumbar pillow? Being fed a smoothie? Cruz's eager puppy dog behavior? The Bears tickets? The forehead kisses? They were all great. I'm loving Crouch.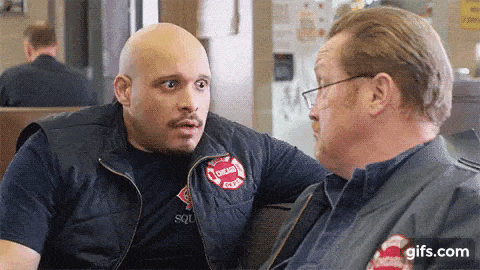 The only thing better than funny Mouch is, of course, sensitive Mouch. Honestly, I could see him signing up Firehouse 51 for the Bucket Brigade before his heart attack, but it probably would have been because of some prize or because another Firehouse said they weren't up to it.
Outside of Mouch's comeback story, two plot points stood out. The arrival of Hope will probably be the most satisfying. 
Oh, Kelly, even tragic love couldn't cure you of your playboy ways. The man is absolutely hopeless, and I sometimes wonder what exactly Stella sees in him (besides that body). 
Mouch: Kelly, quick question.
Severide: Yeah.
Mouch: When you're working on your core, do you focus on fast twitch isometric training, or do you go with more low intensity, high impact repetition?
Kelly [watching Brett and her high school friend]: What?
Mouch: It's just, I've been doing some concentric crossfit, you know, since I have more of a mesomorph physique.
Kelly: I just lift weights, man.
But Kidd is obviously still pining for her new roommate, and Hope is obviously there to bring that relationship to a turning point. I mean, it's not like Ms. "Shock and Awe" is going to develop a long-term, meaningful relationship with Severide, is she?
The outcome of this arc seems obvious, but the devil is in the details, and I can't wait to watch it play it. As a side note, I love Hope for no other reason than her allowing Gabby to get out her hilariously meta line. 
Hope: I've never been to a firefighter bar before.
Gabby: Oh yeah, we got cops, doctors, lawyers... Well, not so many lawyers anymore.
Donna's job change and the lab fire are an almost painfully obvious set up for one of the season's larger arcs. If you didn't know that it was arson as soon as Boden said, "That's Donna's school!," you haven't been paying attention to how TV works. 
I'm not opposed to such an arc in and of itself; rather, it was just handled so ham-handedly that I was rolling my eyes. 
The good thing about this arson arc is that it opens the door wide open for a Chicago PD crossover. Since Chicago Med won't be back until midseason (no date has been announced), we, unfortunately, won't be getting a true #OneChicago arc.
Still, we'll all take what we can get, and with Antonio back on PD, we're assured more mini crossovers with Fire's brothers in blue.
I know that you'll never stop running into burning buildings anymore than I'll stop putting my life on the line every time the ambo goes out. But just tell me right now that you'll always come back to me and I'll believe you.

Gabby [to Matt]
Boden isn't going to be very patient when it comes to finding out who endangered Donna, so Casey and Severide will put on their investigator hats on Chicago Fire Season 6 Episode 2 ("Ignite on Contact"). I'm not so sure they should tell Boden who set the fire even if they are able to figure it out so quickly.
While Boden stews over a new threat to his family, Mouch reverts to his usual blundering ways while preparing for the Bucket Brigade. A bet is made, and of course, our favorite cardiac patient can't keep himself from trying to take any advantage possible. It's not cheating...it's a "competitive advantage."
Kidd's going to be looking for a competitive advantage of her own as Kelly and Hope heat things up. Just how crazy will watching the two new lovebirds drive her? It doesn't look pretty...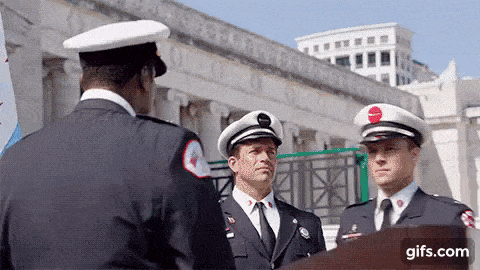 So what did you think of "It Wasn't Enough?" We want to hear your thoughts in our comments section! Are Matt and Gabby finally on solid ground? How much longer can Mouch tolerate Cruz's brown-nosing? How long before Stella and Kelly hook up?
If you missed the latest episode, you can always catch up and watch Chicago Fire online with us here at TV Fanatic! And don't forget to check out all of our past Chicago Fire reviews!
Elizabeth Harlow was a staff writer for TV Fanatic. She left the organization in October 2018.