Law & Order: SVU Season 19 Episode 12 Review: Info Wars

Jack Ori at . Updated at .
One of the primary rules of working in SVU is that "you don't pick your vic."
From the series' inception, SVU detectives have been required to put aside their personal feelings to fully investigate each and every rape case.
But on Law & Order: SVU Season 19 Episode 12, they had to assist an almost thoroughly unlikeable victim, and it seemed like separating politics from the case was almost impossible.
I was excited about "Info Wars" from the get-go. As a graduate student, I've seen similar protests and counter-protests on my campus, and I couldn't wait to see how SVU handled this sometimes-sensitive topic.
For me, one of the most fascinating moments was the opening scene.
Woman: The liberal snowflakes want to tear down statues of Andrew Jackson, Jefferson Davis... they seem to have forgotten that they were Democrats too. Just saying. That's why I come to colleges like Hudson, because I might be the only conservative voice they hear in four years.
Student: We don't want you here!
Woman: There is a totalitarian PC culture and I'm sick of it.
[students start marching]
Students: Go home. No Nazis. No KKK.
Woman: See? They are so brainwashed they've forgotten freedom of speech! Do you even know what you're fighting for?
It wasn't clear at the beginning of the speech which side Martha was on. At first, it sounded like she was in favor of tearing down statues of Thomas Jefferson, but then she turned it around to show that she thought that position was stupid and ridiculous.
To me, it showed how the current political climate is so rhetoric-filled that both sides can use the same talking points for completely opposite purposes.
It also set up the question that was the backbone of this story: if the victim was liberal and the protesters conservative, would the case have been handled the same way?
Rollins and Fin were the only ones who even tried to separate Martha's politics from the investigation, and they both got cameo appearances. That speaks volumes about how difficult it is even for a seasoned cop like Benson to deal with a victim like Martha.
I enjoyed seeing Benson try to make a connection with Martha despite both women's reservations about each other, but I couldn't help thinking this case would go a lot more smoothly if Rollins took the lead.
Rollins respected Martha's positions, believed some of what she said made sense and that her more extreme beliefs were exaggerated to get people's attention.
So while politics shouldn't have mattered, they did to the victim and meeting a cop who she could find common political ground with might have helped her open up more.
Cobb: Let me guess. You cried when Obama was elected and swore you'd go to Canada if Trump ever got in, yet here you are.
Benson: I was never going anywhere. And right or left, I want to find the person who raped you and make sure he is punished.
Benson tried, though she did confide to Barba that she didn't think victimhood made Martha a saint, and it was obvious that the women's dislike for each other was mutual.
I loved Benson's plea to Martha to drop the defensiveness and just talk as one human being to another. I think that's something that a lot of us feel in the current political climate. There's little to no communication, and political differences have torn apart families and destroyed friendships.
So Benson's plea was a poignant reflection of what life is like right now.
It saddened me that her plea mainly fell on deaf ears. Sure, Martha opened up for the moment, but it didn't last. When she lost her case, Benson was more openly brokenhearted than she was.
Martha hid her pain in yet more incendiary rhetoric, pushing Benson away when she tried to reach out by babbling on about how her case proved the criminal justice system was broken.
Barba: Well, she doesn't present as a typical rape victim.
Benson: Meaning? [pause] Martha Cobb has made a career out of playing fast and loose with the facts.
Barba: Fact: she was raped.
Benson: Yes, but that doesn't mean she should be endowed with sainthood.
Barba: Here we go.
In reality, Barba's decision not to proceed with the case was a demonstration of the criminal justice system working the way it was intended.
That doesn't mean the system works properly every time for every person. There's a lot of work to be done, but for an upper-class white woman to claim that the system is broken because a prosecutor declined to move forward with a case against a man who could not be proven guilty shows her ignorance on many levels.
Benson: How bad was it?
Barba: Bad. The Titanic meets the Heisenberg meets my first day of Little League.
Barba's advice to Martha underscored how difficult it was to separate the victim from whether or not she was a victim.
I understood his point. Jurors are less likely to convict if they find the victim unsympathetic.
Yet juries are supposed to decide the case based on facts, not on whether they particularly like a victim. That's why I had a grudging respect for Martha's determination to be herself on the stand even though I thought Barba was right that her behavior would jeopardize her case.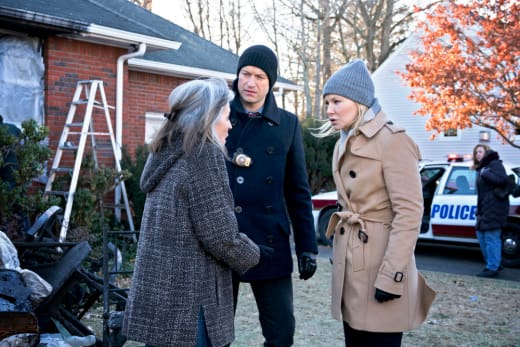 SVU will probably never determine who raped Martha, but that wasn't the point of the story.
Rollins: Anyone have a protest sign that looks like this?
Girl: So you can get people for protesting?
Rollins: This isn't about politics. A woman was raped.

Both potential rapists held repugnant views even though they were on the opposite side of the spectrum. Randy Platt spewed hate every chance he got, while Justin Vichinsky saved his hateful rhetoric for Martha herself.
Carisi: She got sexually assaulted with a cardboard tube.
Justin: Cool. When's the parade?
Carisi: You're happy about this?
Justin: She deserves it for saying a hurricane that killed 50 people is punishment for accepting people's sexual orientation.
Justin thought Martha's rape was a cause for celebration and that violence against rich people was appropriate. That was all kinds of gross, and I hope that most people don't think the opposite of white supremacy is rape and gratuitous violence.
Platt's mother was all sorts of sweet and innocent, though.
Platt's views had to come from somewhere, so maybe the simple woman who didn't know what was going on holds similar views, but I got the sense that he spent too much time online listening to the wrong people.
So what did you think? Did Martha ever have a chance of winning her case?
Would you have been able to separate her politics and/or her abrasive personality from the facts if you were on the jury?
Was Barba right to dismiss the case?
Weigh in below, and don't forget you can always watch Law & Order: SVU online if you missed anything.
Jack Ori is a senior staff writer for TV Fanatic. His debut young adult novel, Reinventing Hannah, is available on Amazon. Follow him on Twitter.