Scandal Season 7 Episode 11 Review: Army of One
Paul Dailly at .
Who would have thought Olivia Pope would go peacefully into the night?
On Scandal Season 7 Episode 11, the disgraced former Chief of Staff tried to get back at those who wronged her, but deep down, she knew she was the one to blame for all of the drama.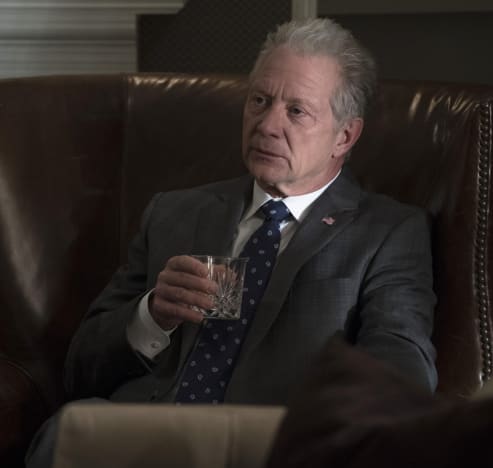 As such, she inevitably decided it was time to move on with her life. All it took was a meeting with Quinn, whom she thought had been murdered after Rowan threw his toys out the pram. 
Olivia realizing Quinn was alive was a wild scene that changed everything for her. If you watch Scandal online, you will already know that Olivia has been putting on a brave face since going to war with her father. 
All of the stuff with Jake and Vanessa was cumbersome. Yes, Olivia wanted to get revenge and starting an international incident was the way to go, but I forgot Vanessa existed until this episode.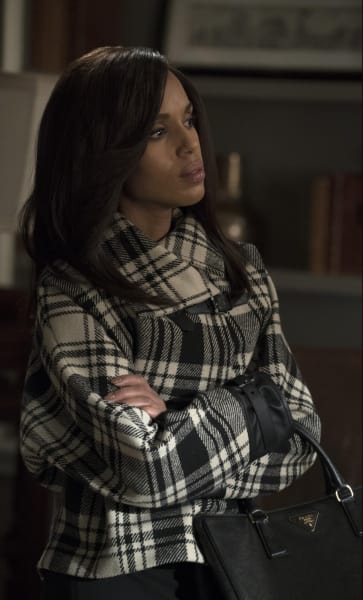 Scandal is generally filled with crazy twists that make us gasp, but if any character has been woefully underused, it's Vanessa. Jake has been stepping out on her for far too long, so it's great to know that she was having some fun of her own along the way. 
It made sense that Olivia would unleash holy hell in retaliation for what transpired on Scandal Season 7 Episode 10, and it shocked me that she decided to hand in her resignation. 
She had all the leverage she needed to get back at Mellie for ousting her, but Olivia realized the long-drawn-out battle for power was eating away at her. 
A  gun-toting Quinn showing up to cause some drama for her former boss was great. Quinn's one-liners were on point, and she wanted to make sure Olivia was taken to task for her actions. 
It genuinely seemed like Olivia was making up everything she said about the snipers being trained to shoot. The shooting made Quinn realize that Olivia was in a dangerous place and that it was time to move on. 
Otherwise, she would not have come out of hiding at the close of the hour. The reaction from Huck and Quinn was electrifying. They thought their friend was dead, but instead, she was back and ready to live her life with her child. 
Something tells me Quinn and Charlie are going to retire before the series is over. Too much stuff has happened, and with Quinn almost dying, Charlie will want to keep a closer eye on her.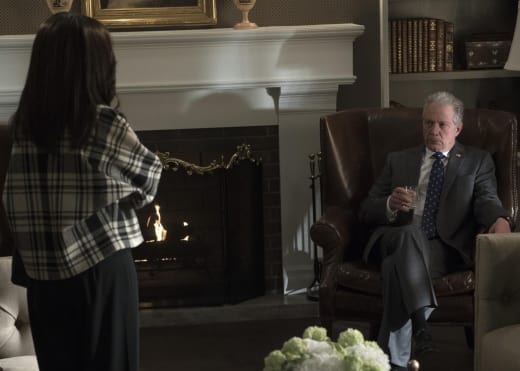 There's no way he's going to allow Quinn out of his sight and on the job again. He will want to keep her safe. Wouldn't it be the best ending to have them retire somewhere nice? 
Cyrus is back to his scheming ways, and I'm digging it. He hates Jake, so it makes sense that he would make a play for power of his own to finally become the President of the United States. 
Mellie would be wise to get rid of him while she still has the chance. Cyrus turning to Olivia with all of the information made it seem like the pair were going to join forces to get their own back. 
It would have been fun, but with seven episodes left, Olivia needs to get on the path to redemption before it's too late. That's why she ultimately decided to hand in her resignation to an audience. 
There was no other way she could go without having a heart of darkness and being known as the most hated person in all of Washington. 
Cyrus will likely continue to try and get the upper hand inside the White House, but he will also try and get some revenge on Olivia. It's crazy, but these two were so close at one point. 
Rowan is getting harder to read by the week. His conversation with Quinn about not allowing anyone to hurt his child essentially confirmed that he would never hurt Olivia. Let's hope he doesn't send more empty threats her way before the series is over. 
This show has so many characters that are just skating by without a coherent story, and Rowan is one of them. He's needed to go for years now. 
"Army of One" was a middle of the road hour of this ABC drama. Storylines are starting to close up, but I have no idea how this whole thing is going to end. 
What did you think of the episode, Scandal Fanatics?
Hit the comments below!
Scandal returns March on ABC!
Paul Dailly is the Associate Editor for TV Fanatic. Follow him on Twitter.